Fun, incredibly easy, and delicious – kids and adults love these Candy Corn Jello Cups!
As some of you may know, I am not a baker. And until I got pregnant, I didn't have much of a sweet tooth either. With our little bundle on the way, I've been thinking differently about Halloween. Instead of boozy cocktails this year (aside from the fact that I can't drink them), I'm thinking more about what kids would like that are easy for parents to make. 
These Candy Corn Jello Cups could not be simpler to make! If you can boil water, then you can make this dessert. And while this sweet treat does take a few hours to make, nearly all of that time is spent allowing the jello layers to set in the fridge. In terms of active time, you're looking at about 10 minutes. 
Ten minutes of work for this much cuteness is just too good to pass up! In fact, I guarantee you'll get a kick out of these when you open the fridge and you see these little jello cups looking back at you 🙂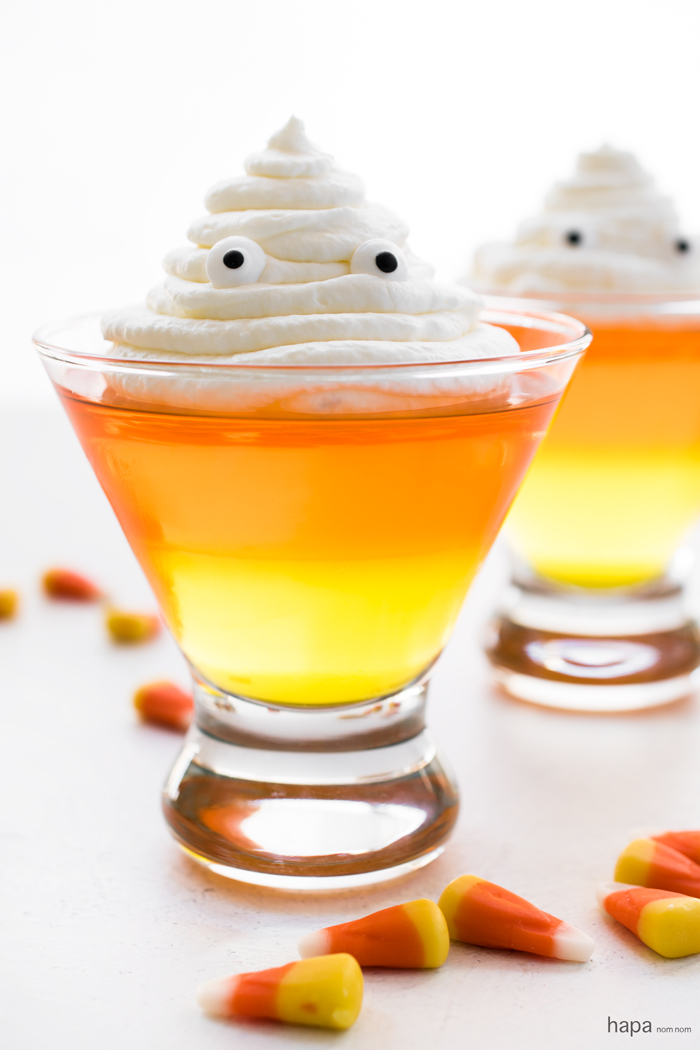 Candy Corn Jello Cups
Author:
Kathleen | Hapa Nom Nom
Ingredients
1 - 3 ounce box of lemon Jell-O
1 - 3 ounce box of orange Jell-O
1 cup heavy whipping cream
2 tablespoons sugar
1 teaspoon pure vanilla extract
8 candy eyeballs, optional
candy corn as decoration, optional
Instructions
Prepare the lemon Jell-O according the the package directions. Divide evenly among 4 - 8 ounce glasses. Refrigerate for 1 - 1½ hours, or until set.
Prepare the orange Jell-O according to the package directions. Allow to cool to room temperature (if you pour it on top of the set Jell-O while it's still hot, you'll melt the bottom layer). Once cooled, evenly divide the orange Jell-O among the 4 glasses. Place back in the fridge and allow to set for another 1 - 1½ hours.
Place a metal bowl in the freezer for 10 minutes. Remove the bowl and add the heavy cream, sugar, and vanilla extract. Whip until you form stiff peaks. Top the layered Jell-O with the whipped cream (I used a piping bag, but you can just spoon it on top) and place two eyes on top. Serve with candy corns and enjoy!