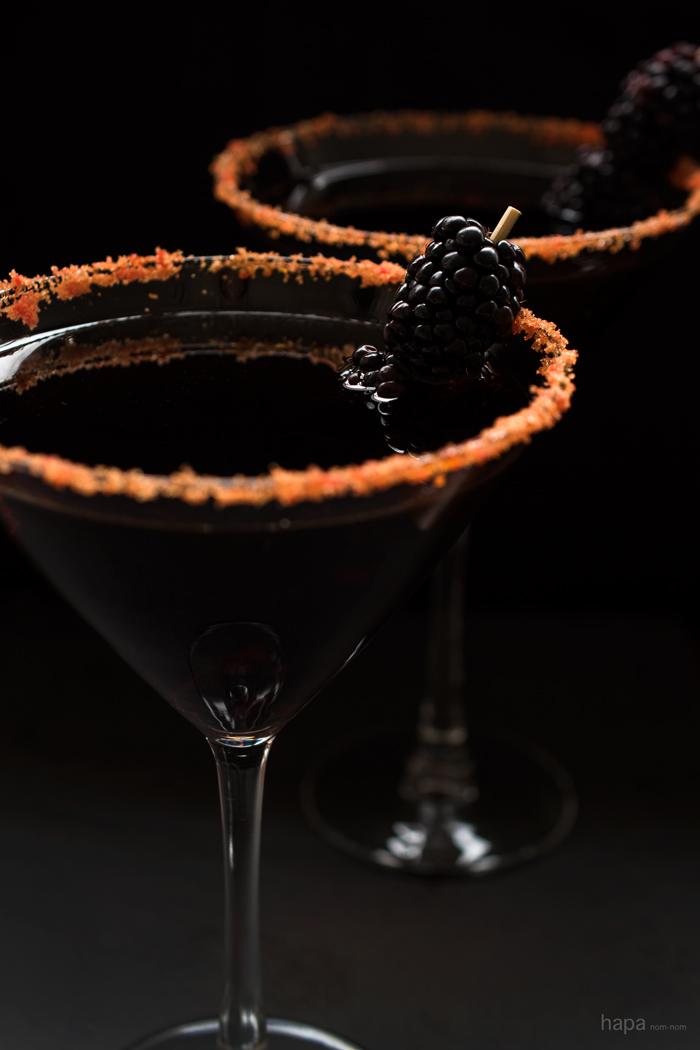 Halloween. It's just as much fun for adults as it is for children, and for all the same reasons – for one night, you can be someone or something else. So what's the best costume you've ever seen? Last year when we were living in Atlanta, Mr. HNN and I walked to our local bar which was hosting a Halloween costume contest. We were sitting at the bar, having a few drinks, then in walked a tall and imposing figure. He was from 'The Knights who say Ni', from the cult classic film, Monty Python and the Holy Grail. The man wore a heavy robe, cut out an aluminum bucket for a helmut, and attached deer antlers to complete the outfit. By his side, was a woman dressed as a shrubbery. (Best couples costume, ever! IMO)
So what does this all have to do with the Black Devil Martini? Well, nothing really. Aside from the fact that this makes for a great Halloween cocktail, made even better paired with a great Halloween costume. So grab yourself a Black Devil Martini and bring a shrubbery, it's time for a Halloween party.
Black Devil Martini
Author:
Kathleen | Hapa Nom Nom
Black Devil Martini - Perfect for your Halloween party!
Ingredients
¼ cup sugar
orange or red and yellow food coloring
1 lime wedge
dark rum (the color of the drink will be as dark as the rum you buy)
dry vermouth
blackberries
toothpicks
Instructions
Place the sugar in a small zip-top bag. Add a few drops of orange food coloring, or a few drops of combined red and yellow food coloring to the sugar. Close the bag and shake vigorously to distribute the color. Spread the colored sugar out onto a plate. Run the lime wedge around the edge of each martini glass and dip onto the plate with the colored sugar.
Add 2 ounces of dark rum and ½ once of dry vermouth to each glass. Garnish with several blackberries, serve and enjoy!
Notes
Slightly adapted from
hgtv