Super creamy, roasted garlic mashed potatoes, with brilliant ribbons of basil pesto make for an extraordinary side dish. Careful… they just might steal the show!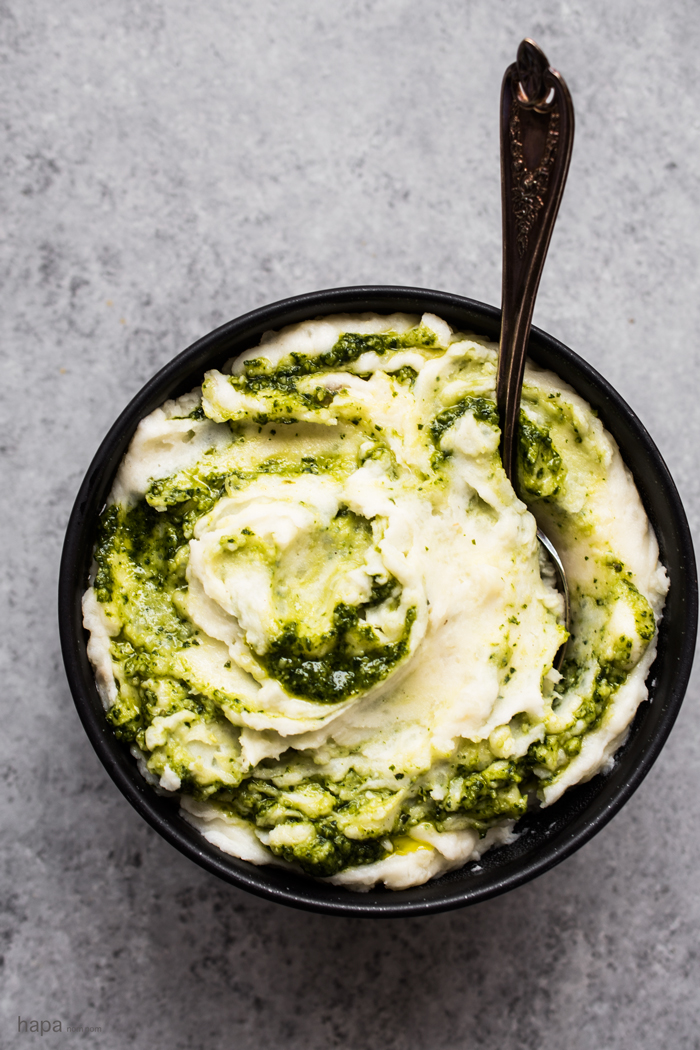 I think one of the best aromas to come from the kitchen is roasting garlic. Who out there agrees with me? 
Roasting garlic creates a soft and caramelized delight that's milder and sweeter in taste. Mixed into mashed potatoes that have been whipped to perfection and you've got some stellar little spuds. Now fold in some basil pesto in to create vibrant ribbons of green that swirl throughout the creamy mashed potatoes and you've got one stunning side dish! 
So what makes perfectly creamy mashed potatoes? 
Use a starchy potato like Idaho or Russet potatoes. They break down more easily and absorb whatever dairy you add. 
Salt the water like the ocean. Just like pasta, the potatoes absorb the water they're cooked in, creating potatoes that will be well-seasoned. 
Start with cold water. If you drop the potatoes into hot water, they will cook unevenly – leaving you with an overcooked outside and undercooked inside. 
Warm the dairy before adding it to the potatoes. You don't want to boil the contents, but you certainly do want to warm it up. Adding cold ingredients to your warm and fluffy potatoes will not only cool everything off, but it prevents maximum absorption into your potatoes. 
Don't over work the potatoes. When you mash potatoes, you're releasing the starch within them. Releasing some starch is ok, good even. But release too much starch, and you get gluey and gummy potatoes. The trick is to whip them just until smooth… then stop!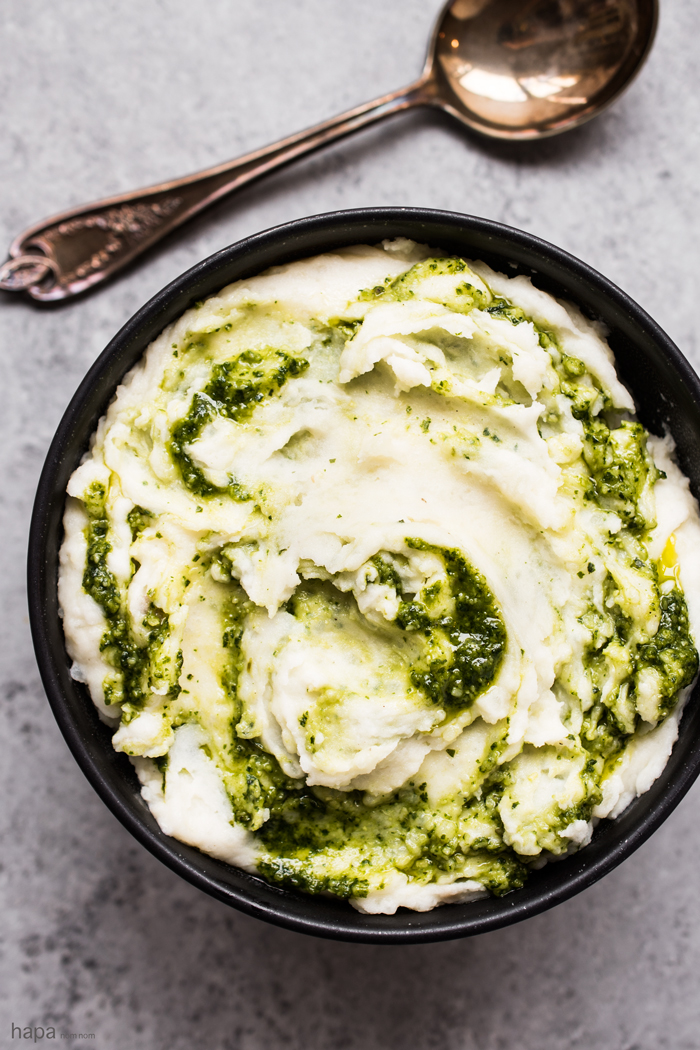 Roasted Garlic Mashed Potatoes with Basil Pesto
Author:
Kathleen | Hapa Nom Nom
Prep time:
Cook time:
Total time:
Super creamy, roasted garlic mashed potatoes, with brilliant ribbons of basil pesto make for an extraordinary side dish. Careful... they just might steal the show!
Ingredients
Basil Pesto
1 cup fresh basil leaves, packed
1 garlic clove
2 tablespoons pine nuts
¼ cup freshly grated parmesan
¼ teaspoon kosher salt
pinch of freshly ground black pepper
¼ cup extra virgin olive oil
Roasted Garlic Mashed Potatoes
10 cloves of garlic, unpeeled
1 teaspoon extra virgin olive oil
4 large Idaho or Russet potatoes, peeled and quartered
⅔ cups heavy cream
½ cup sour cream
6 tablespoons unsalted butter
Kosher salt and white pepper
Instructions
In the bowl of a food processor, add the basil, garlic, pine nuts, parmesan, salt, and pepper. Turn on the processor and drizzle in the olive oil. Process until smooth. Cover with plastic wrap and set aside until ready to use.
Preheat the oven to 350 degrees F.
Place the garlic cloves in a square of foil. Drizzle with the teaspoon of olive oil and fold up the sides of the foil to form a pouch. Roast for 25 minutes. Remove from the oven and once cool enough to handle, squeeze the garlic out of their casings and mash in a a mortar and pestle or in a small bowl with a fork.
While the garlic is roasting, place the potatoes in a large pot and cover with cold, salted water, at least an inch above the potatoes. Bring the potatoes to a gentle boil and cook for 25-30 minutes, or until soft.
While the potatoes are cooking, add the heavy cream, sour cream, butter, and mashed garlic to a small saucepan over medium heat. You just want to heat the mixture, do not let it boil.
Once the potatoes have cooked and are soft, drain well, and add to the bowl of a standing mixer fitted with a paddle attachment. Whip just until smooth and fluffy (don't over whip). While whipping, slowly add the warm cream mixture, and continue to whip until creamy (again, don't over whip - just whip until smooth). Season with salt and white pepper to taste.
Place the potatoes in a serving bowl and fold (don't stir) in the basil pesto to create lovely green ribbons.
Notes
* Recipe inspired from Bobby Flay, Whipped Potatoes with Cilantro Pesto & Patrick O'Connell, Roasted Garlic Mashed Potatoes