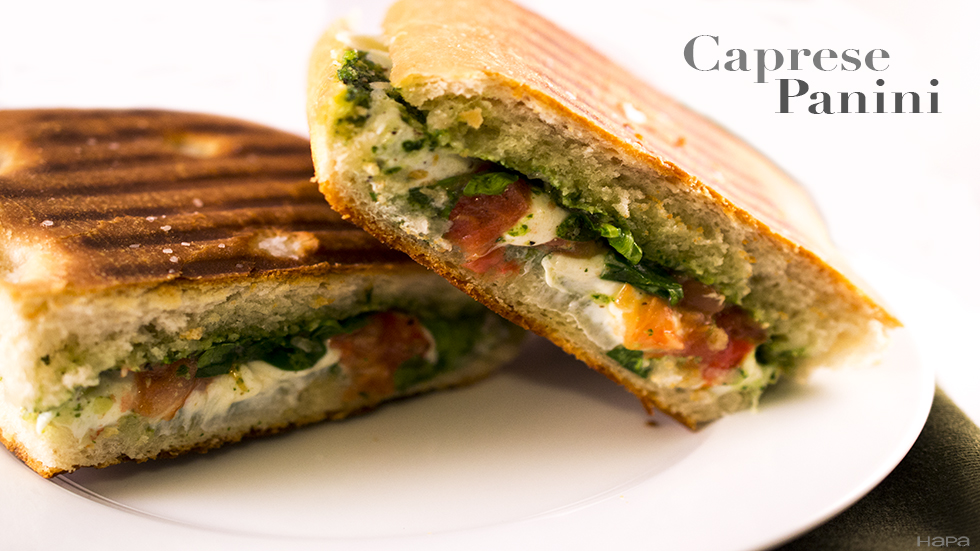 Have you ever had a food, when you ate it or even thought about it, the remembered smells and taste transported you to another place? For me, that food is the caprese panini. When I was in school in Florence, Italy, every day in between classes I would walk down the labyrinth of medieval streets and pop into a nearby, tiny, paninoteca (Italian sandwich shop) – quite literally what one would consider a 'hole in the wall'. Half of the store was composed of display cases filled with rows of panini, the other half was standing room – no wider than the cases themselves.
I would place my order with the gray-haired man behind the counter, and into the press my panino would go. Several minutes later emerged a crusty golden flat bread, oozing with cheese. The old man would wrap the bottom half in brown paper and over the glass display case, would hand me the steaming hot panino. As there was no room to sit, I would walk several streets back to the Duomo, sit on the stairs and eat.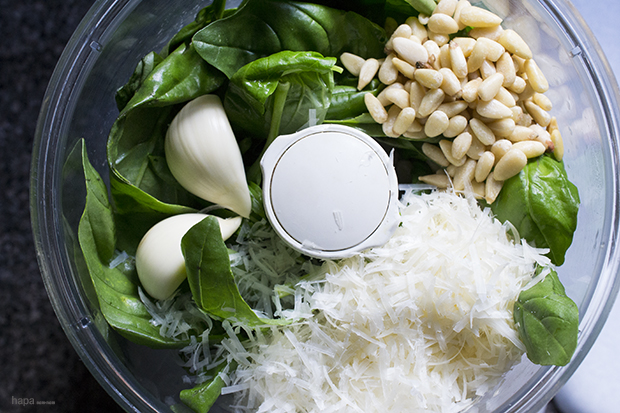 This became my daily ritual while in school until one weekend, I decided to recreate them at home in my modest Italian kitchen. I remember going to the market for the first time to fetch the ingredients, and seeing mozzarella di bufala. This white pillowy ball didn't look anything like the dried ropey roll of glorified string cheese I was used to seeing back home in the United States. When I got back to my apartment with my goodies, I removed the mozzarella ball from its water-packed container and cut into it.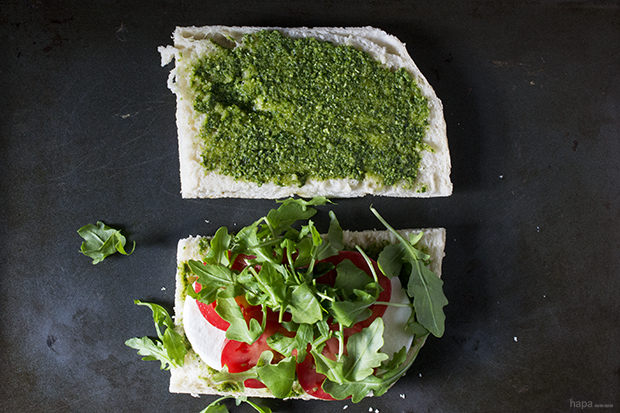 Immediately I knew this was something special. It was soft! I mean, really soft…And milky! The flavor was creamy, yet delicate, and absolutely sublime. I used to love American cow mozzarella, until I had my first taste of unadulterated Italian buffalo mozzarella. If you haven't had it, you must try it! You'll never go back.

Caprese Panini
Author:
Kathleen | Hapa Nom Nom
Ingredients
1 - 8 ounce ball of buffalo mozzarella, cut into ¼-inch slices
2 cups fresh basil leaves, packed
2 garlic cloves
¼ cup pine nuts
½ cup parmesan, freshly grated
½ cup extra virgin olive oil, plus 1 tablespoon
½ teaspoon kosher salt
⅛ teaspoon freshly ground black pepper
3-4 plum tomatoes, cut into ¼-inch slices
1 bunch arugula
1 loaf focaccia bread, recipe here
olive oil for brushing
Instructions
Place sliced mozzarella in a single layer between several paper towels. Place a cutting board on top of the covered mozzarella and add 2 pounds of weight for 15 minutes, unopened soup cans work well. Doing this will remove the excess moisture and will prevent your Panini from becoming soggy while in the press.
Preheat the panini press to medium-high heat.
To make the pesto. Add to the bowl of a food processor, the basil, garlic, pine nuts, and parmesan. Pulse while slowly adding ½ cup olive oil until smooth and desired consistency. Add the salt and pepper and pulse a few more times to incorporate.
Using a sharp bread knife, slice your focaccia loaf down the middle vertically and then down the middle horizontally, creating 4 servings. Slice each section in half to create a top and bottom of your sandwich and lightly brush the outside of each piece with olive oil. Oiled side down, liberally spread the pesto on the inside of each half. On the bottom half, add the sliced mozzarella, tomato, and arugula. Place the tops of the bread on each sandwich and place in the panini press.*
Cook 5 minutes, or until the cheese has melted and the bread is golden brown. Transfer the panini to a cutting board and cut in half. Serve immediately.
Notes
*Tip - If you do not have a Panini press, you can heat a heavy skillet over medium-high heat and cook each side for several minutes, using a lid or another skillet to press the sandwich while cooking.