Growing up we ate quite an amount of leg of lamb with mint jelly.  I remember loving the lamb, but also thinking the radioactive green color to the mint jelly was disgusting – sorry mom.  Perhaps I haven't had "good" mint jelly.  I'm not even sure what "real" mint jelly is made of.   Certainly the kind we were served as kids was not from anything found in nature.  In any event, when I prepare lamb these days, I almost always draw my inspirations from Mediterranean/Middle Eastern cooking with one of my favorite culinary regions being Turkey and Lebanon.   I love the aromatic spices of the lamb meatballs and bold flavors.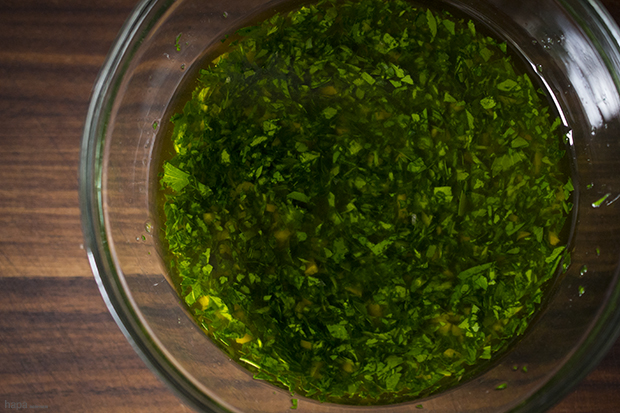 This particular dish is in my regular dinner rotation.  It's quick, easy, healthy, and I LOVE the smells that come from the kitchen once the meatballs go in the oven.  The accompanying Parsley-Chili Oil contains a whole habanero – don't be afraid!  The parsley and olive oil subdue some of the heat from the pepper and when the Parsley-Chili Oil is combined with the bold flavors of the meatballs and the cool tzatziki – it creates a beautifully balanced flavor.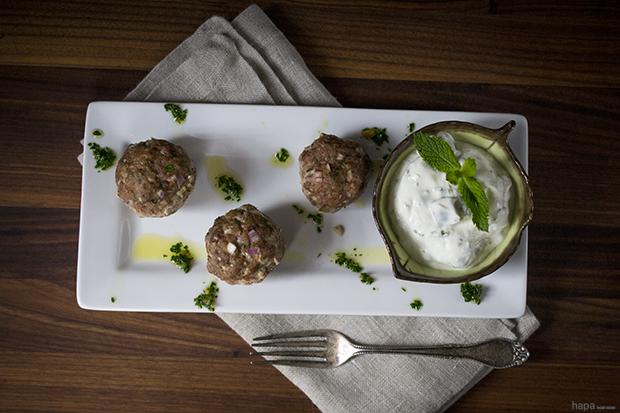 Lamb Meatballs
Ingredients
LAMB MEATBALLS INGREDIENTS:
1½ pounds ground lamb
2 tablespoons dry bulgur
2 garlic cloves, minced
1 small red onion, finely chopped
1 teaspoon kosher salt
½ teaspoon freshly ground black pepper
1 egg
1¼ teaspoon ground cumin
1 teaspoon ground paprika
½ tsp cinnamon
2 tablespoons chopped parsley
PARSLEY-CHILI OIL INGREDIENTS:
¼ cup flat-leaf parsley leaves, finely chopped
1 habanero, seeded and finely chopped
½ cup olive oil
⅛ teaspoon Kosher salt
Instructions
Preheat oven to 400 degrees F.
In a large bowl, mix all ingredients for the meatballs until well incorporated – hands work best for this. Cover and refrigerate for 30 minutes and up to 24 hours.
Roll meatballs a little bigger than the size of a golf ball. Place rolled meatballs in individual miniature muffin tins. If you do not have a miniature muffin tin, a sheet pan will work just fine, just move the meatballs around halfway through to ensure the bottoms are not burning. Bake for 20 minutes or until nicely browned and cooked through.
As the meatballs are baking, prepare the Parsley-Chili Oil simply by mixing all ingredients in a medium sized bowl. Whisk until well incorporated.
Serve meatballs immediately and drizzle with parsley chili oil. Top with tzatziki if desired.
Notes
*I sub ground turkey for the lamb all the time, and it's still super tasty! Click here for the Tzatziki recipe.