I'm sitting here trying to figure out what to write. Does that ever happen to you? Whether you're writing a novel or just writing an email, sometimes you just sit there staring at the computer screen thinking, what the heck am I going to say?!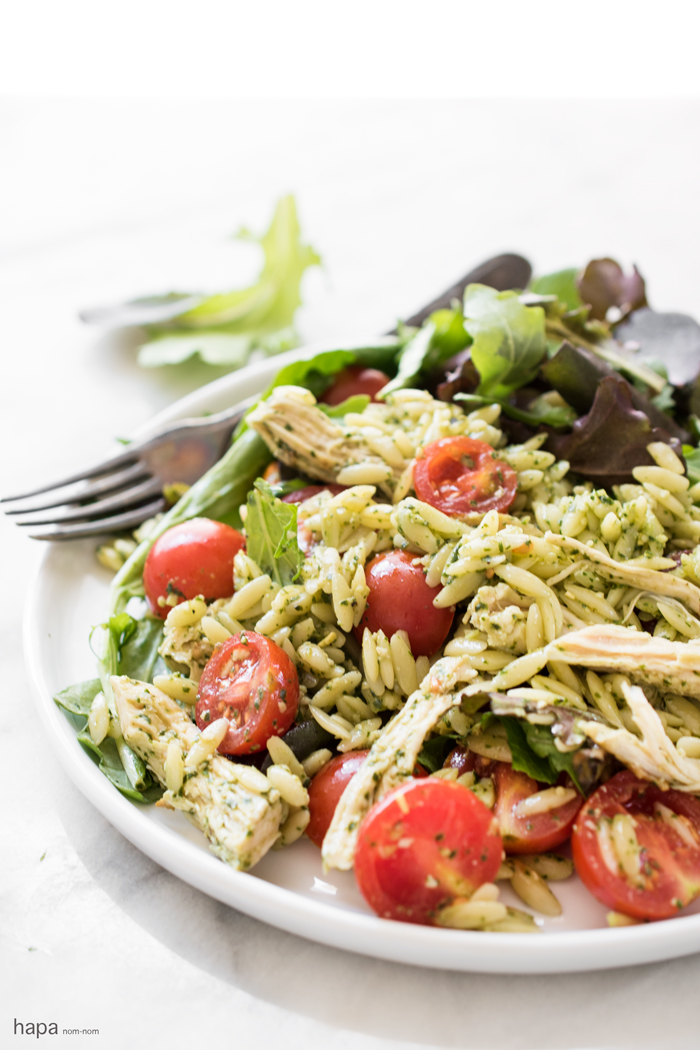 As I sit here with writer's block, completely at a loss as to what to say… so I'm just going to dive right in to this Chicken and Orzo Salad. This  is one of my favorite dishes while living among boxes and clutter due to our recent move. It's simple, healthy, fresh, and requires little effort after a long day of work.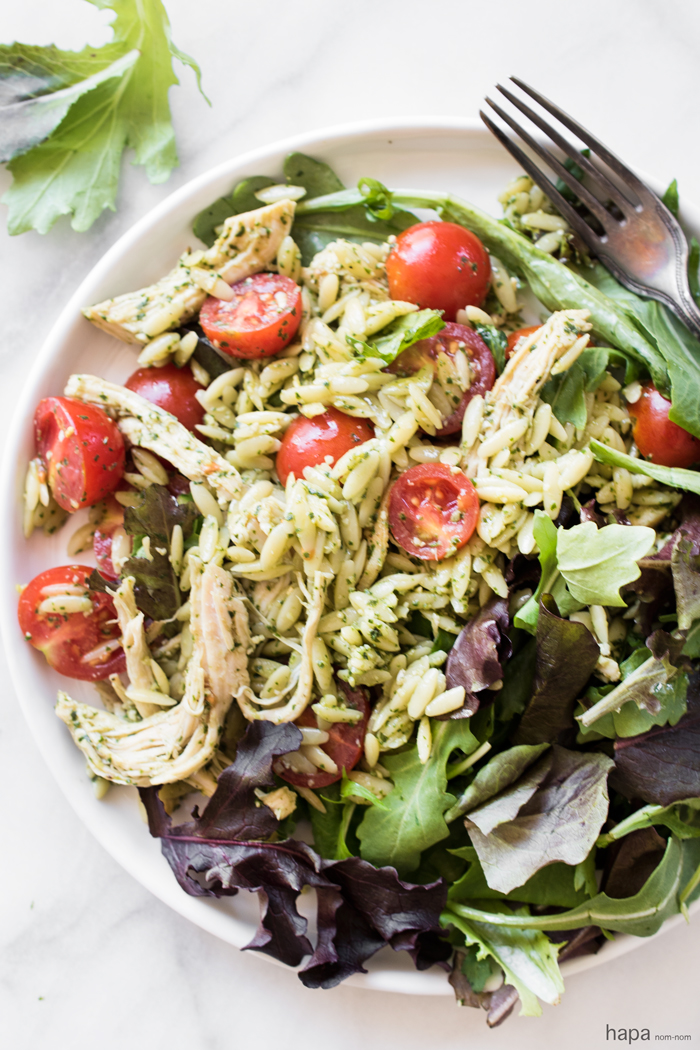 When I was making this dish amidst the towering boxes, I used a rotisserie chicken and my favorite jared Pesto to make things easier – so by all means, if that's what you would like to do to make your evening dinner a little easier, than go for it! Otherwise, I have provided a simple and delicious way to prepare the chicken. A hot pan, a little salt, some pepper and you've got a quick and easy chicken breast that's juicy on the inside and golden-brown on the outside. If time and sanity allows, on a busy day cooking up your own chicken and making your own Pesto is always preferable. However, if you pick-up a jar and rotisserie chicken, no judgment – I totally understand. Either way, you're going to love this dish!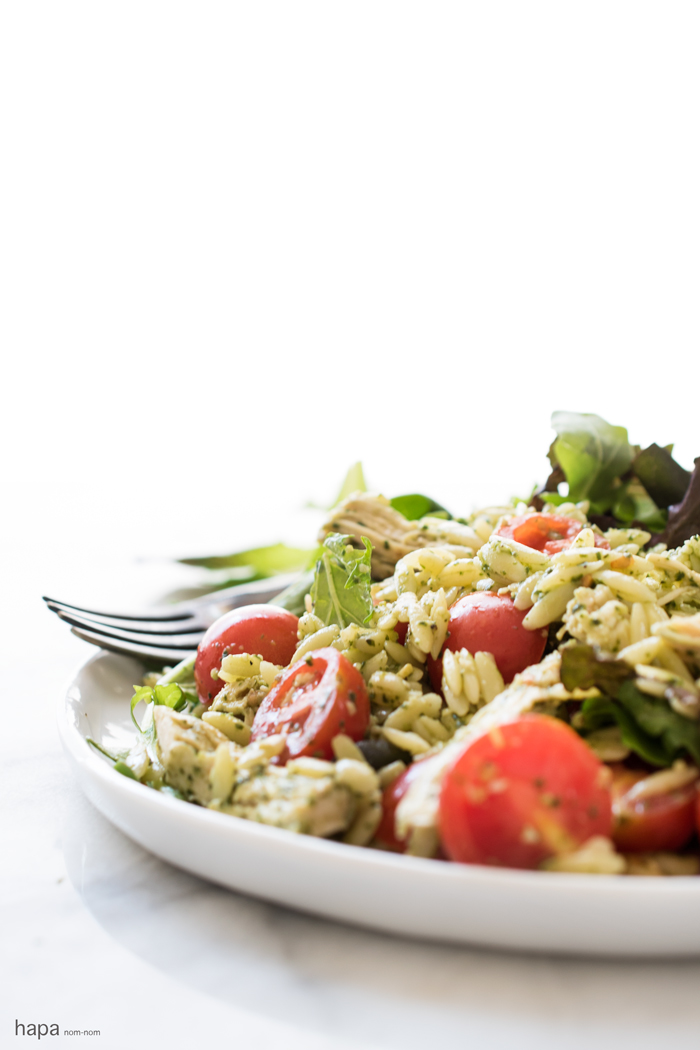 Chicken and Orzo Salad
Author:
Kathleen | Hapa Nom Nom
Ingredients
Pesto Dressing  (See Note)
2 cups fresh basil leaves, packed
2 garlic cloves
¼ cup pine nuts
½ cup parmesan, freshly grated
3 tablespoons fresh lemon juice
½ cup extra virgin olive oil
½ teaspoon kosher salt
⅛ teaspoon freshly ground black pepper
Chicken (See Note)
2 boneless, skinless chicken breasts
2 tablespoons extra virgin olive oil
kosher salt
freshly ground black pepper
16 ounces orzo pasta
1 pint cherry tomatoes, halved
5 ounces mixed baby greens
Instructions
Bring a large pot of salted water to a boil in preparation to cook the orzo.
To make the pesto, add the basil, garlic, pine nuts, parmesan, and lemon juice to the bowl of a food processor. Pulse while slowly adding ½ cup olive oil until smooth. Add the salt and pepper and pulse a few more times to incorporate.
To make the chicken, in a large heavy bottomed skillet, warm 2 tablespoons of olive oil over medium-high heat. Liberally season both sides of the chicken breast with salt and pepper. Cook on one side for 5 minutes, flip and cook the other side for 4 minutes. Remove, cover, and allow to rest. When cool, shred the chicken with two forks.
Add the orzo pasta to the boiling water, stir immediately to make sure it doesn't clump. Cook according to the recommended manufactures time.
Drain and rinse with cold water; drain and place in a large bowl.
Add the pesto dressing to the orzo and toss well to combine. Add the tomatoes and shredded chicken breast, toss again. To serve, place a handful of lettuce on each plate and spoon the orzo chicken mixture on top. Serve and enjoy!
Notes
To make this a quick dinner, use a rotisserie chicken and your favorite jar of Pesto.