This is a fantastic weeknight meal – start to finish you can have this baby on the table in about 20 – 25 minutes! The meatballs are so perfectly moist and packed with so much flavor, you may be in danger of finishing them off before they even make it into the sandwich!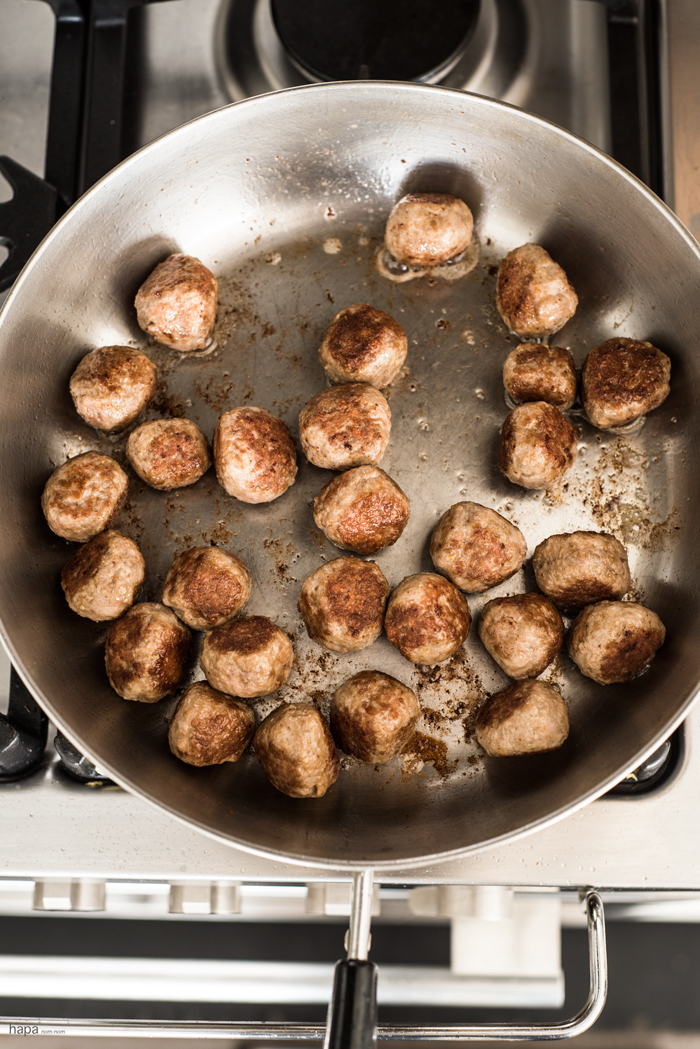 If you've been following this blog for awhile, you may have noticed that I have a wee bit of a bánh mì obsession. It started out harmless enough, spending nearly every lunch hour at the local bánh mì shop, then graduating to making my own Lemongrass Pork Bánh Mì to feed my habit at home, then experimenting with variations of the bánh mì for a greater high – making a Breakfast Bánh Mì and then Bánh Mì Hot Dogs. Well my friends, you can now add the Meatball Bánh Mì Sandwich to the list.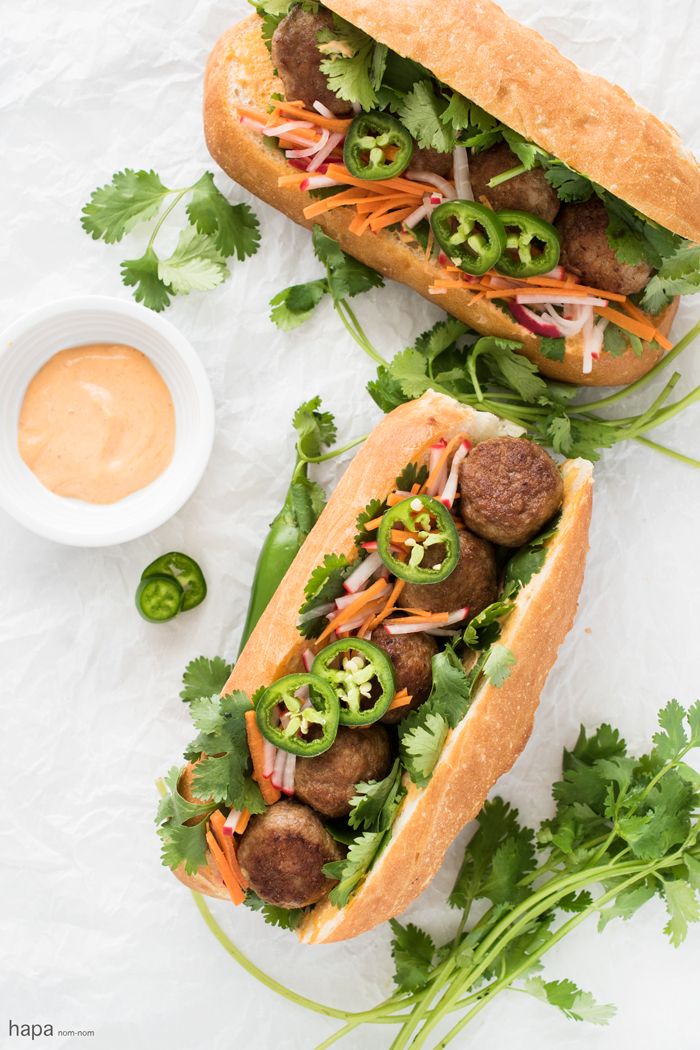 Bánh Mì (Pronounced BUN-Mee, means bread). Vietnamese-style baguette is a bit different than the traditional French baguette – it's light, airy, and delicately crispy. If you have a Vietnamese market or deli in the area – check there first. If not, for this particular application lightly toasting a hoagie roll will do just fine.
Feel free to make the meatballs out of whatever protein you like – beef, turkey, chicken, they'll all do very well in this sandwich.
Meatball Bánh Mì Sandwich
Author:
Kathleen | Hapa Nom Nom
Prep time:
Cook time:
Total time:
Serves:
makes 6 sandwiches
Incredibly moist and flavorful Meatball Bánh Mì Sandwich with fresh veggies and creamy Sriracha mayo on a crispy bun make for a great meal that's quick and easy!
Ingredients
¼ cup rice vinegar
¼ cup white vinegar
2 large carrot, julienned
8 radishes, julienned
1 pound ground pork
1 egg, lightly beaten
½ cup panko
1 tablespoon low sodium soy sauce
2 teaspoons fish sauce
2 garlic cloves, minced
1 teaspoon ginger, grated
1 tablespoon vegetable oil
½ cup mayonnaise
1 tablespoon Sriracha
3 jalapeños
1 small bunch of cilantro
6 mini very fresh French baguettes (not too thick/bready). You can also use lightly toasted hoagie rolls for this application.
Instructions
In a medium-sized bowl, combine the rice vinegar and white vinegar. Add the carrot and radish - toss to incorporate and set aside.
In a large bowl add the ground pork. Then add the egg, panko, soy sauce, fish sauce, garlic, and ginger. Mix well. Shape into meatballs, about 1¼-inch in diameter (you'll make about 25 meatballs).
In a large heavy-bottomed skillet over medium-high heat, heat the oil. Add the meatballs in a single layer and cook until browned on all sides, about 8 - 10 minutes.
Meanwhile, to prepare the Sriracha-mayo, simple combine the two in a small bowl.
Slice the bread lengthwise and slather both sides of the bread with the Sriracha-mayo, add the meatballs, pickled carrots and radishes, cilantro, and jalapeños. Serve and enjoy!