This particular recipe came to be in a somewhat convoluted way.  Every Thanksgiving my mother makes a delicious savory corn pudding.  I wanted to take that dish and reinvent it, making it  into a dessert… a panna cotta!  Why panna cotta, you may ask?
Panna cotta is easily adaptable to whatever is in season.
The ingredients are inexpensive: basically milk, cream, sugar, gelatin, and our flavor of choice.
You probably already have all of the ingredients in your kitchen.
It makes you look like a bad-ass in the kitchen, but really it's super easy, quickly assembled, and can be made ahead!
It's an elegant, yet simple.
It can feed a few or a crowd!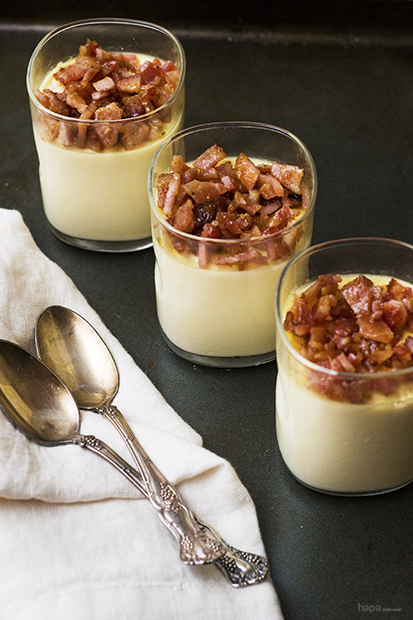 Then there's the matter of the candied bacon.  I'm visiting my parents in Florida, so I'm without some of my kitchen gadgets.  Originally, I had planned to make this dish more like a creme brûlée, and caramelize a sugar topping with my kitchen torch… but I forgot the torch at home.  Granted, I know the same effect can be achieved by placing the creamy custard under a broiler, but not having that kitchen tool got me thinking in a new direction.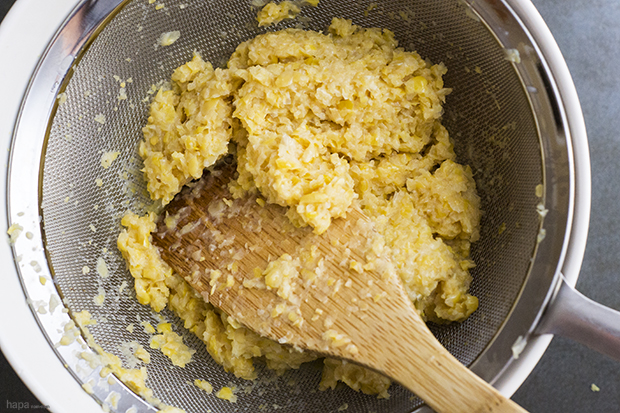 I had a brilliant idea to make a bacon compote!  I chopped up some cooked bacon, added some roasted corn kernels, and sautéed them with a little cider vinegar and some pomegranate molasses.  One taste proved that it was far too sour – not nearly sweet enough… in fact, it was face-sucking tart!
I tired to remedy the situation.  Have you ever done something (in the kitchen or otherwise) that you knew should not and would not work, but you did it any way?  That's exactly what I did!  Despite knowing what would happen, I started adding sugar – enough sugar until it was the desired sweetness.  Of course by then, (as I knew would happen) the compote turned into rock-hard caramel.  Ugh… why did I do that?!  I think I may have subconsciously known the bacon compote wasn't working, so I tanked the recipe and made petrified bacon jam.
Bacon compote idea abandoned, the pan still soaking in a tub of hot soapy water, I racked my brain with an alternate topping.  Candied bacon!  I recently made some with a Michelada recipe, and I was hooked!  A magical item, bacon is often known as the duct tape of food.  But this is not just regular bacon my friends, this is savory, sweet, with a bit of heat!  I literally want to put this stuff on everything!   The crispy candied bacon pairs perfectly with the rich and creamy sweet corn panna cotta.
You may have never had Corn Panna Cotta with Candied Bacon, you may even think it sounds a little strange.  But trust me, you need to try Corn Panna Cotta with Candied Bacon.  The flavors and textures are so perfectly paired your tastebuds will be thanking you – and so will your guests!  Enjoy!
[amd-zlrecipe-recipe:110]