It's Friday! Do you have any plans for Memorial Day weekend? It's arguably one of the biggest grilling holidays, perhaps second only to the 4th of July. It's the first holiday since the long winter has released its icy grasp and it ushers in the start of the long awaited grilling season. That's right my friends, summer fun and flip-flops are just around the corner.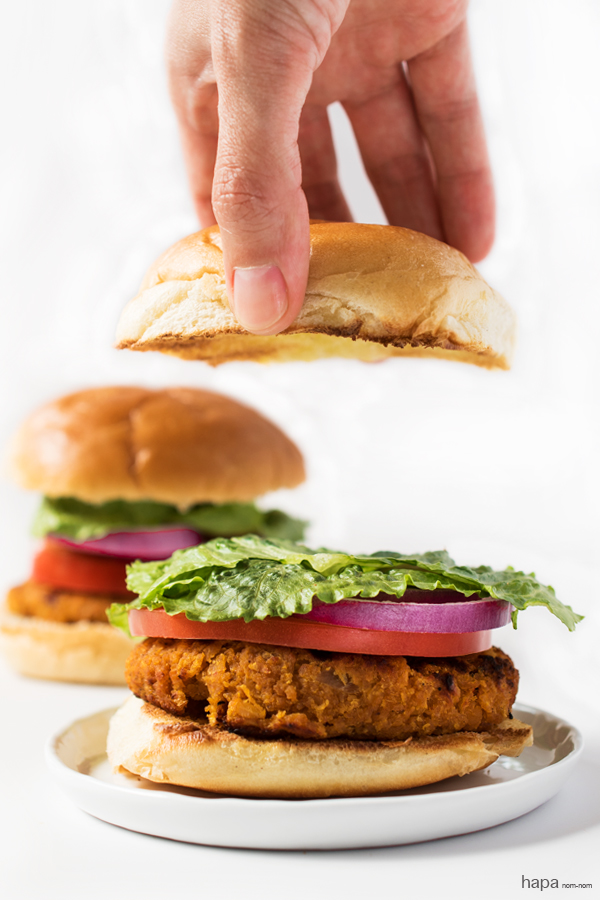 Anytime I host a party or large get-together, I always like to have a few vegetarian options to ensure that there's something for everyone. That being said, even if you're not a vegetarian you're going to love these Ethiopian Red Lentil Burgers! They're packed with a ton of bold spices, moist, satisfying, and healthy! What's not to love?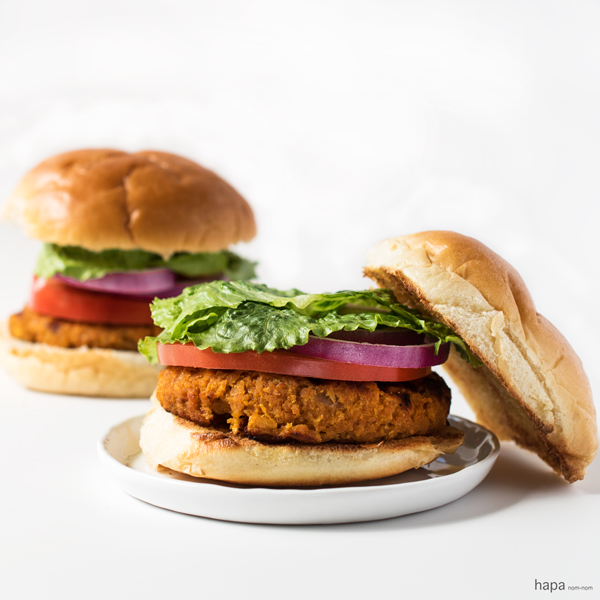 If you're not familiar with Ethiopian Red Lentils, also known as Misr Wat or Mesir Wat, they're honestly the best prepared lentils I've ever had! The secret is the berbere – a blend of spices that form the cornerstone of many Ethiopian dishes. I affectionately call it the 'kitchen sink of spices', because well… it uses just about every spice in your pantry, and then some. I know the list of spices for berbere is long, but seriously guys… it's totally worth it and I'm certain that you'll use the berbere spice blend again – it's great as a dry rub on meats, in stews, or tossed with roasted potatoes.
Just a few general tips when working with veggie burgers:
Because veggie burgers are so much lower in fat, they don't have the same natural juices and fat that a beef burger has, so you need to oil your grill to prevent veggie burgers from sticking. I like to also brush the burgers with oil for good measure.
When you put the burgers on the grill – for the love of God… do not press them into the grill with your spatula. You shouldn't do that with your beef burgers and you definitely don't want to do that with your veggie burgers.
Veggie burgers are inherently more fragile than a meat based burger, so be gentle when you flip.
Toast your buns! Veggie burgers need that extra bit of crispiness.
Have a happy Memorial Day, and remember those who gave their lives while serving.
Ethiopian Red Lentil Burgers
Author:
Kathleen | HapaNom
Even if you're not a vegetarian you're going to love these Ethiopian Red Lentil Burgers! They're packed with a ton of bold spices, moist, satisfying, and healthy! What's not to love?
Ingredients
1 cup red lentils, rinsed (see note)
4 tablespoons extra virgin olive oil, plus more for brushing
1 medium red onion, diced
4 cloves garlic, minced
1 teaspoon fresh ginger, grated
2 tablespoons berbere
½ - 1 teaspoon kosher salt
2 cups water
1 lime, juiced
1 egg, beaten
¾ cup panko bread crumbs
Suggested Toppings:
cheese
lettuce
tomato
red onion
mayonaise
mustard
Instructions
Bring a pot of water to a boil. Add the lentils and cook according to the package directions, though leave them a little al dente, as they will simmer in a spiced liquid a little later in the recipe. About 5 -10 minutes, depending on the size of the lentils. Drain the lentils and set aside.
In a large saute pan, warm the olive oil over medium heat. Add the onion and cook until softened, about 5 minutes. Add the garlic and ginger, cook for 2 minutes. Stir in the berbere to form a paste.
Add the lentils, ½ teaspoon of salt, and water. Bring to a simmer for 10 minutes, until most of the water has evaporated and the mixture has thickened into a stew-like consistency. Taste and add more salt, if needed. Finish with fresh lime juice and allow to simmer for 5 more minutes.
Allow to cool a bit and then stir in the egg and panko bread crumbs.
Scoop a ½ cup of the mixture into your hand and form into a patty, approximately the same diameter as the buns. Place the completed burgers on a plate and refrigerate for 10 minutes - this will help them firm up so they don't fall apart while on the grill.
While the burgers are in the fridge, heat your grill to medium-high if using gas. If using charcoal, build a medium-hot fire. (Be sure to clean and oil your grill). Alternatively, you can heat a cast-iron pan over medium-high heat. You can also try baking them instead - set your oven to 350 degrees, and bake for about 8-10 minutes.
Brush the tops of the burgers with olive oil, place them oiled side down on the grill, and then brush the other side with oil (do not press them into the grill with your spatula). Allow to cook, undisturbed for 3 minutes on each side. (When you're flipping or moving the burgers, be gentle. They're a little more fragile than something like a beef burger).
Once all of the burgers have been cooked, be sure to brush the inside of each split hamburger bun with olive oil and toast on the grill for a few minutes, just until golden-brown and crispy.
To plate, place the burger on the bottom bun, add whatever toppings and condiments you like. Serve immediately and enjoy!
Notes
If you're looking for red lentils in your grocery store, try the international aisle if you cannot find them with the other legumes. If you still can't find them, I've used both brown and green lentils as a substitute and the taste is still great! Just be aware that you'll need to boil them longer initially. For that, I recommend following the package directions.