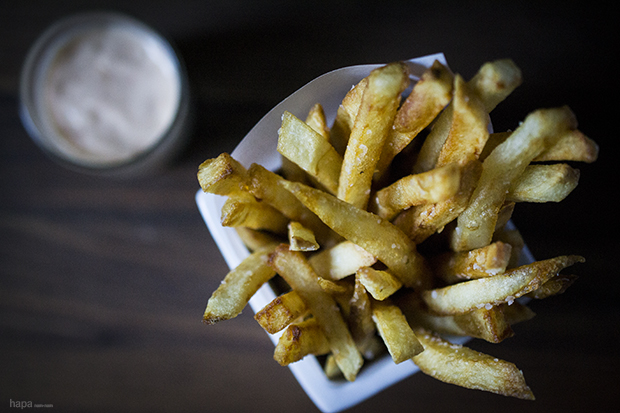 Who doesn't LOVE French fries?!  I'm mean come on, I don't care if you're a health nut, 'my body is a temple' type – you will inevitably sneak a fry from time to time.  The secret to making great fries is all about the texture.  You want a fry that is slightly crisp on the outside and creamy on the inside.  To achieve this, is to cook them twice.  First at a low temperature to blanch the potato and then for a second time at a higher temperature to crisp up the outside. Fries go so well with a multitude of condiments- sprinkled with Old Bay, dunked in ketchup and/or mayonnaise, plunged in curry sauce, or doused with malt vinegar.  But my all-time favorite way to eat them, is to dip them in Sriracha Aioli – a rich and creamy sauce with a hint of garlic and a touch of heat.  It's the perfect compliment to golden delicious fries.
French Fries
Author:
Kathleen | Hapa Nom Nom
The secret to making great French fries is all about the texture. You want a fry that is slightly crisp on the outside and creamy on the inside.
Ingredients
4 Russet Potatoes, peeled
1 quart peanut oil
kosher salt
Instructions
Peel and rinse the potatoes. Cut the potatoes into ¼-inch planks, then cut each plank lengthwise into ¼-inch sticks. Place the fries in a large bowl of cold water and refrigerate for at least 1 hour to overnight.
When you're ready to cook the fries, heat the oil in a heavy-bottomed pan to 325 degrees F. As the oil is heating, drain the water from the bowl containing the fries and pat them dry with paper towels.
Working in small batches (about a handful at a time) carefully add the fries to the oil. Turn the fries gently to ensure even cooking. Cook for 3-4 minutes and remove with a spider or slotted spoon. Lay the fries out on a sheet pan lined with paper towels - the fries will still be light in color and pliable.
Increase the heat to 375 degrees F and fry the potatoes again, in batches, cooking for 2-3 minutes, or until golden. Remove the fries using the spider or slotted spoon and allow to drain on a sheet pan with fresh paper towels. Season with salt immediately. Serve right away and enjoy!
Notes
* Adapted from Bobby Flay, Burger, Shakes, and Fries
  Slice the Potatoes into Planks: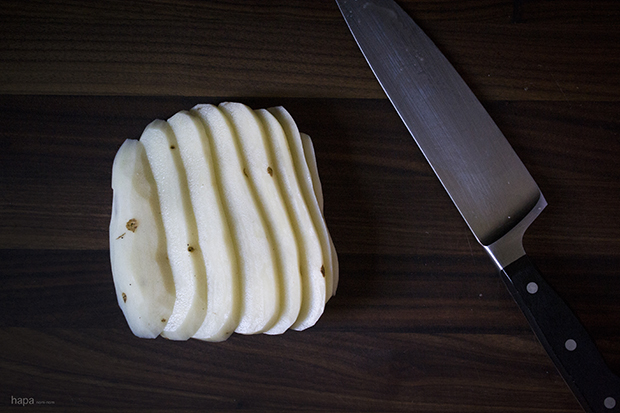 Slice Each Plank into Sticks to Create the Fries:
Place the Fries into a Bowl of Water:
Gently Add the Fries to the Hot Oil:
Lift the Fries Out of the Oil: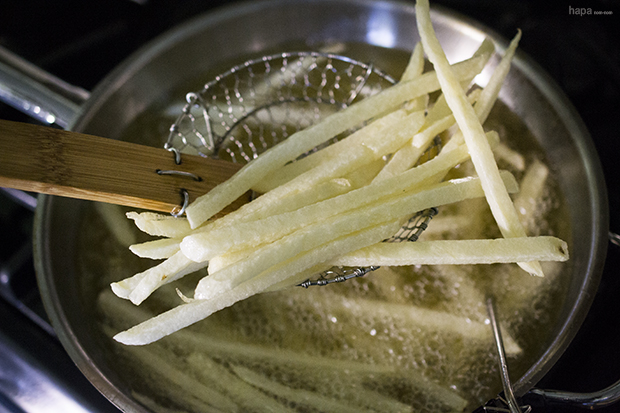 Allow the Fries to Cool on a Sheet Pan Lined with a Paper Towel:
Add the Fries to the Oil for a Second Fry, Season with Salt, and Enjoy: