Hi everyone!  I hope you're enjoying your weekend.
I've got a great cocktail to share with you today. I meant to get this out yesterday, but this week has been a bit crazy. Various appointments all happened to fall around the same time and life in general has just been a bit busy… you know how it goes.
That being said, a cocktail is definitely in order. So sit back, relax, put your feet up and enjoy this light and refreshing cocktail. Just be warned… these babies go down easily.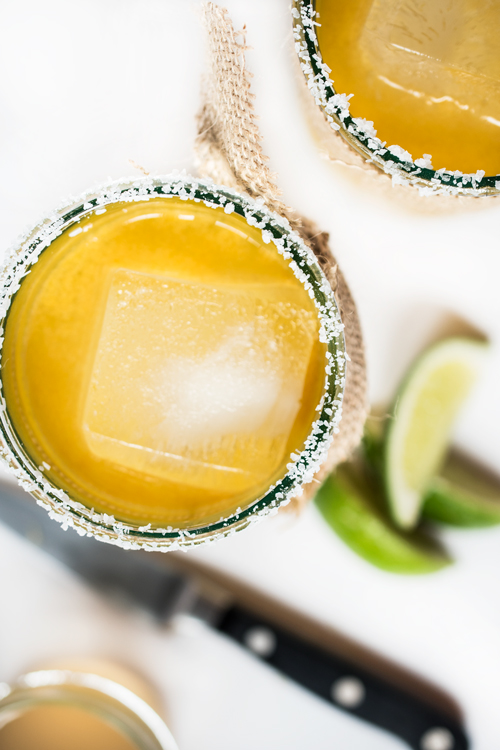 Ginger-Lime Margarita
Author:
Kathleen | HapaNom
Ingredients
¼ cup fresh lime juice
¼ cup sugar
2 inches of ginger, thinly sliced
8 ounces tequila
1 cup fresh orange juice
1 lime, quarter
kosher salt for rimming the glass
ice
Instructions
To make the ginger-lime simple syrup, combine the lime juice, sugar, and ginger in a small saucepan. Bring to a boil and then reduce to a simmer for 5 minutes. Strain out the ginger and set the simple syrup aside to cool.
Fill a shallow plate with salt. Run a sliced lime around the rim of each glass. Press the rim of the glass into the salt. Fill the salt rimmed glasses with ice.
Making one at a time, fill a cocktail shaker with ice*. Pour 2 ounces of tequila, ¼ cup of orange juice, and 1 tablespoon of ginger-lime simple syrup over the ice. Shake and pour into the prepared glasses. Garnish with a lime if you wish, serve and enjoy!
Notes
* If you don't have a shaker, you can add all of the ingredients at once in a large pitcher filled with ice to combine.