It's the start of a new week, and I've got a fantastic weeknight meal for you that can be on the table in about 20-25 minutes!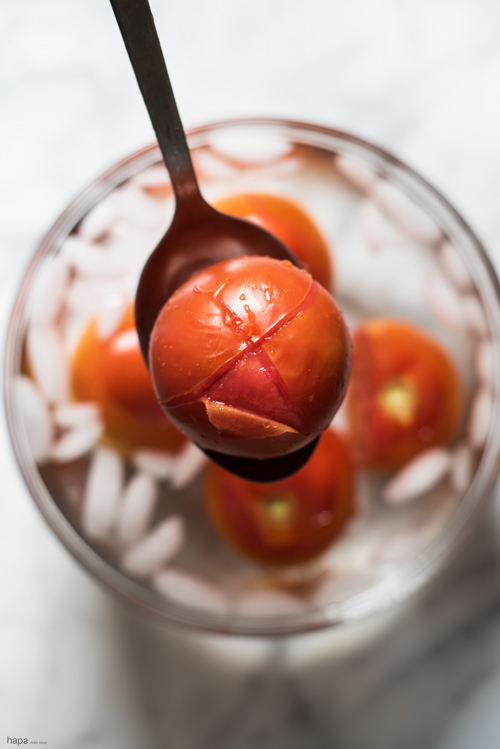 Penne alla Vodka was one of the first dishes I ever made well. When I was in college and first learning how to cook for myself, I made a lot of strange dishes, like spaghetti with cut up hot dogs. (I know it's weird, try not to judge). Then I picked up a Williams-Sonoma book in desperation to learn how to make a decent bowl of pasta. Their Penne alla Vodka recipe was incredible! The sauce was rich with cream but with a sharp, bright flavor from the vodka and crushed red pepper.  It's the kind of sauce that keeps you coming back for more helpings.
I suppose you could say that it was this dish that showed me that I could actually make something that tasted as good as anything I'd ever had at any restaurant.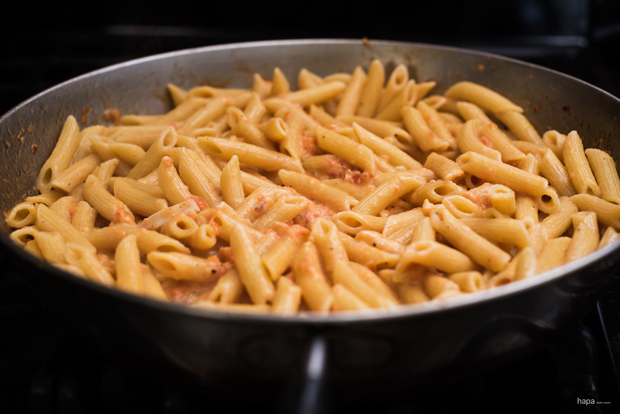 If you've never cooked with vodka before, you're in for a treat. When the alcohol is reduced, it adds a touch of heat and a bit of a sharp bite that helps balance out the sweetness of the tomatoes and the cream. However, you want to make sure that you cook down the alcohol enough, so that the harsh taste can evaporate, leaving only the flavor and the enhanced aromas behind.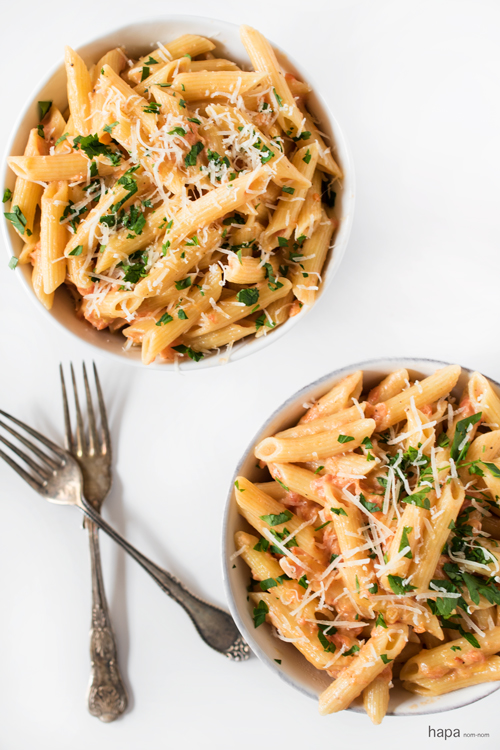 Penne alla Vodka
Author:
Williams-Sonoma, Pasta
Prep time:
Cook time:
Total time:
Ingredients
5 large tomatoes
⅓ cup extra virgin olive oil
2 cloves garlic, thinly sliced
¼ cup vodka
kosher salt
freshly ground black pepper
pinch of crushed red pepper flakes
1 pound penne pasta
½ cup heavy cream
3 tablespoons fresh parsley, roughly chopped
parmesan for sprinkling
Instructions
Bring a large pot of water to a boil. In the meantime, cut a shallow 'X' in the bottom of each tomato. Prepare a bowl of ice water and set aside. Once the pot of water comes to a boil, plunge the tomatoes into the water for 30 seconds. Using a slotted spoon, transfer the tomatoes to the bowl of ice water to stop the cooking process. Peel the skins off and slice the tomatoes in half. Lightly squeeze each half over a sink to dislodge the seeds. Cut the tomatoes into a small dice and allow to drain in a colander for 10 minutes.
In a large sauté pan over medium heat, warm the olive oil. Add the garlic and sauté until fragrant, about a minute. Remove the pan from the heat and carefully add the vodka. Return the pan to medium heat and cook until reduced by half. Add the tomatoes, a pinch of the crushed red peppers, and salt and pepper to taste. Simmer uncovered for 10 minutes.
Generously salt a large pot of boiling water. Add the pasta and cook until al dente, about 10-12 minutes. Drain well and add the pasta to the sauté pan.
Add the cream and stir well until the well incorporated, about 2 minutes. Taste and adjust seasoning, if needed.
Divide among bowls, sprinkle with parsley and parmesan cheese. Serve immediately and enjoy!