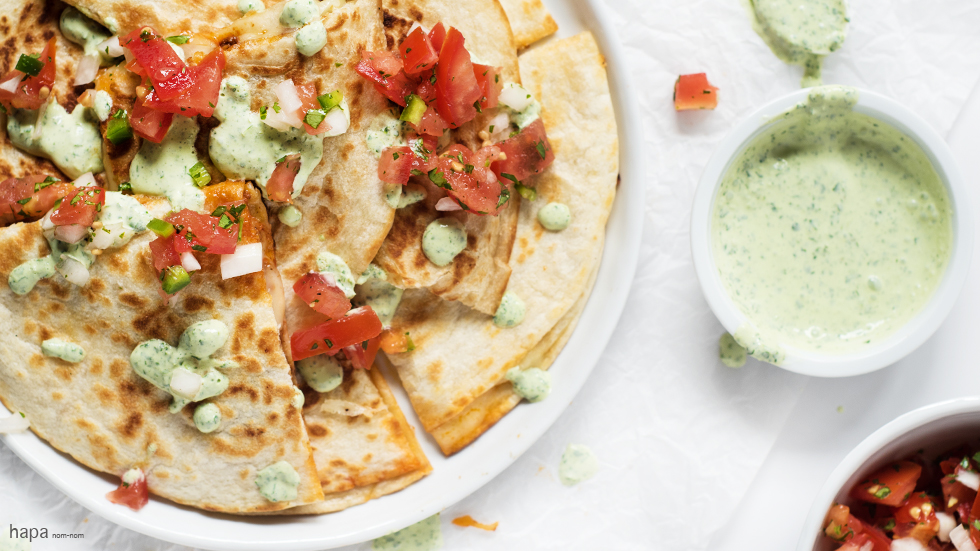 Hiya! I hope your week is going well! The last few weeks for us have been crazy busy, but I have some news! Two years ago Mr. HapaNom and I moved from Washington, D.C. to Atlanta for his fellowship program. Atlanta has been good to us – we've met a lot of wonderful people, made some life-long friends, and ate some really great food! The fellowship is quickly coming to an end and we've been scrambling to find what's next on the horizon.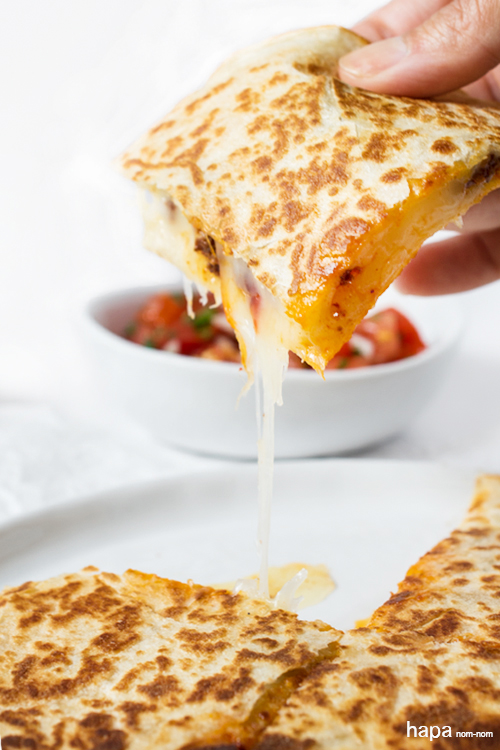 It's been a bit of a roller coaster – there's something both exciting and terrifying about not knowing where you're going to live in 2 months – yikes! In fact, we told our both sets of our parents to prepare the guest room (we were only half-joking). I am happy to report that we do not need to move in with our parents and that Mr. HapaNom was offered a fantastic position in San Fransisco! Finally, we know where we're going! And not only do we know where we're going, we're super excited about where we're going!
These Chorizo Quesadillas with Cilantro-Lime Sour Cream were made with Cinco de Mayo in mind. Crispy outside, ooey-gooey, cheesy goodness with flavorful chorizo inside, and topped with zesty cilantro-lime sour cream and fresh pico de gallo – it's perfect for a party. Or in this case, it's part of our celebration.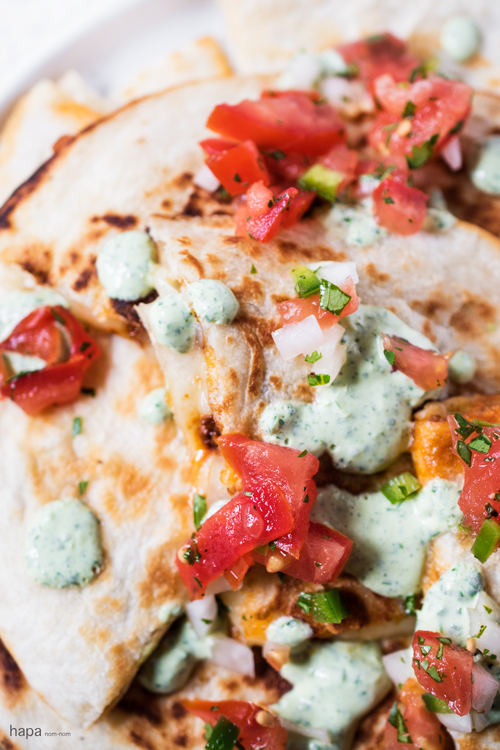 Chorizo Quesadillas with Cilantro-Lime Sour Cream
Author:
Kathleen | HapaNom
Ingredients
8 ounces sour cream
1 small bunch of cilantro, thick stems removed
1 lime, juiced
½ teaspoon salt
½ pound chorizo, casings removed
8 8-inch flour tortillas
8 ounces Pepper Jack cheese, grated
vegetable spray
prepared pico de gallo*
Instructions
To make the Cilantro-Lime Sour Cream - simply add the sour cream, cilantro, lime juice, and salt to the bowl of a food processor. Puree until smooth and set aside.
Warm a skillet over medium heat. Once hot, add the sausage and cook, stirring and breaking up the meat with a wooden spoon, until cooked through and crumbly, about 7 minutes. Drain off the excess fat and set aside.
To assemble the quesadillas, lay out 4 tortillas. Top evenly with half of the cheese, making sure you get all the way out to the edges, then sprinkle the chorizo overtop. Then sprinkle the rest of the cheese over top of everything and finally top with the remaining tortillas to close. Press down a bit on each one to help seal.
Lightly spray a skillet with vegetable oil and warm over medium heat. Once hot, add one of the quesadillas. Cook for 2 - 3 minutes per side, or until the cheese has melted and the tortillas are golden-brown.
Transfer the quesadilla to a plate and cook the remaining 3 in the same manner, spraying with vegetable oil in between each quesadilla.
Once done, slice and top with Cilantro-Lime Sour Cream and Pico de Gallo. Serve immediately and enjoy!
Notes
* If you'd like to make your own pico de gallo - it's super quick and easy! Simply click on the link provided in the recipe. However if you prefer, some grocery stores carry prepared pico de gallo in the refrigerated section.