This post was supposed to be chocolate chip cookies with a twist, but the recipe still needs some tweaking. Hopefully I'll get it to you next week. In the meantime, I was making these Summer Rolls for lunch (something I posted this time last year), when I thought:
Now would be a great time to re-photograph them (something I've been meaning to do).
This was posted when maybe 5 people looked at my site.
It's something I make regularly, especially during the warmer months, and it's something I'd like to share with you!
So here it is – same recipe, new photos. I hope you enjoy!
Aptly named, Vietnamese Spring Rolls (Summer Rolls) are perfect for warmer months.  They're light, refreshing and great as an appetizer or light lunch.  Traditionally, they are made with vermicelli noodles and a protein such as shrimp or pork. However, summer rolls are wonderfully adaptable, so you can tailor them to basically whatever you like.  With this particular recipe (Summer Rolls with Chile-Lime Dipping Sauce), I used the avocado in place of shrimp, they have a similar shape when sliced and they're hearty enough to act as a light protein.  Likewise, when thinly julienned the cucumber acts like a noodle, making this dish lighter than if had been made with vermicelli.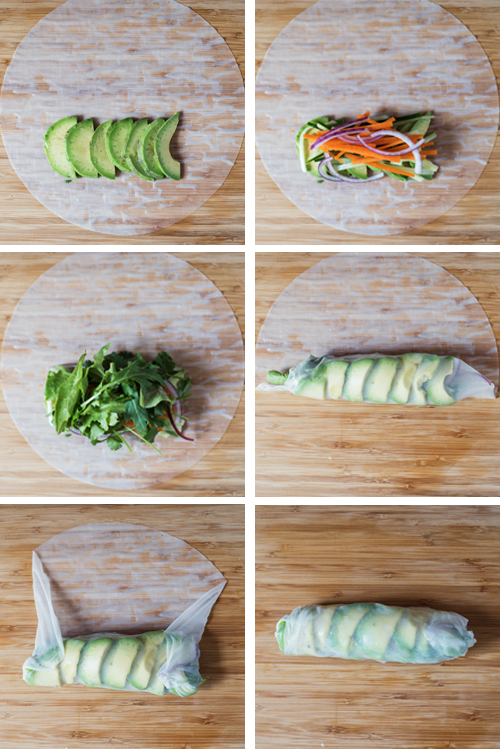 Working with the rice paper rounds takes a little practice, so try to have a sense of humor if you're trying this for the first time.  It doesn't take long to get the feel for it, just remember a few important things like having your mise-en-place prepared,  have plenty of space cleared to work, and read over the tips at the bottom of the recipe for working with the wrappers.  Before you know it, you'll be cranking these little beauties out and enjoying them all season!
Also try a Scallion-Lime Dipping Sauce (from my Sesame Crusted Tofu recipe).
Summer Rolls with Chile-Lime Dipping Sauce
Author:
Kathleen | HapaNom
Light and refreshing Summer Rolls - served with Chile-Lime Dipping Sauce, they're perfect for an appetizer or a light lunch!
Ingredients
DIPPING SAUCE (for a vegan/vegetarian option, see the dipping sauce recipe below)
2 tablespoons sugar
2 tablespoon lime juice
2 tablespoons fish sauce
2 tablespoons water
2 Thai chilies, finely chopped
VEGETABLE SUMMER ROLLS
1 English cucumber
3 carrots
½ small red onion
3 avocados
1 lime
1 cup cilantro, thick stems removed
3 cups mixed greens
6 22-cm rice paper rounds
Instructions
To make the dipping sauce, add the sugar, lime juice, fish sauce, and water to a small saucepan. Warm over medium heat just until the sugar has dissolved. Turn off the heat and add the chiles. Refrigerate until ready to use.
To prepare the veggies, cut the ends off of the cucumber and then cut the cucumber in half (each half approximately 5 inches in length). Slice lengthwise and scoop out the seeds with a spoon. Julienne the cucumber.
Trim the ends off of the carrots, cut to the same length as the cucumbers, and julienne. Thinly slice the red onions and avocados. Squeeze the lime juice over the avocados – this will not only add flavor, but prevent them from turning brown so quickly. Wash the cilantro and lettuce. Lay out all of the ingredients for assembly.
Fill a large bowl with water (room temperature water is fine). Working with one at a time, fully submerge a rice paper round for a few seconds.* Lay the wrapper evenly on the work surface (a plate will work, but I've found a wooden cutting board works best). Start at the bottom ⅓ of the wrapper, lay out the avocado slices slightly overlapping them. Continue to layer the cucumber, carrots, and onions, ending with the cilantro and lettuce (you want the 'stiffer' ingredients in the middle so they are less likely to puncture the delicate wrappers.) Be careful not to over stuff the rolls.
Begin rolling using your fingers to keep the ingredients together as you roll. Roll as tightly as you can without tearing the wrapper. After one full revolution, fold the sides to close the ends of the wrapper (like a burrito.) Continue to roll until the wrapper is completely sealed. Roll the remaining wrappers in this fashion.**
To present, slice the rolls in half and serve with the dipping sauce. Enjoy!
Notes
Rice Paper Round Tips:

* The rice paper round will still be quite stiff when you pull them out of the water – the residual water on the rice paper round will continue to soften the wrapper.

** As you work on the rest of the rolls, be sure not to let the completed rolls touch – they could stick. If you store them for later consumption, I recommend wrapping them individually in plastic wrap. Rolls can be refrigerated and kept for several hours.
Avocado-Lime Dipping Sauce
Author:
Kathleen | Hapa Nom Nom
If you're looking for a different kind of dipping sauce that's also vegetarian and vegan friendly, this one is a nice alternative.
Ingredients
¼ cup greek yogurt
½ and avocado
½ cup fresh cilantro
1 lime, zested and juiced
1 jalapeno
1 tablespoon fresh mint, roughly chopped
¼ teaspoon Kosher salt
freshly ground black pepper, to taste
Instructions
In the bowl of a food processor, add all of the ingredients for the Avocado-Lime Dipping Sauce. Puree until smooth and add additional salt and pepper if needed.