Several weeks ago, while visiting my husband's parents in Germany, we decided to take a flight to Ireland and spend a week driving around.  We had no plans and no reservations.  Just a travel guidebook and a hope that we could find Wi-Fi.
We landed in Kerry and immediately rented a car.  If you ever want to experience white-knuckle driving… rent a car in Ireland.  Excuse me while I pause to give my husband some serious props. During our trip he drove 1500km, on the left-hand side, with a manual transmission vehicle, driving down two-lane roads that were about the width of a bicycle path, and… without having to implement our car insurance policy at the end of the trip.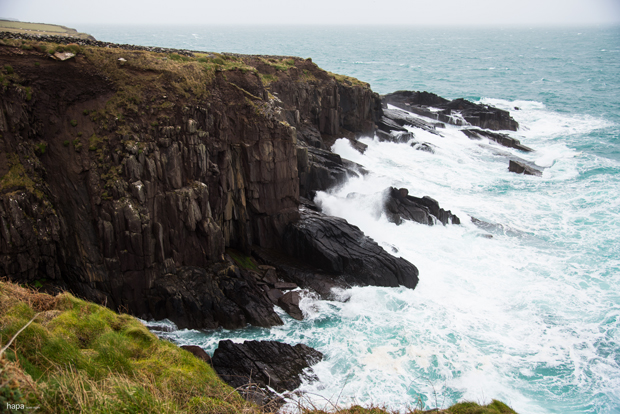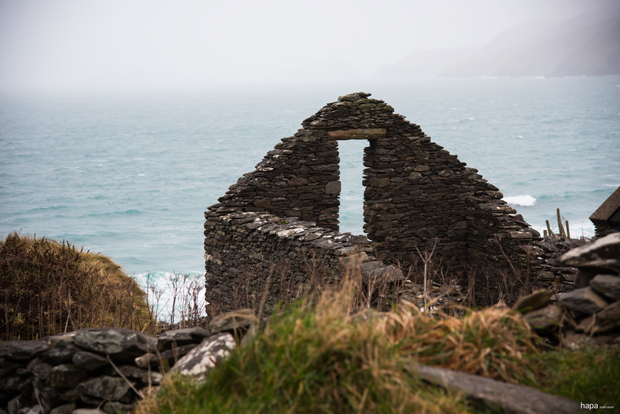 Back to the trip.
Our first stop was in Dingle – a small fishing town on a peninsula in the southwest.  This spot ended up being one of our favorites.  The area is surrounded by stunning cliffs and impressive archeological sites. After an afternoon of driving around and exploring, we popped into Murphy's Pub for a pint.  Turns out, they're a B&B too!  The rooms were modest, but clean and quite.  The breakfast was delicious and the people were awesome! One of the guys behind the bar was even kind enough to suggested that we check out some traditional Irish music at another pub down the road.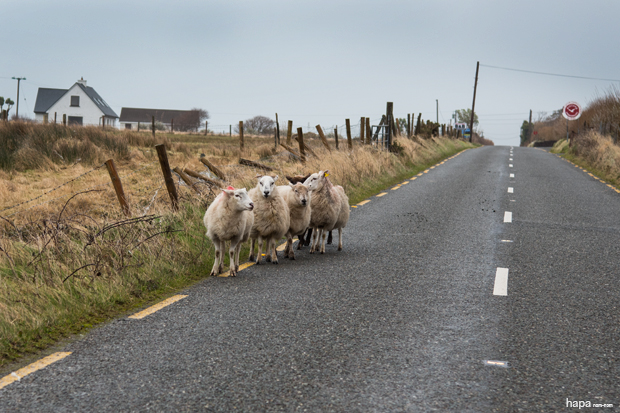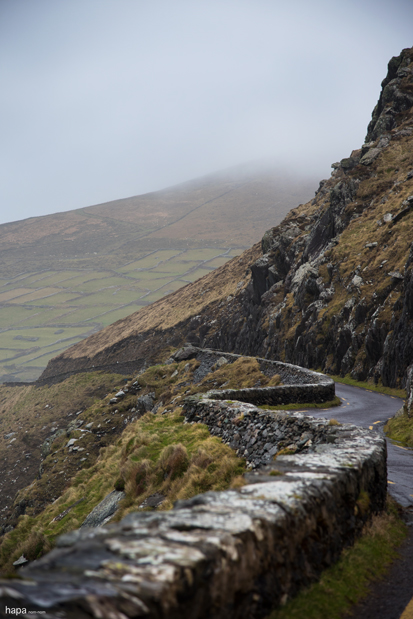 After leaving Dingle, we headed further south to the Ring of Kerry.  Even on a cold-grey day you could see how exceptionally beautiful the area was – my husband and I joked that it was, '50 shades of green'.
We drove on, stopping in Killarney and Waterford.  We visited Avoca Handweavers – the oldest working woollen mill in Ireland and one of the oldest manufacturing companies in the world.  I bought more wool blankets than I know what to do with – but they're so gorgeous and totally worth it!
We took a cooking class in Dublin and made a shallot tarte tatin, a fantastic bouillabaisse, and a creme brulee.  We met some really great people and even went out with two couples for pints afterward.  We saw a hurling game in Kilkenny and sang, Don McLean's "American Pie" along with the rest of the patrons at a pub later that night.  We had a great time!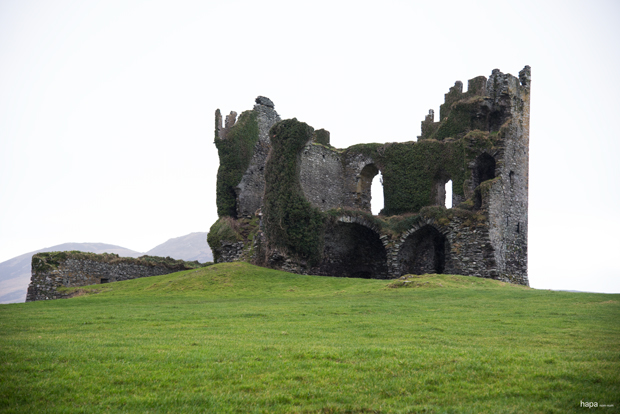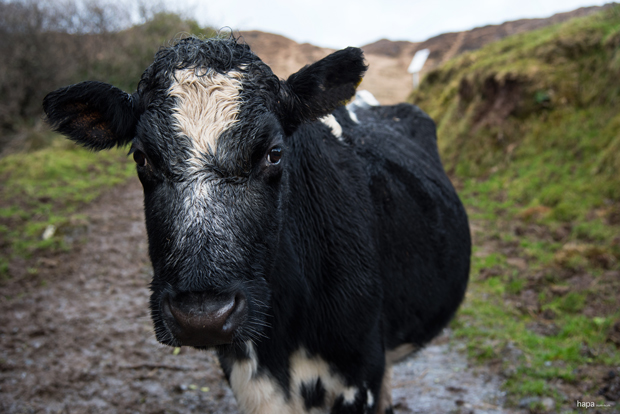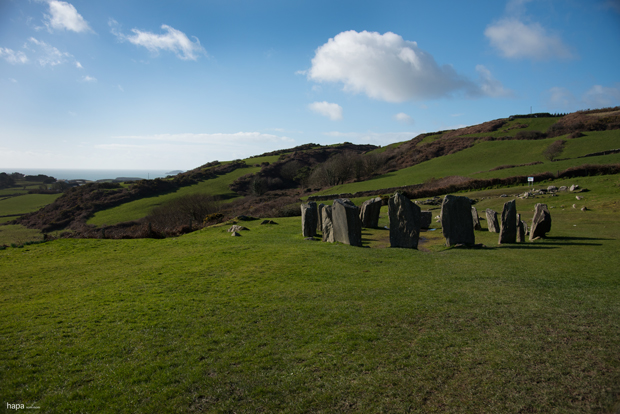 Stopping for lunch at a pub in the small village of Crookstown, my husband and I ordered a Shepherd's Pie to share. We took a seat next to a coal-burning fireplace while a few locals sat at the bar with their pints, chatting.  Their accents were so strong, the only word we could make out was the f-bomb, which honestly was every other word. If I may, I will illustrate an example with a description of our meal:
When our f*cking Shepherd's Pie came out, there was a side of f*cking boiled carrots and f*cking boiled cabbage.  No f*cking seasoning, not even a f*cking pinch of salt. Then came the basket of f*cking potatoes.  Four f*cking potatoes, skin on, boiled, in a f*cking basket – and that's all she f*cking wrote.  
You get the point, I'm sure.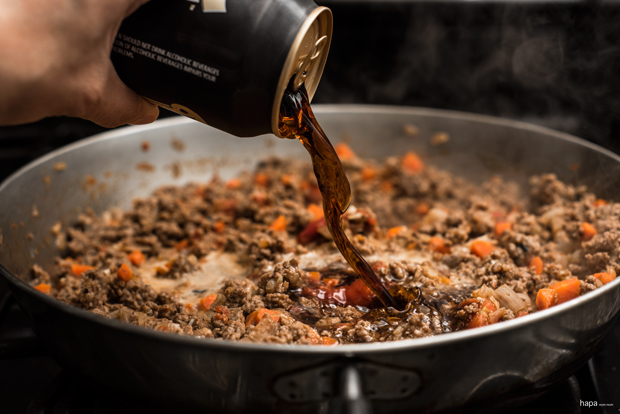 Honestly, I wouldn't have it any other way.  This pub was fantastic!  Sure the boiled vegetables and the basket of potatoes could have used some work, but the Shepherd's Pie was fantastic, and the ambiance… the ambiance was f*cking great!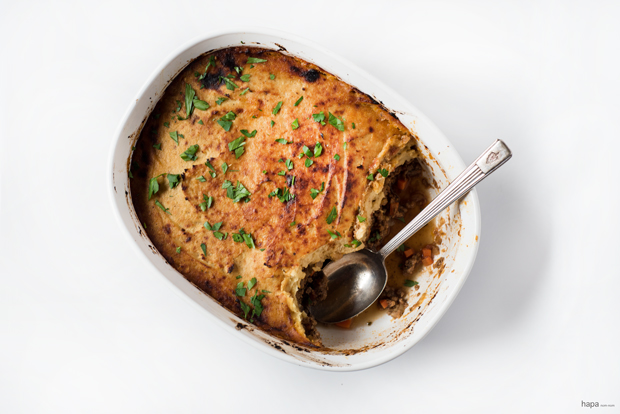 Throughout our trip, I ordered Shepherd's Pie at several other pubs.  Generally it's made with lamb or mutton, but I found a number of places using beef – either one is delicious.
Potatoes are a traditional topping, but I knew a parsnip puree would be particularly nice with this dish.  It's sweetness pairs well with beef, chicken, fish, and even game. When the puree is combined with the Guinness Shepherd's Pie filling, the complex layers of savory/sweet yield complete deliciousness!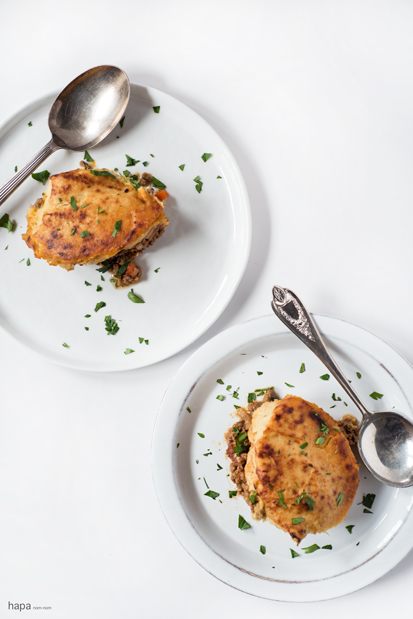 Guinness Shepherds Pie
Author:
Kathleen | Hapa Nom-Nom
Ingredients
2 pounds parsnips, peeled and sliced into ½ inch rounds
6 tablespoons unsalted butter, melted
¼ cup half and half
kosher salt
black pepper
pinch of nutmeg
2 pounds ground lamb or beef
2 tablespoons extra virgin olive oil
1 large carrot, diced
3 shallots, finely diced
4 garlic cloves, minced
1 14.5 ounce can whole peeled tomatoes
2 tablespoons Worcestershire sauce
12 ounces Guinness
½ cup good quality chicken stock
1 teaspoon fresh thyme, roughly chopped
1 teaspoon fresh rosemary, roughly chopped
chopped parsley, garnish
Instructions
Place the parsnips in a large pot and cover with cold water. Bring to a boil and then simmer for 20 minutes, or until fork tender. Drain the water and then place the parsnips in the bowl of a food processor. Add the butter, half and half, 1 teaspoon of salt, ¼ teaspoon pepper, and the nutmeg. Puree until smooth. Cover and set aside while you prepare the meat filling.
In a large saute pan over high heat, cook the ground lamb or beef until browned and no pink remains. Season with salt and pepper to taste. Transfer the meat to a colander and allow to drain.
In the same saute pan, heat the olive oil over medium-high heat. Add the carrots, shallots, and garlic. Stirring frequently, allow to cook until softened, about 5 - 6 minutes.
Add the canned tomatoes along with the juice. Break up the tomatoes with a wooden spoon and cook for 2 minutes.
Add the Worcestershire sauce and the meat to the pan. Stir and cook for another 2 minutes. Then add the Guinness and bring the contents to a boil. Bring the heat down to a simmer and allow to reduce to half, about 10 minutes.
Add the chicken stock, the thyme, and rosemary. Reduce until thickened and nearly all liquid has cooked off, about 15-20 minutes.
Preheat the broiler to high. Fill a medium casserole dish with the meat filling. Then top with the parsnip puree, making sure to evenly distribute and spread all the way to the edges. Place on the center rack of the oven and broil for 6 -8 minutes, or until the top of the puree is golden-brown.
Top the casserole with chopped parsley and serve. Enjoy!