I have a really cool post to share with you today!  I'm participating in Food Blogger Central's very first Blog Hop. What's a Blog Hop?  A group of bloggers make a dish from the blogger noted directly above them in a list – that way everyone makes a dish and everyone has one of their dishes made. It's a great way to get to know other bloggers and reach out to knew people.  Pretty cool, huh?!
I love savory breakfasts, so when I saw Kim's incredible Polenta Breakfast Bowl from Feed Me Seymour, I knew I had to make it!  I never would have thought to make polenta a part of breakfast, but when I was a kid my father frequently made Breakfast Fried Rice, so a Polenta Breakfast Bowl made total sense to me.
Looking at Kim's photographs, she has the bowl sitting on a napkin with red polk-a-dots.  I thought hmm…. those kind of look like little tomatoes.  I bet some roasted tomatoes would be nice.  I also had some turkey sausage in the fridge, so I added some of that as well.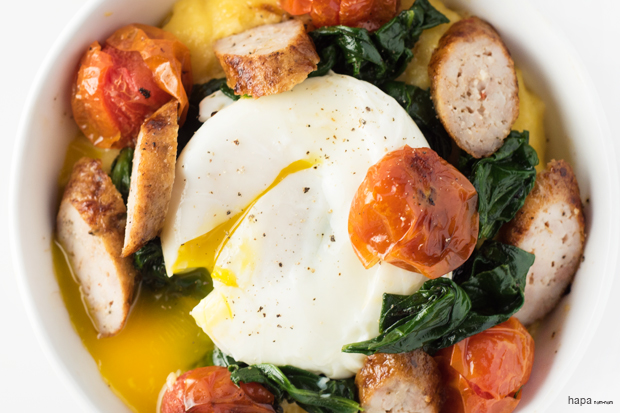 Like Kim, poached are my favorite way to make eggs.  They can be a little tricky if you're not used to making them, but I've found if you follow a few simple steps, you can make a great poached egg.
Use fresh eggs – they'll retain their shape better. How do you know if an egg is fresh?  Drop it into a glass of water.  If it sinks, you've got a fresh one.  Another way to tell if you have fresh eggs, is right at the market. If you're in the US, the USDA requires every carton of eggs to display a Julian date, a number ranging from 000 to 365 (corresponding to days in the year).  This number tells you when the eggs were packaged.  So a stamp of 000 would mean that the eggs were packaged on January 1st and a stamp of 365 would mean that they were packaged on December 31st.  The higher the number, the fresher the egg.
Once the water comes to a boil, turn the heat down until it's barely simmering.  Boiling water can tear apart the delicate egg whites before they have a chance to set.
Swirl the water.  Slowly slide the egg into the center of the swirl so that the egg white wraps around the yolk.  This technique is up for some debate – some people swear by it (myself included), others can't quite get it to work for them.  Try it out and see what works best for you.
Set a timer!  3 1/2  minutes is all you need for perfectly runny yolks.
Oh glorious poached eggs.  How I love the soft-pillowy exterior, and cutting into the velvety yolk, watching it cascade over a bowl of creamy polenta, roasted veggies, and savory turkey sausage.  Now this IS breakfast.
Polenta Breakfast Bowl
Author:
Kathleen | HapaNom
Prep time:
Cook time:
Total time:
Ingredients
½ pint cherry tomatoes
2 tablespoon extra virgin olive oil, divided
1 sprig of thyme, leaves only
2 turkey sausages
3 ounces baby spinach, tough stems removed
1½ cup water
½ cup cornmeal
¼ cup milk
1 tablespoon unsalted butter
2 eggs
kosher salt
freshly ground black pepper
Instructions
Preheat the oven to 400 degrees F. Place the tomatoes on a small sheet pan lined with foil. Drizzle with 1 tablespoon olive oil and sprinkle with thyme. Roast for 15 - 20 minutes, or until slightly chard and split.
While the tomatoes are roasting, heat a large saute pan over medium heat. Add 1 tablespoon of olive oil and the sausage. Cook until golden-brown and cooked through, about 12 minutes. Remove the sausage and allow to rest a few minutes, then slice into medallions. Add the spinach to the same pan over medium heat to infuse some of that turkey sausage flavor. Cook the spinach until wilted, about 3 minutes.
Meanwhile, prepare 2 saucepans. The 1st saucepan is for the polenta - fill a small saucepan with 1½ cups water and bring to a boil. The 2nd one is for the poached eggs - fill a large saucepan ¾ of the way with water and bring to a boil.
Once the 1st saucepan (with 1½ cups of water) comes to a boil, slowly stir in the polenta. Frequently stir until the water is absorbed, about 3 minutes. Then add the milk and butter. Stir frequently for another 2 minutes, until thick and creamy. Season with salt to taste.
Crack the eggs into separate bowls. Once the water in the large sauce pan comes to a boil, turn down the heat to barely a simmer. Using a spoon, swirl the water in one direction creating a whirlpool effect. Holding the bowl containing one of the eggs just above the surface of the water, carefully slide the egg into the center of the whirlpool. Do this again with the second egg. Let it cook for 3½ minutes. Once cooked, use a slotted spoon to gently lift the eggs out of the water. Transfer to a paper towel to drain.
To assemble - divide the polenta among two bowls. Top with the spinach, roasted tomatoes, turkey sausage, and the poached egg. Sprinkle with salt and pepper, to taste. Serve immediately and enjoy!