Homemade chicken stock is often the secret ingredient to awesome food, and it can make or break your dish.  So what is stock?  And what's the difference between stock and broth?
Stock is made from bones and cartilage which give it body, and sits on your lips for a moment. When cooled, you should be able to giggle a stock – almost like a jelly.  Broth on the other hand, is the liquid from which the meat has been cooked.  It tends to have more of a meaty flavor, but less viscosity.
True stock has all of the meat removed from the bones.  Personally, I don't have the patience to pick bones completely clean, so I end up making a hybrid of stock and broth.  Though this is not just out of convenience, it's for taste and texture as well. You may be thinking, yeah – why not have the best of both worlds?  Well… sometimes you may want a stock that adds body, but you don't want it to compete with other flavors in your dish.  For those situations, you would want a stock in it's purest sense.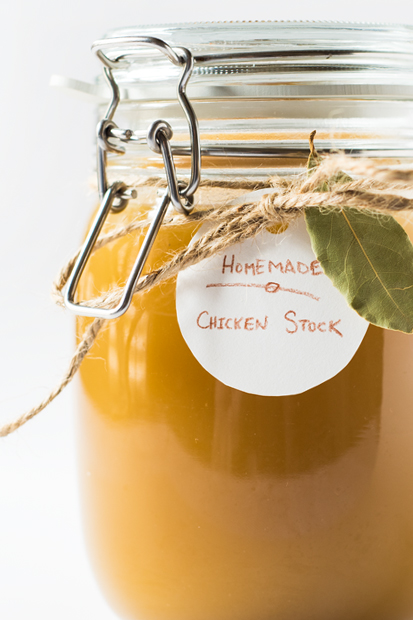 When it comes to aromatics, I like to start with a mirepoix (a combination of onions, carrots, and celery), and then add some black peppercorns and fresh herbs, like thyme and rosemary.  If you have some parsley, feel free to throw that in, steams and all.
This recipe calls for 3 pounds of chicken bones.  That may seem like a lot, but just freeze leftover chicken scraps as you come across them, and once you have enough, make your stock.  If you want to make homemade stock before you have stockpiled enough scraps, you can always ask the butcher for leftovers or purchase a pack of cheap cuts, such as necks and backs. Make sure to get a few wings in there as well, as they have a relatively large amount of connective tissue that will elicit the gelatin needed to give a stock its desired body.
Chicken Stock
Author:
Kathleen | Hapa Nom-Nom
Prep time:
Cook time:
Total time:
Ingredients
3 pounds chicken bones, necks, backs, and/or wings
1 medium yellow onion, roughly chopped
2 carrots, roughly chopped
2 celery stalks, roughly chopped
1 sprig fresh rosemary
1 sprig fresh thyme
1 bay leaf
1 teaspoon black peppercorns
salt to taste
Instructions
Place the chicken in a large stock pot and cover with 4 quarts of cold water. Bring contents to a boil.
Skim off an foam that rises and add the onions, carrots, celery, rosemary, thyme, bay leaf, and black peppercorns. Simmer uncovered, for 2 -3 hours.
Strain the stock through a fine-meshed sieve. Allow the stock to cook and skim off any excess fat that rises.
Use immediately or freeze up to 3 months.
Notes
The longer you let the stock simmer, the richer it will become.