Labneh – a yogurt cheese that is popular in Middle-Eastern and Greek cuisine, is composed of little more than yogurt, olive oil, and a few fresh herbs and spices of your choosing.  The consistency is similar to cream cheese, and it's easily spread over a piece of bread or toast, even cucumbers!
Labneh is made by draining full-fat plain yogurt for 2-3 days, to bring out a wonderful tangy flavor and to remove as much whey from the yogurt as possible – if the yogurt is too wet, it will not roll well and you'll be left with a big goopy mess in your hands.  Be sure to use full-fat yogurt: low-fat or non-fat doesn't hold together as well.  Besides,  this dish is healthy as it is, so feel free to 'indulge'.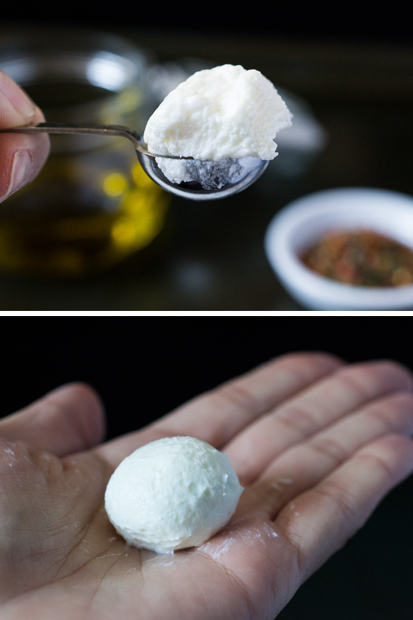 This particular dish is flavored with fresh rosemary, thyme, sea salt, and crushed red pepper.  However,  flavor the labneh anyway you desire – za'atar, sumac, olives, and/or mint are other popular flavors.   Garlic may seem like a great pairing with these flavors – and it is!  However, you DO NOT want to add garlic to the preserving oil as not only will the garlic take on an unappealing taste, but even more importantly could cause botulism!  If you really want to add a garlic component to this dish, you can do one of two things:
Purchase olive oil that is already infused with garlic (the manufacturer should add a preservative to prevent bacterial growth)
Rub a garlic clove a few times across toasted bread before spreading the labneh. Just be careful not to be too heavy-handed as raw garlic is powerful stuff!
I like to serve yogurt cheese on a toasted slice of baguette, but pita or other flatbread are quite delicious as well.  Labneh is great for breakfast, a snack, or served on a cheese platter to your guests.  A jar of homemade yogurt cheese also makes for a nice gift to your foodie friends.  After all of the labneh has been eaten, the leftover herbed olive oil makes an excellent dipping sauce or tossed in with pasta.

Labneh (Yogurt Cheese)
Serves:
Fills two 1-pound jars
Labneh - A healthy and delicious yogurt cheese is easy to make and makes a wonderful breakfast item or snack! Recipe slightly adapted from,
Mediterranean Kitchen
.
Ingredients
2 pounds (32 ounces) full-fat plain yogurt
¾ teaspoon sea salt
1½ tablespoon fresh rosemary, chopped
1½ tablespoon fresh thyme, chopped
2 teaspoon crushed red pepper
2 cups extra virgin olive oil
1 loaf baguette, sliced diagonally into ½-inch pieces and toasted
Instructions
Set a large fine-meshed sieve lined with cheese cloth over a deep bowl. Add the yogurt and allow to drain in the refrigerator for 2 - 3 days.
When you're ready to assemble the Labneh, sterilize two 1-pound glass jars and their lids (see note below).
In a bowl, add the salt, rosemary, thyme, crushed red pepper, olive oil, and stir well to combine. Fill the sterilized jars halfway with the herb and olive oil mix, reserve the remaining herb oil for later use.
Using a teaspoon, scoop a heaping amount of yogurt into your clean palm and roll between your hands to form a ball. Drop the balls of yogurt into the herb/oil mix as you complete them. Fill the jars, but do not pack them. Once you have filled the jars with the rolled yogurt, top off the jar (if needed) with the reserved herb oil.
You may use it right away, or keep refrigerated for up to a month. If you refrigerate the labneh, the oil can become a bit cloudy and thick. To return the herb oil to its original appearance, simply allow the jar to sit out on the counter for 15 minutes or so, until clear. (Don't worry about it spoiling when sitting out for this amount of time - the oil helps to preserve the labneh). When you're ready to use, spread the labneh on a slice of baguette, pita, or flatbread. Enjoy!
Notes
To sterilize jars in order to prevent bacterial growth (botulism), bring a large pot of water to a rolling boil. Clean the jars with warm soapy water, rinse well, and add the jars to the boiling water. Boil for 15 minutes. Remove the jars using clean tongs and fill the jars with the food of your choice.