Whether you're a diehard football fan or fanatical foodie, these Mini Burgers with Caramelized Onions and Roasted Garlic Butter are sure to step-up your game. 
It's no secret that I love the Super Bowl.  But it's not for the reasons that you may think.  I know practically nothing about the game, I don't know any of the terminology, and quite frankly… I get kinda bored.   In fact, I wouldn't even know who was facing off if it weren't for 'deflate gate,' where there's some scandal over the size of the Patriot's balls… or something like that.  (Feel free to interpret that statement however you like).  No, I don't go to Super Bowl parties for the game. I go for the food!  And when I go, I bring my 'A' game.  My proving ground is not on the field, but on the beer stained buffet table in the kitchen.
There are several factors that I consider when preparing  a dish for a Super Bowl party or any party, really:
Is it delicious? Obviously.
Is it something that is recognizable as popular Super Bowl/party food?  Then I try doing something unexpected.  For example, take a regular ol' hot dog and bun, and add a Tex-Mex flair with condiments.
Hand/mouth/food-size ratio.  Can it be consumed in just a few bites?
Can I prepare at least some of the components the day before?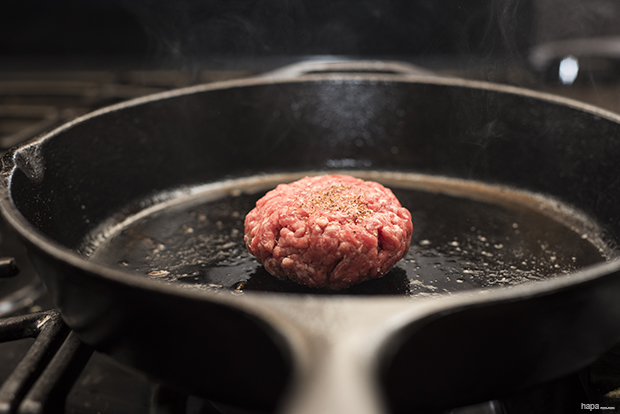 The caramelized onions and roasted garlic butter can both be prepared the day before the big game. Although, if you're hosting the party, there is absolutely nothing that smells more amazing in your home than garlic roasting in the oven (just a little thought in case you wanted to entice your guests with smells as well as flavors).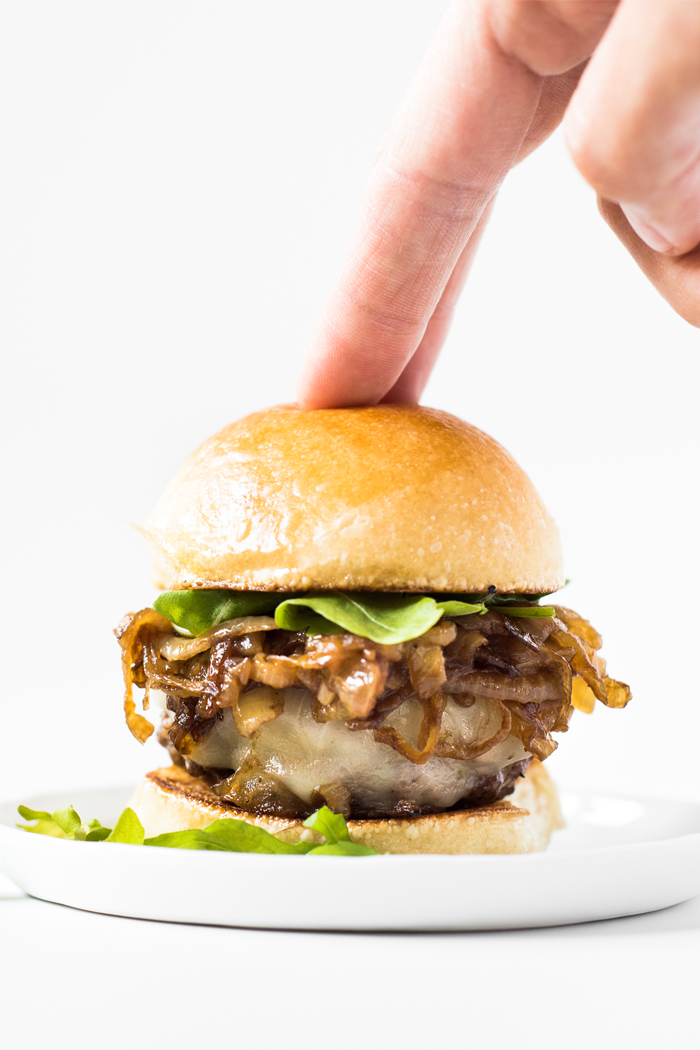 Tips:
If you're traveling with these Mini Burgers, prepare the garlic butter, caramelized onion, and form the patties at home. The patties can be easily transported by layering them in a large plastic kitchen container separated by parchment paper.  Then cook them once you arrive at your destination, assemble, and serve.
I generally cook beef to medium-rare, however when it comes to its ground form, I prefer to cook it to medium – for these mini burgers, that's 7 minutes total. Add or subtract a minute per level of your desired doneness.  For example, for medium-rare mini burgers, cook for 6 minutes total and for medium-well, cook for 8 minutes. 
Mini Burgers with Caramelized Onions and Roasted Garlic
Author:
Kahtleen | HapaNom
Ingredients
1 bulb of garlic
3 tablespoons extra virgin olive oil, divided
kosher salt
freshly ground black pepper
10 tablespoons unsalted butter, divided (soften 8 of the 10 tablespoons for the garlic butter)
2 tablespoons olive oil
3 medium yellow onions, halved and sliced ⅛-inch thick
1 tablespoon balsamic vinegar
1 pound 80/20 ground beef
2 tablespoons canola oil
6 mini hamburger buns
1 cup arugula
Instructions
To roast the garlic, preheat the oven to 400 degrees F. Slice ¼-inch off the top of the garlic bulb and set on a piece of foil. Drizzle the top of the bulb with 1 tablespoon of olive oil and generously season with salt and pepper. Fold up the sides of the foil to create a tent (make sure there's enough room for air to circulate). Place in the oven and cook for 40 minutes. Check the garlic by piercing with a knife, it should be very soft. The time will vary depending on the size and age of the bulb, so if it needs more time to cook, continue to do so, checking every 10 minutes.
Once the garlic is cool enough to handle, squeeze the pulp out of the papery casings, into the bowl of a food processor. Add 8 tablespoons of the softened butter and puree until smooth. Set aside until ready to use.
To make the caramelized onions, melt 2 tablespoons of butter and olive oil in a large saute pan over medium heat. Add the onions and cook, stirring occasionally. Cook for 35 - 40 minutes until soft and caramelized. Add the balsamic vinegar and season with salt and pepper to taste. Toss and set aside.
Form the burgers into 6 equal patties, a little less than 3 ounces each. Season generously with salt and pepper on both sides.
Add a tablespoon of canola oil to a cast iron or heavy bottomed pan set over medium-high heat. Get the pan nice and hot, and working in batches, add the burgers. For a mini burger cooked to medium, cook the first side for 3 minutes - the burger should be golden-brown and slightly charred. Flip and cook the other side for 4 minutes. During the last minute of cooking, add a slice of provolone to each burger and top with a very generously helping of caramelized onions. Cover the pan with a lid or tent under foil, so the cheese melts.
After the all of the burgers have been cooked, place the split buns down onto the pan and toast for 30 seconds.
Slather the inside of the buns with the roasted garlic butter. Place the burgers on the bun bottoms, top with some arugula, and top with the bun top. Serve immediately and enjoy!
Notes
Alternatively, these can be made on the grill.

This recipe can be easily doubled, tripled, or increased to whatever size to accommodate your party. The only component of this dish you may not need to make again, is the prepared roasted garlic butter for this recipe as it's enough to cover about 18 mini burgers.

If you have leftover roasted garlic butter, it will keep for several days, refrigerated. Try using it to make amazing garlic bread!