Do you want to know the trick to super tender and incredibly moist souvlaki chicken?
Brine it.
Brining is a fantastic way to lock in moisture. The sodium and chloride ions penetrate deep into the meat, changing the proteins so they hold onto moisture more effectively – which means you loose less of that juicy goodness during the cooking process. Seriously, how great is that?!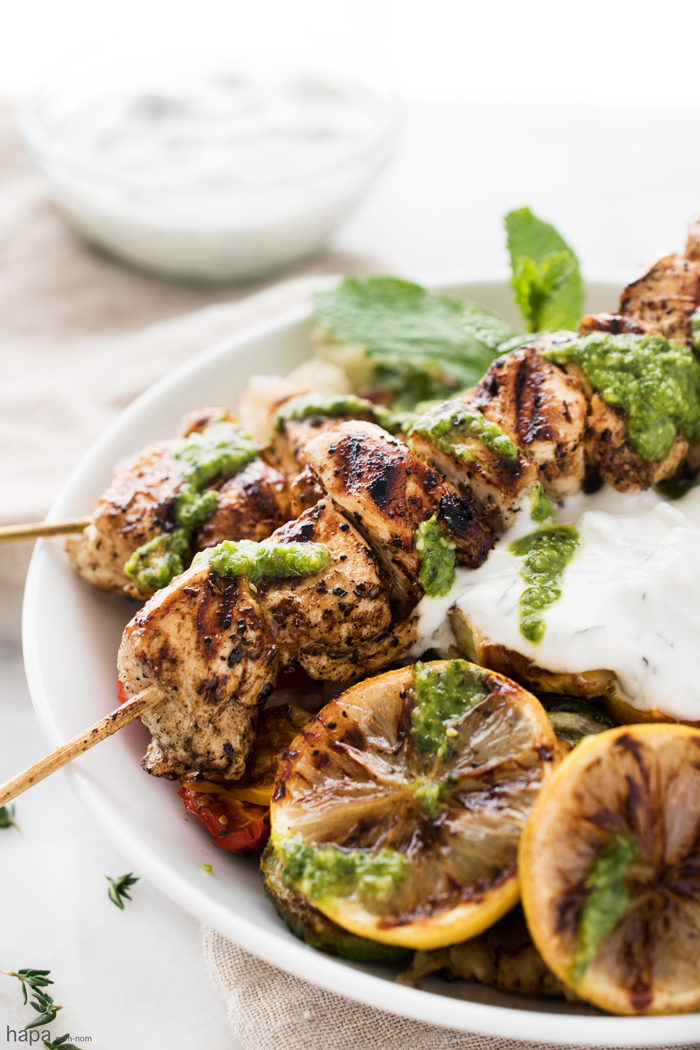 Thirty minutes is all you need to brine these bite-sized pieces of chicken. Then toss them into an even faster marinade of lemon, garlic, olive oil, and oregano. The marinade doesn't penetrate deep like the brine, but it does penetrate into the surface. With the brine/marinade combo you get locked in moisture on the inside with some serious flavor on the outside. My mouth is watering just thinking about it!
Ideally you'll want to grill the skewers but you can certainly cook them in a grill pan if you like. Both require medium-high heat and about 7 – 8 minutes of total cook time. Easy, right?
Keep that in mind as you scroll down to look at the recipe. Go ahead, take a look. I'll wait.
Ok, ok, so you may be thinking what the (insert choice curse word here) is up with the super long ingredients list! Please don't be intimidated. You are after all making 5 components for a complete meal. Rather than presenting you with a single entree and leaving you to figure out what sides to make, this recipe gives it to you all on one flavor packed plate.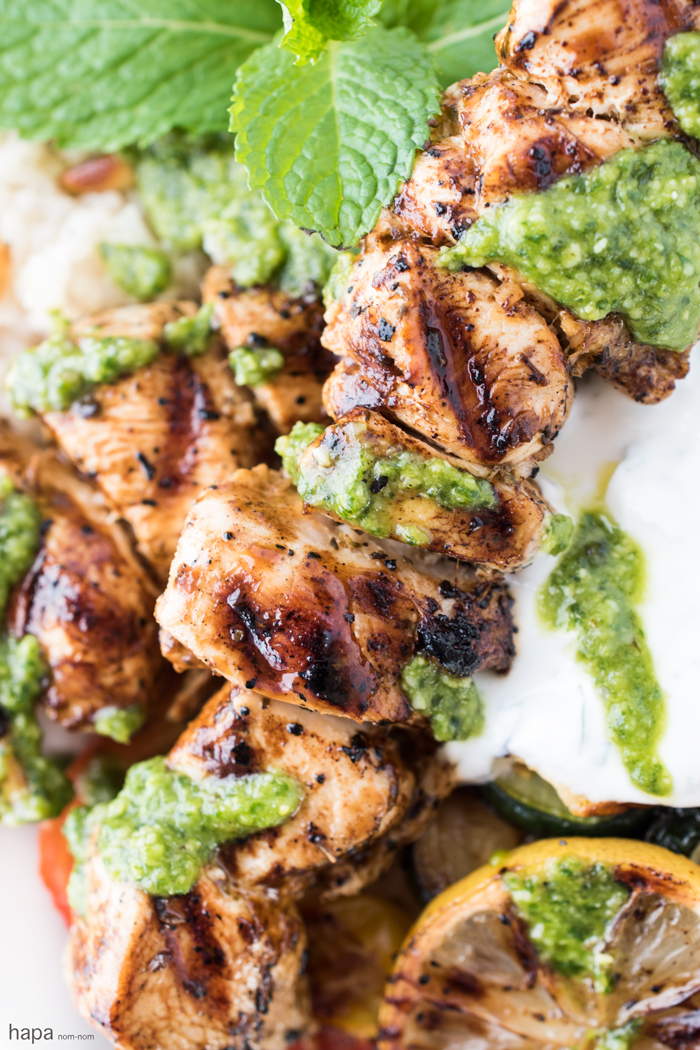 So let's talk a little bit about what's on this plate. I've already told you about the moist and juicy chicken with the wonderful garlic and lemon marinade. Well that marinade gets reused when cooking the rice and adds a truly brilliant lemony zest. The rice is then tossed with some toasted pine nuts giving the rice enough flavor to stand out on it's own. But it doesn't overpower the other components of this dish – it pairs perfectly with the chicken, the simply roasted veggies, creamy tzatziki, and herbaceous pesto. Together the flavors of this Chicken Souvlaki with Lemon Scented Rice & Roasted Veggies play like a symphony in your mouth.

Chicken Souvlaki with Lemon Scented Rice & Roasted Veggies
Author:
Kathleen | Hapa Nom Nom
Prep time:
Cook time:
Total time:
Chicken Souvlaki with Lemon Scented Rice, Roasted Veggies, Creamy Tzatziki, and a Drizzle of Pesto make this full plate flavor experience!
Ingredients
6 skewers
Brine
8 cups water, warm enough to dissolve the salt and sugar but not so warm it cooks the chicken
¼ cup Kosher salt (use ⅛ cup if using table salt)
⅓ cup brown sugar
1½ pounds boneless, skinless chicken breasts cut into bite-sized pieces
vegetable oil for cooking
Tzatziki (can be made the night before)
2 large garlic cloves
1 teaspoon Kosher salt
2 cups Greek style yogurt
1 teaspoon tahini (mix well before using)
2 tablespoons fresh mint, finely chopped
½ lemon, juiced
1½ cups English cucumber, seeded and diced
Pesto (can be made the night before)
2 cups fresh basil leaves, packed
2 garlic cloves
¼ cup pine nuts
½ cup parmesan, freshly grated
½ cup extra virgin olive oil, plus 1 tablespoon
Kosher salt
black pepper, freshly ground
Quick Marinade
2 tablespoon extra virgin olive oil
1 tablespoon lemon zest
3 tablespoons fresh lemon juice
2 garlic cloves, minced
1 teaspoon dried oregano
½ teaspoon Kosher salt
Lemon Scented Rice
4 cups water
reserved Quick Marinade
2 cups long grain rice, washed and drained
1½ teaspoons Kosher salt
½ cup pine nuts, toasted
Oven Roasted Veggies
2 red bell peppers, sliced
½ pint cherry tomatoes, halved
1 lemon, sliced
2 small zucchinis, cut int ¼-inch rounds
1 small eggplant, diced (about the same size as the zucchini)
1 medium red onion, quartered, pieces separated
2 tablespoon extra virgin olive oil
1 tablespoon fresh thyme
Kosher salt
black pepper, freshly ground
Instructions
If using wooden skewers, soak in water for at least 15 minutes.
Combine the ingredients for the brine in a large bowl. Add the chicken and refrigerate for 30 minutes.
Meanwhile make the tzatziki. Use a mortar and pestle to mash the garlic and salt together until it forms a paste.* In a large bowl, combine the yogurt, tahini, mint, and lemon. Add the garlic and salt mixture and combine well. Finally fold in the cucumber. Refrigerate until ready to use.
To make the pesto. Add to the bowl of a food processor, the basil, garlic, pine nuts, and parmesan. Pulse while slowly adding ½ cup olive oil until smooth and desired consistency. Add salt and pepper to taste then pulse a few more times to incorporate. Set aside and keep at room temp if using soon.
Preheat the oven to 450 degrees F.
Combine the ingredients for the Quick Marinade in a large bowl. After 30 minutes, remove the chicken from the brine and rinse well under running water. Add the chicken pieces to the Quick Marinade and toss to coat. Allow to soak for about 5 minutes, then thread the chicken on the skewers and keep the marinating liquid for the rice.
Allow the chicken skewers to rest on a plate while you prepare the lemon scented rice. In a saucepan, bring the water and the reserved Quick Marinade to a boil. Add the rice and salt, bring to a gentle simmer. Give a quick stir, and then cover with a lid. Reduce the heat to low and cook for 20 minutes. Uncover, allow the rice to absorb any small amount of remaining liquid. Then fluff with a fork. Toss in the toasted pine nuts.
While the rice is cooking, prepare the roasted veggies. Line a large baking sheet with parchment paper. Add the veggies and drizzle with olive oil. Sprinkle with the thyme and a little salt and pepper. Roast for 30 minutes, turn the veggies occasionally.
While the veggies are roasting, heat your grill or grill pan over medium-high heat. Coat the grates or the pan well with oil. Once hot, shake off the skewers of any excess marinade and add them to the cooking surface, working in batches if needed. Cook for 7 - 8 minutes until the chicken is done, turning once.
To plate, add the Lemon Scented Rice and Roasted Veggies to a plate or bowl. Top with a few skewers, a dollop of tzatziki, and drizzle with pesto. Serve and enjoy!
Notes
* If you do not have a mortar and pestle start by finely mincing the garlic. Sprinkle the garlic with salt and then tilt the blade so that it forms a shallow angle with the cutting board. Scrape the knife across the garlic repeatedly, until it forms a paste.

** To make this dinner come together more quickly, you can always make the tzatziki and pesto the night before.