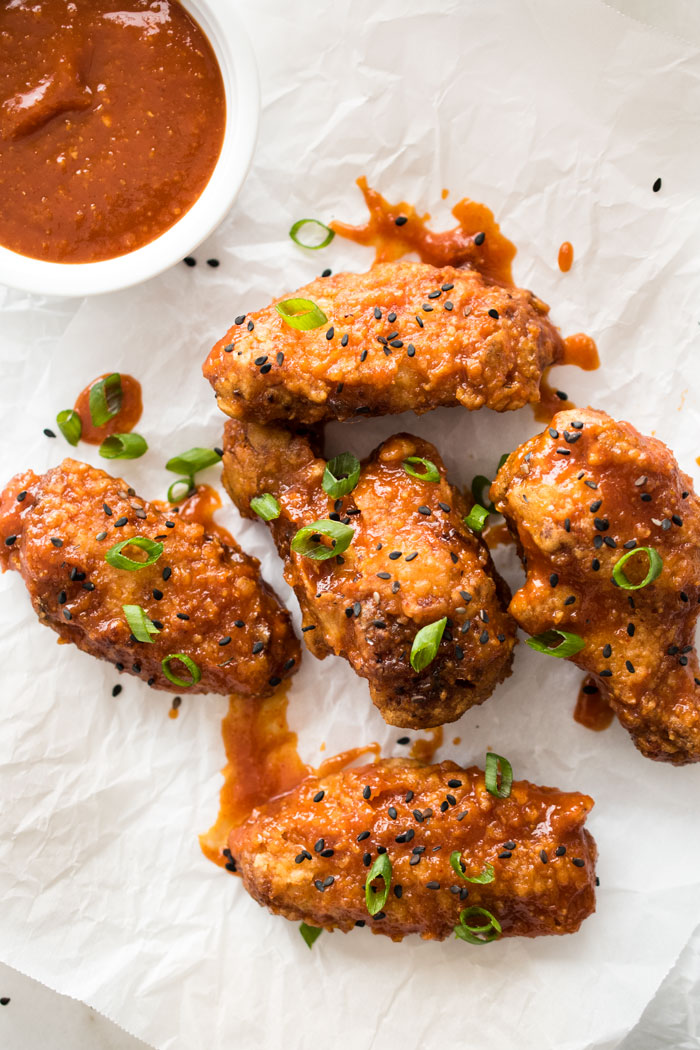 Hey everyone!  I meant to get this one out before the weekend, but time just got away from me.  However, as far as I'm concerned, it's never too late to enjoy Korean Fried Chicken!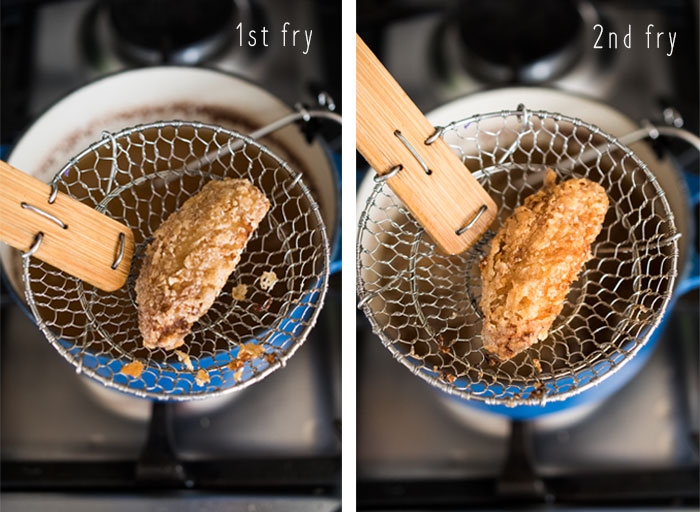 My first Korean Fried Chicken experience was when I was home from college on winter break.  I say, 'experience' because it truly was an experience in every sense of the word! Stepping into a little hole-in-the-wall joint I was greeted by a kaleidoscope of sounds, smells, and languages.  People from across the globe seemed to have all converged into this tiny little space, all to order Korean Fried Chicken (the other KFC). The wings were amazing!  Tender, juicy, crispy, slightly sweet and a nice kick of heat!  I devoured them much like a child would eating their first ice cream cone; my fingers (and perhaps even my face) were orange and sticky – I was in foodie bliss.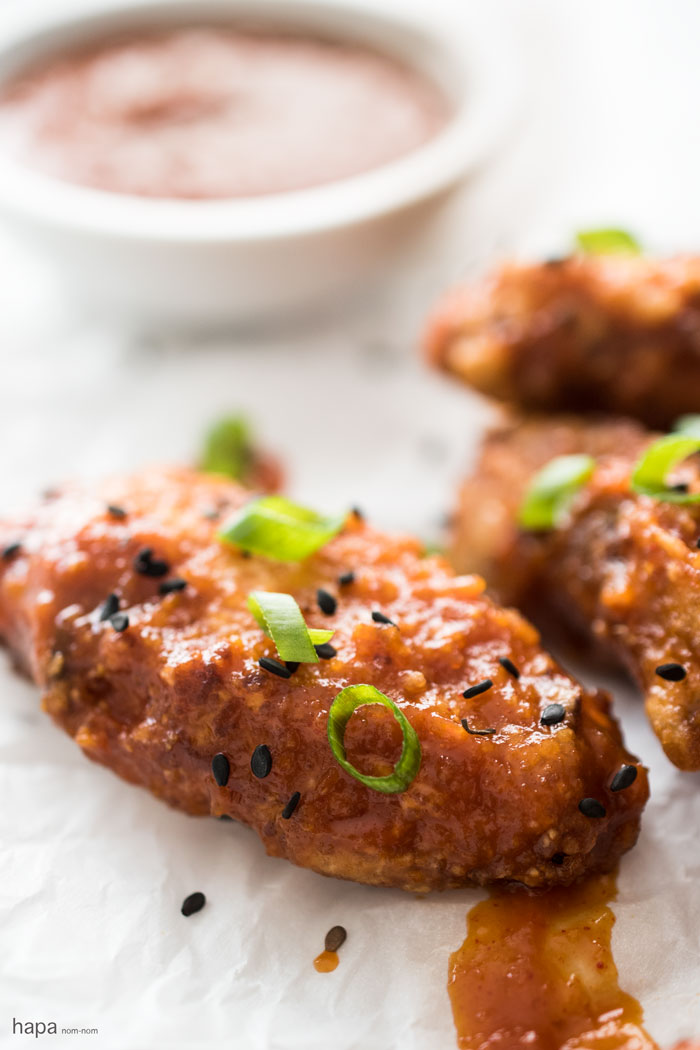 Gochujang (a Korean chile paste) is what gives these wings such great flavor and heat.  Generally you can find this at any Asian grocery store.  A good friend of mine introduced me to it, and I cook with it all the time now!  If you haven't used it before, trust me, it won't be one of those ingredients you buy for one dish and then never use again.  Mark my words, gochujang will be the next 'sriracha craze'.  It has an umami flavor that sriracha just doesn't have, leaving your tastebuds with a full-bodied experience.  Just be aware that gochujang varies greatly in spiciness – depending on the brand, it should indicate the level of heat somewhere on the packaging.  I use 'med-hot, level 3', but feel free to purchase whatever spice level that suits your tastes.  (Note – some people find level 3 still pretty hot. If you tend to be sensitive to spicy foods, er on the milder side).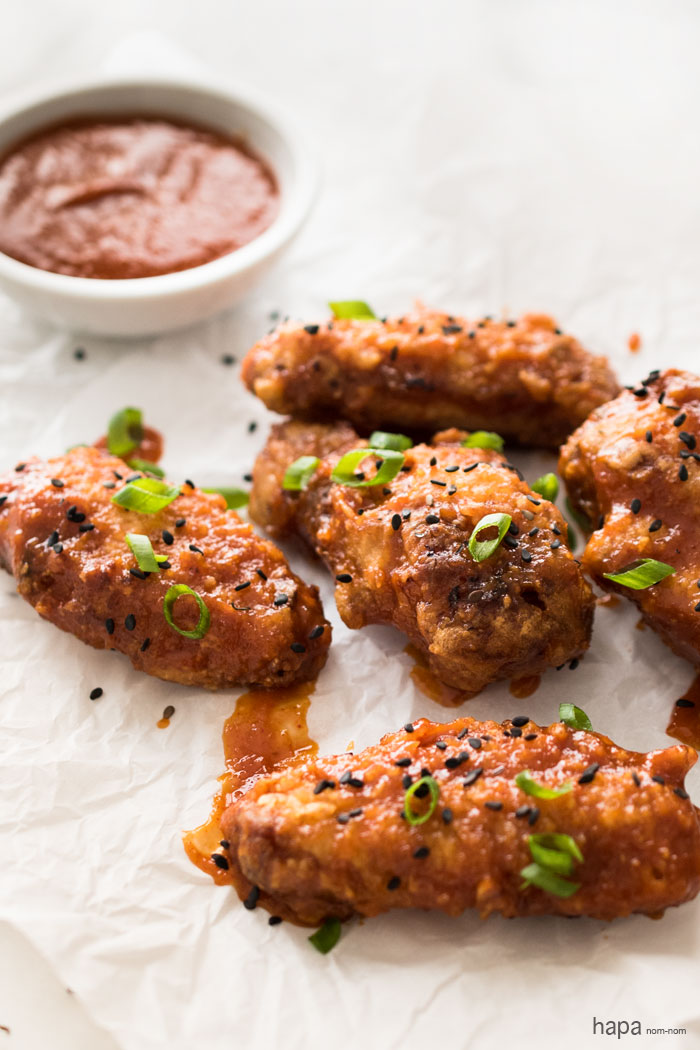 Where this dish begins to deviate from traditional Korean Fried Chicken, is the buttermilk marinade.  Commonly used in the American south, buttermilk contains properties that help to tenderize meat (much like daikon radish does in Asian dishes).

Korean Fried Chicken
Author:
Kathleen | Hapa Nom Nom
Super crispy Korean Fried Chicken with a sweet and spicy sauce make these wings incredibly addictive. Just remember to have lots of napkins on hand!
Ingredients
2 pounds small chicken wings, tips removed, drumettes and wingettes separated
1 cup buttermilk
4 tablespoons gochujang, divided*
1½ cups cornstarch
1 teaspoon kosher salt
⅓ cup ketchup
6 cloves garlic
1 orange
1 tablespoon low-sodium soy sauce
1 tablespoon cider vinegar
2 tablespoons honey
1 tablespoon ginger, freshly grated
canola oil for frying
1 tablespoon black sesame seeds, garnish
1 scallion, finely chopped, garnish
Instructions
In a large zip-top bag, add the buttermilk, 1 tablespoon gochujang, and whisk to incorporate. Add the chicken, push out the air, seal well, and move the contents around to make sure each piece is coated well. Place in the refrigerator for 2 hours and up to 8, turning the bag occasionally to evenly distribute the marinade.
When you're ready to cook the chicken, drain the marinated pieces throughly in a colander. Combine the cornstarch and salt in a large bowl. Add the chicken and toss to coat, set aside.
To make the sauce - in the bowl of a food processor, add the ketchup, garlic, the remaining gochujang, zest of one orange and its juice, soy sauce, cider vinegar, honey, and ginger. Puree until as smooth as possible. Transfer the contents to a sauté pan and bring to a simmer stirring occasionally. As soon as the sauce begins to bubble, immediately turn the heat down to medium-low and stir constantly for 2-3 minutes, until slightly thickened. Turn off the heat.
Heat 2-inches of oil in a heavy bottomed pan to 320 degrees F. Working in 2-3 batches, shake the excess cornstarch mixture from the chicken and carefully add one piece at a time. Cook for 6 minutes. Using a spider or slotted spoon, remove the chicken and allow to drain on a cooling rack or a plate lined with a paper towel. Be sure to bring the oil back up to 320 degrees F before each new batch and monitor the temp as the wings cook.
For the 2nd fry, increase the heat to 375 degrees F. Fry the wings again, until golden brown, about 2-3 minutes. Transfer the wings to a cooling rack and allow to drain again.
Reheat the sauce over medium-low heat and add the chicken. Just before serving toss to evenly coat. Garnish with sesame seeds and chopped scallion and serve immediately so they stay crispy. Enjoy!
Notes
*Gochujang - this Korean chili paste has a robust and full-bodied, umami flavor. I use 'level 3' on the spiciness scale, which gives you some pretty spicy chicken - feel free to buy gochujang with a lower heat level if you like.