Ramen in just 30 minutes?! Oh hell yes!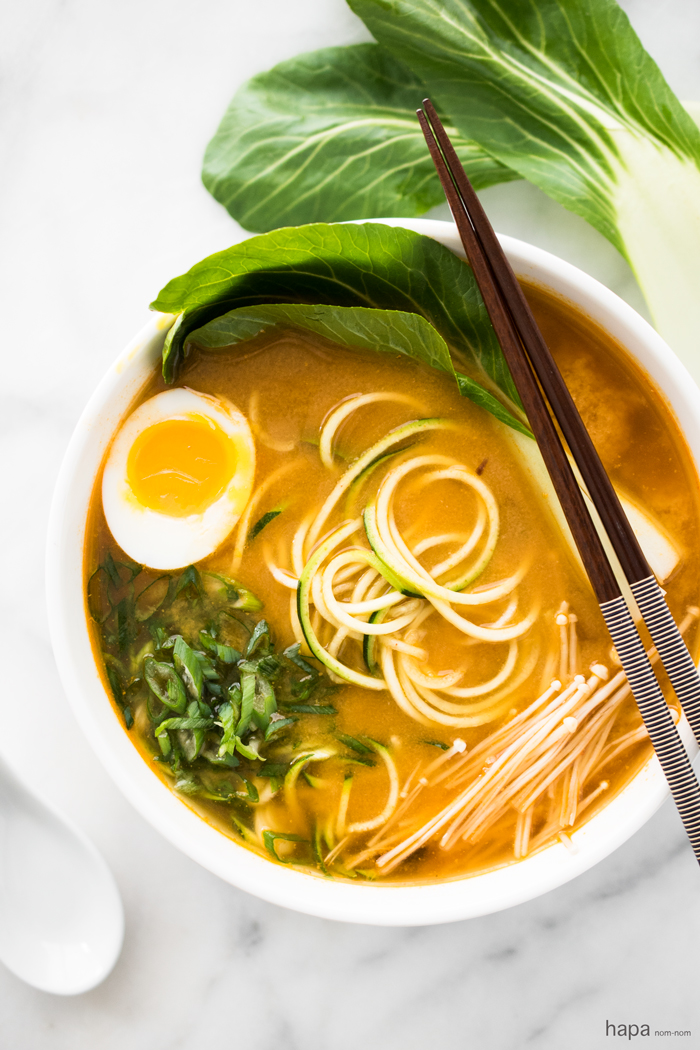 Ok, so it's not 'ramen' per se. Ok, ok, ok… it's not ramen at all. But it's certainly ramen-esque. Believe me, if anyone could live on ramen, it's me. As a fan, I have made my own alkaline noodles, purchasing potassium carbonate and sodium bicarbonate solution (an alkaline liquid) and '00' flour (a super fine flour). I've rolled out the dough and cut the noodles using a hand crank pasta machine and even suspended a broom handle between two chairs to hang the noodles. I've roasted meaty bones and spent 16 hours simmering broth until it's so rich and creamy you could practically cut it with a knife. I have made 'real' ramen, and while it was a fun and interesting endeavor, I thought it best left to the pros.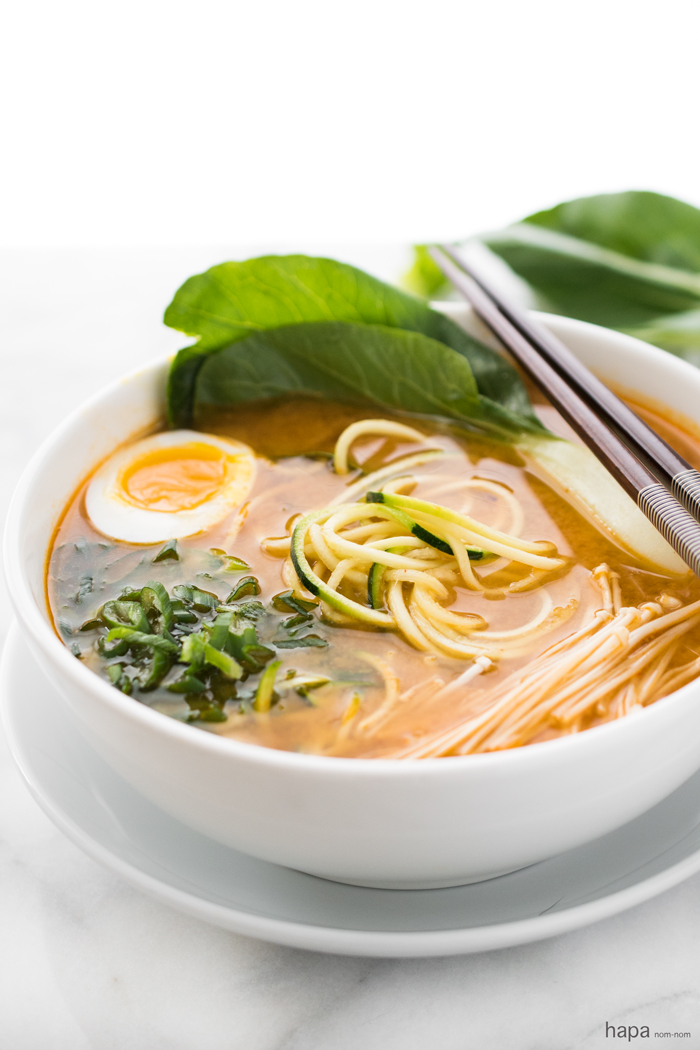 Enter the home cook who loves ramen, who wants to make his or her own ramen, but doesn't want to spend all day making it. May I introduce you to Spicy Miso Zucchini Ramen Noodles. I chose to make zucchini noodles or 'zoodles' as they've been dubbed, for a healthier twist. Disclaimer – I am not one to make something healthy just for the sake for making it healthy. If a dish requires cream, by golly I'm using cream. But if you can make it healthy and still keep it delicious – then in my mind, you're golden. You may be surprised how well zucchini noodles hold up to traditional noodles! If however, you're dying for those classic noodles, feel free to use instant ramen or Chinese egg noodles, cooked according to the package directions.
Whether you decide to use noodles or 'zoodles', this dish is really all about the broth. A miso-based broth, it's umami rich with a kick (the kick is the gochujang, a spicy Korean chili paste). It has that wonderful element of heat that you can feel warming the back of your throat. If you're under the weather, this is the soup for you! And if you're as healthy as a horse, it's still a wonderfully warming dish with tons of flavor and SO easy to make!
Spicy Zucchini Ramen Noodles
Author:
Kathleen | Hapa Nom Nom
Prep time:
Cook time:
Total time:
Do you love ramen, but don't want to spend all day making it? Then may I introduce Spicy Miso Zucchini Ramen Noodles. Healthy and full of flavor, it's on the table in just 30 minutes!
Ingredients
4 eggs
½ cup shiro (white) miso
1-2 tablespoons gochujang, depending on desired spice level
2 teaspoons sesame paste*
2 teaspoons ginger, finely minced (use a microplane, if you have one)
2 teaspoon garlic paste
2 teaspoons sherry vinegar
9 cups of good quality chicken stock
2 baby bok choy, quartered
4 small zucchinis, Spiralized using blade C
4 scallions, white and green parts thinly sliced
1 package enoki mushrooms* (about 3 ounces)
Instructions
Prepare a large bowl full of ice water and bring a large saucepan filled halfway with water to a boil. Gently lower the eggs into the boiling water one at a time, using a spoon. Cook for exactly 6 minutes and 50 seconds for a creamy yolk. Remove the eggs as soon as they are done and transfer them to the ice water. Once cool, gently peel the eggs (the yolks will be soft, so the eggs will be a bit delicate). Set them aside, don't slice them until you're just about to serve.
Meanwhile, in an 8 quart pot, add the miso, gochujang, sesame paste, ginger, garlic paste, and sherry vinegar. Whisk into a smooth paste. Add ½ cup of the chicken stock while whisking so that the stock and the paste incorporate, make sure it's combined well and there's no lumps. Add the remaining stock, bring to a boil, and then reduce to a simmer.
Add the bok choy to the broth and cook for 2 minutes. Then add the zucchini noodles to the broth and cook for another 1-2 minutes, until al dente.
Divide the zucchini noodles and bok choy among the 4 bowls and ladle the broth overtop. Slice the eggs in half (I've found it easier to slice the egg in a gentle sawing motion so that you're not pressing down on the egg too much). Garnish the soup with the scallions, mushrooms, and the eggs. Serve immediately and enjoy!
Notes
* If you don't have a Spiralizer - you can slice the zucchini into ⅛-inch thick planks. Then stack the planks and slice lengthwise into ⅛-inch noodles.

* Sesame paste is made from toasted sesame seeds, whereas tahini is made from raw sesame seeds. Sesame paste made from toasted sesame seeds has a more robust flavor so you'll want to use that for this dish. If however, all you have is tahini, simply sub the same proportions of tahini and add a few dashes of toasted sesame oil.

* Enoki mushrooms have a mild, somewhat fruity taste and a bit of a crispy texture, which makes them perfect for garnishing soups. You should be able to find them at any Asian market, however you may use sliced button mushrooms en lieu of the enoki. If you use button mushrooms, you must cook them first. Simply warm some oil over medium-high heat, add the sliced mushrooms and saute until browned and softened.

*Feel free to use whatever toppings you like: fish cake, tofu, sprouts, cilantro, etc.