This Super Creamy Mulligatawny Soup is going to ROCK your world! It's so rich, so creamy, so good, that I was literally spooning molten hot soup into my mouth before it even had time to cool down! I went back for 2nds, 3rds, and finally stopped when I felt like I was going to burst if I ate another bite. It's that good.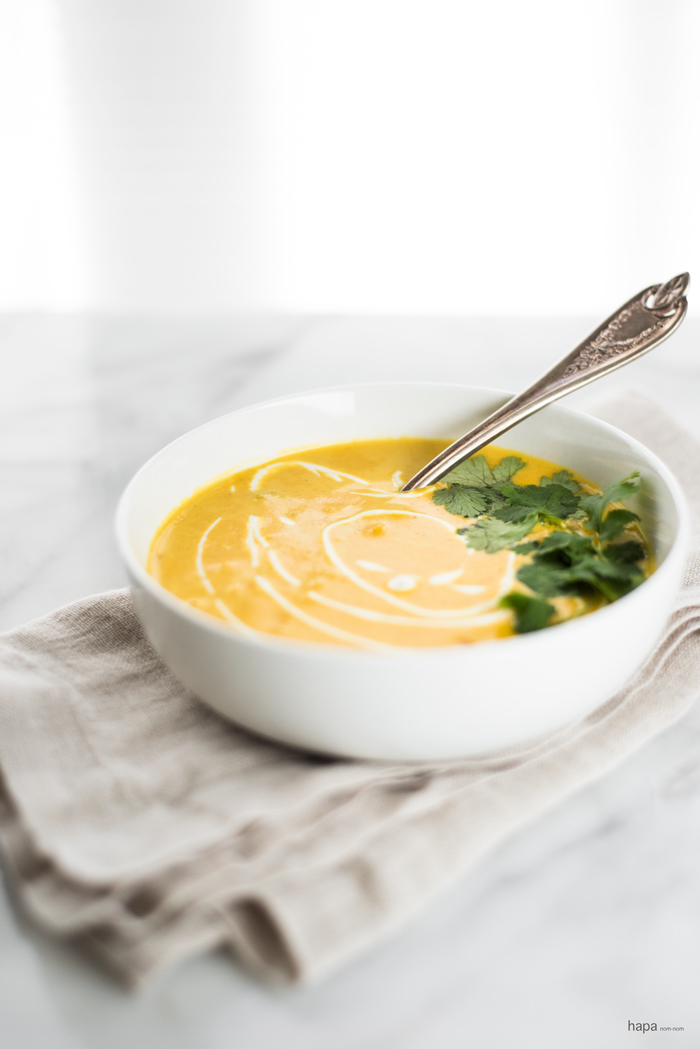 The history of this Anglo-Indian dish is long and varied and as such, everyone seems to have their own distinct recipe. The dish came about during the time of the British Raj. Colonists, wanted a soup course served with their dinner and so Tamil servants developed a stew-like dish made of pepper and water. In fact, the Tamil words mullaga/milagu and thanni can be translated to 'pepper water'. Recipes were brought back to England and it's popularity spread throughout the Commonwealth.
Many of the Mulligatawny recipes are resemble a stew, with big chunks of veggies, some others are pureed. I went a step further and after blending a combination of spices, browned veggies, chicken stock, and cream, I sent it through a fine mesh strainer, so what you're left with is a truly silky-smooth texture. I then added the coconut milk, red lentils, a small dice of potatoes, and chicken. The result… a soup so rich and creamy, and so full of incredible flavors, your tastebuds are going to do their happy dance. In fact, the soup is thick enough, that if you wanted to serve it over rice, that would be another delicious option.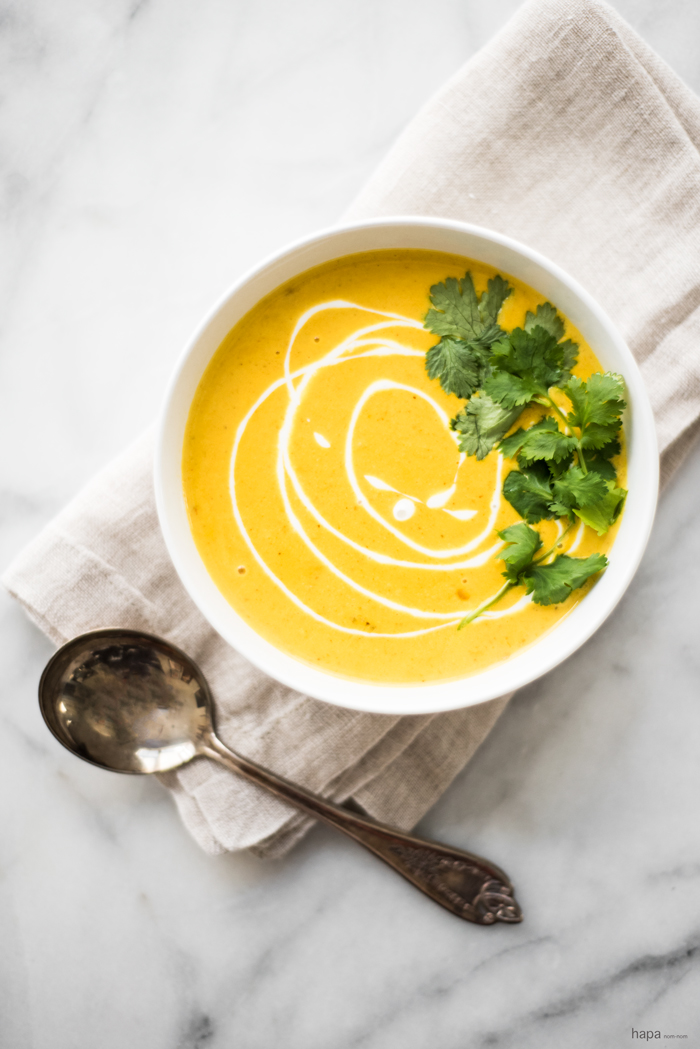 Super Creamy Mulligatawny Soup
Author:
Kathleen | Hapa Nom Nom
Prep time:
Cook time:
Total time:
Ingredients
2 tablespoons vegetable oil
½ pound boneless, skinless chicken breasts
Kosher salt
freshly ground black pepper
2 carrots, peeled and roughly chopped
2 celery stalks, roughly chopped
1 medium yellow onion, roughly chopped
1 green apple, cored and roughly chopped
1 vine ripe tomato, roughly chopped
1 jalapeño, sliced
8 garlic cloves, roughly chopped
1 2-inch piece of ginger, peeled and sliced
½ teaspoon whole cumin seeds
½ teaspoon whole coriander seeds
½ teaspoon whole mustard seeds
1 teaspoon curry powder
1 tablespoon turmeric
2 cups good quality chicken stock
½ pint heavy cream
2 14-ounce cans unsweetened coconut milk
pinch of white pepper
1 russet potato, peeled and cut into a small dice
½ cup dry red lentils
sour cream, garnish
cilantro, roughly chopped, garnish
Instructions
In a 5 quart pot, warm the oil over medium-high heat. Season the chicken breast with salt and pepper and add to the hot pot. Cook for 5 minutes on the first side, then flip and cook for 4 minutes on the second side. Transfer to a plate, tented with foil.
In the same pot, over medium-high heat, add the carrots, celery, onion, apple, tomato, jalapeño, garlic, and ginger. Stirring occasionally, cook until tender and lightly browned, about 10 minutes.
While the veggies are cooking, heat a small skillet over medium heat. Add the cumin seeds, coriander seeds, and mustard seeds and toast just until fragrant. Shake the pan frequently to make sure they don't burn. (Don't walk away, toasting spices doesn't take long). Immediately remove from heat and transfer the spices to a coffee/spice grinder. Grind to a fine powder.
Transfer the cooked veggies to a blender. Add the freshly ground spices you just toasted, the curry powder, turmeric, chicken stock, and cream. Puree until relatively smooth (it's ok if it's still slightly chunky).
Strain through a fine mesh strainer into the pot you used to cook the vegetables. Use a spatula or wooden spoon to press the liquid out of the vegetable pulp. Add the coconut milk, 1 teaspoon Kosher salt, and a pinch of white pepper. Bring to a boil and then reduce the heat to a simmer. Add the potatoes and lentils and cook until soft, about 10 minutes.
Meanwhile, chop up the chicken into the same size pieces as you did the potatoes, and add to the soup during the last few minutes of cooking. Season with additional salt and pepper, if needed.
Divide the soup into bowls and garnish with sour cream and cilantro. Serve and enjoy!
Notes
* Special equipment - a coffee/spice grinder and a fine mesh strainer.
* Turmeric will stain anything porous - so be careful of your clothing and if you have leftovers, store in a glass container.
* Inspired by:
Serious Eats