Turkey Pot Pie Popover – an updated version of a classic. This is a great use of those turkey or chicken leftovers!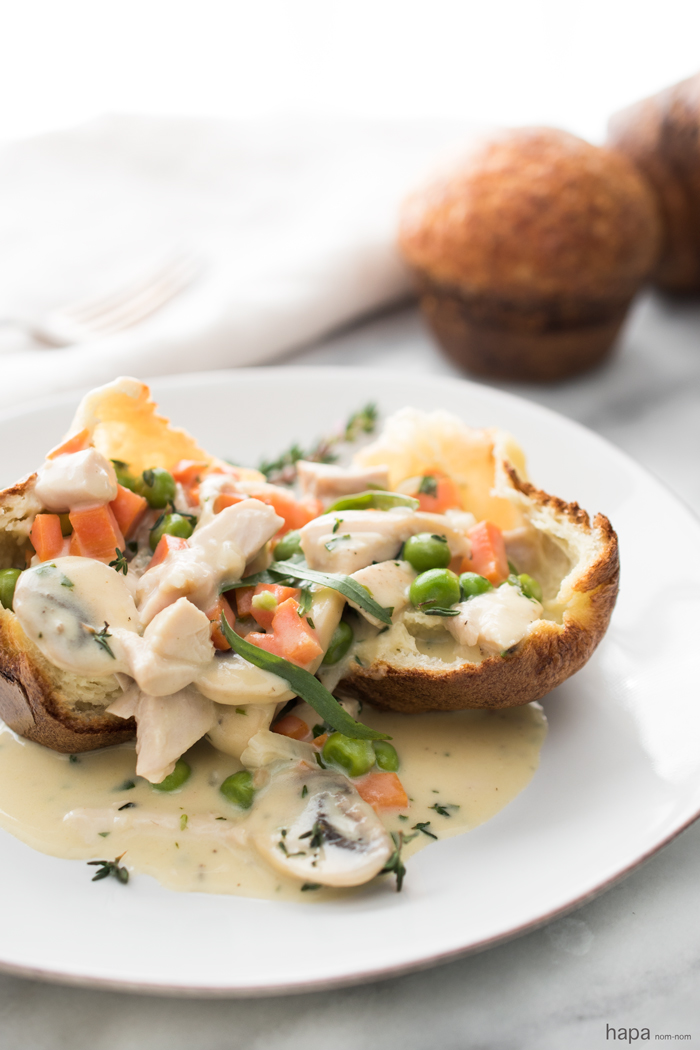 Chicken pot pie on a cool night was the epitome of comfort food when I was a kid. A rich and creamy chicken filling with adorable little bites of peas and carrots, and wrapped in a buttery, flaky pie crust. Here's a fresh spin on a classic. Enter the Turkey Pot Pie Popover. Feel free to make this dish with chicken, but adding turkey is a fantastic way to use up all of that leftover turkey after Thanksgiving.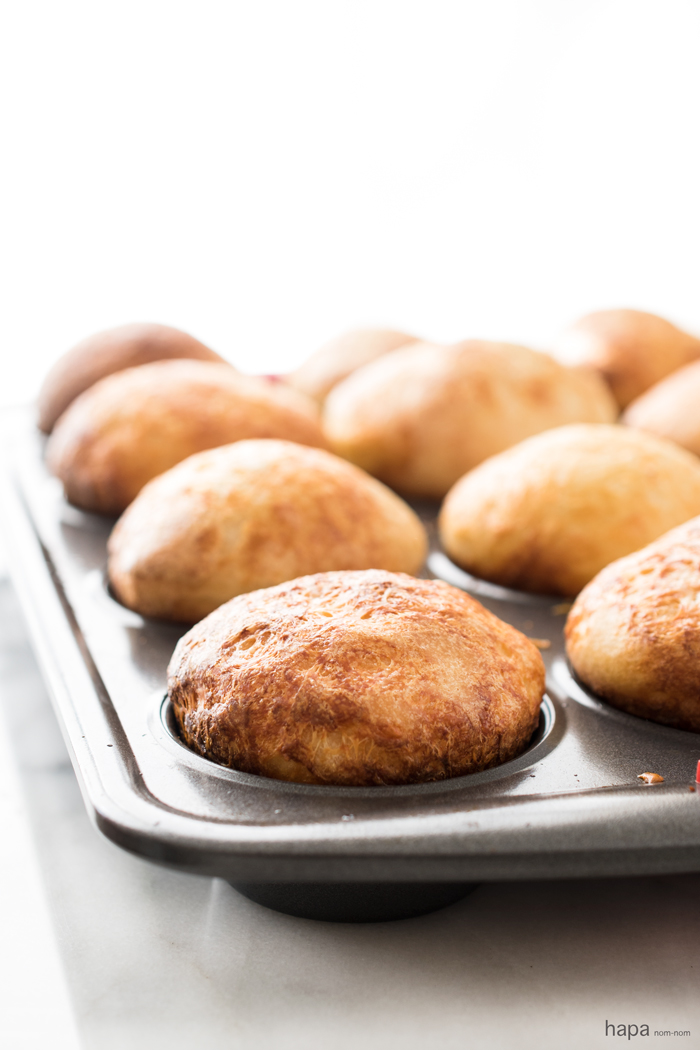 If you're a popover purest, I'm sure you already have a popover pan. I had one years ago, but when I was going through a significant life change and downsizing to a 490 sq/ft apartment,  I had to get rid of basically everything that I didn't use regularly… that included my popover pan.  Now that I'm long out of that shoebox, I still haven't replaced my old pan because I haven't needed it. I've been using a large muffin tin, and that's been working just fine for me. If you have a regular popover craving, then I suggest you go out and get the pan. They make gorgeous, puffy popovers, but that's really the only thing they're used for. Otherwise, a large muffin tin will work.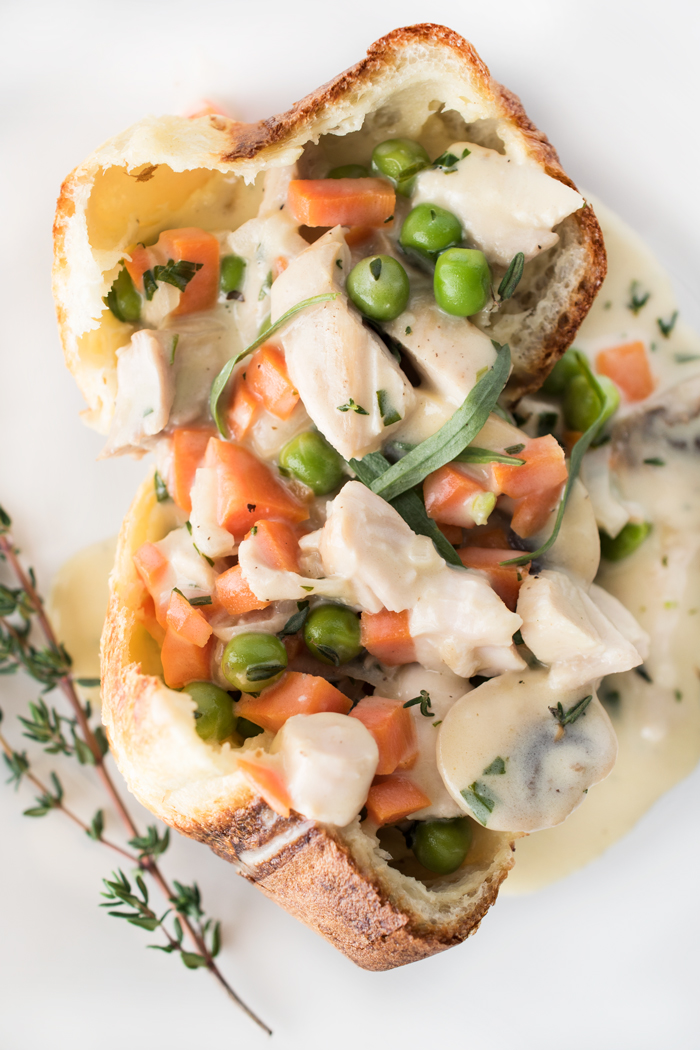 Turkey Pot Pie Popover
Author:
Kathleen | Hapa Nom Nom
Prep time:
Cook time:
Total time:
Turkey Pot Pie Popover - an updated version of a classic. This is a great use of those turkey or chicken leftovers!
Ingredients
Popovers*
4 tablespoons unsalted butter, melted. Plus some softened for greasing the pans.
4 cups milk, room temp
4 cups all-purpose flour
1 ½ teaspoon kosher salt
6 large eggs, room temp
1 ½ cups Parmesan cheese, grated
Velouté (one of the 5 French "mother sauces")
3 tablespoons unsalted butter
3 tablespoons all-purpose flour
3 cups turkey or chicken broth
½ cup heavy cream
Kosher salt
Turkey Pot Pie Filling
2 tablespoons unsalted butter
1 large carrot, small dice (about the size of the peas)
1 cup frozen peas, thawed and at room temp
1 cup white button mushrooms, sliced
1 large shallot, finely sliced
3 tablespoons dry sherry
2 sprigs tarragon, chopped
2 sprigs thyme, chopped
4 cups leftover turkey or chicken meat, diced
Instructions
To make the popovers, preheat the oven to 425 degrees F.
Combine the melted butter, milk, flour, salt, egg, and whisk until smooth. Generously grease a popover pan or 12-cup muffin tin with softened butter. Place in the oven and heat for exactly 2 minutes. Fill each cup about halfway full and then evenly divide the grated Parmesan over the tops. Bake for 30 minutes, don't open the oven to peek until they're done.
To make the velouté, melt the butter in a medium-sized saucepan over medium heat. Reduce the heat to low and slowly add the flour, stirring constantly with a wooden spoon. Cook for approximately 1 minute, until it turns a light blonde color. Slowly add the broth, while whisking constantly, and bring to a simmer (make sure there are no lumps). Then add the cream and bring to a simmer again. Simmer for about 5 minutes until slightly thickened. Season to taste with salt. Turn off the heat, cover, and keep warm.
Preheat the oven to 350 degrees F
Melt the butter in a large skillet over medium-low heat. Add the carrots and sauté for a minute. Then add the peas, mushrooms, shallot, and sauté for another 4 minutes, or until softened.
Add the sherry and simmer for 1 minute. Add the velouté, tarragon, and thyme. Bring to a simmer and then add the chicken. Cook for 2 minutes, or until warmed through. Season with salt and pepper to taste.
Just before serving, warm the popovers in the oven for 2 - 3 minutes. Pull apart each popover and ladle the turkey mixture into the popovers. Garnish with extra thyme and tarragon. Serve and enjoy!
Notes
* A popover pan is ideal, but if you don't feel like running out to the store for a speciality kitchen piece, you can use a large muffing tin. (Recipe will make 12 in a popover pan and 24 in a muffin pan).

* Recipe inspired by Neiman Marcus Taste - Creamed Chicken A La King