Whether you're looking for a quick and easy breakfast during the week or an elegant brunch to be savored on the weekend, Miso Avocado Toast with Soft Boiled Egg has got you covered! 10 minutes is all you need!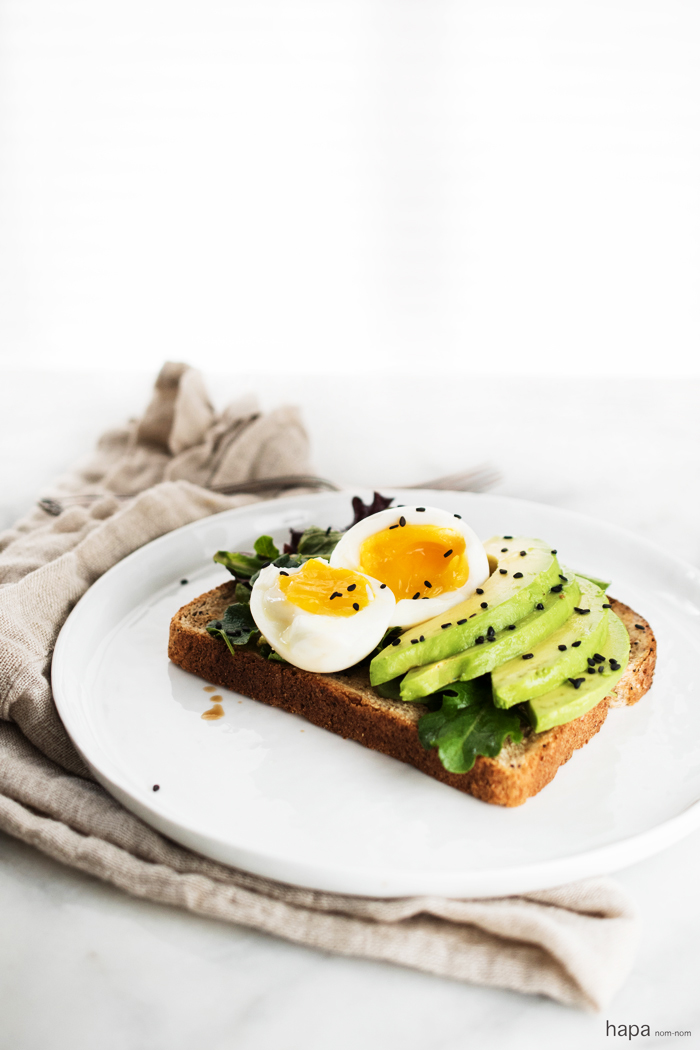 I've had a bit of an obsession with avocado toast – half a smashed avocado on toast, a little salt and pepper, and a healthy drizzle of Sriracha across the top. Wham, bam, super quick and easy – I can't tell you how many times I've had that for breakfast over the years. And while it's still a favorite express breakfast, I needed to mix things up.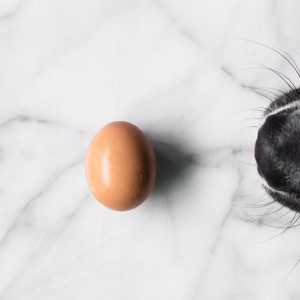 As of late, another obsession has been soft boiled eggs. Previously it was the poached egg, but soft boiled eggs are just so much easier to make and I love that perfectly creamy yolk that's somewhere between liquid gold and butta. My dog Arlo, shares my obsession – although his compulsion  is on a near drug addiction level. I can't crack an egg without his giant nose flopping up on the counter. I can hear the Jaws music playing the moment that egg taps on the counter.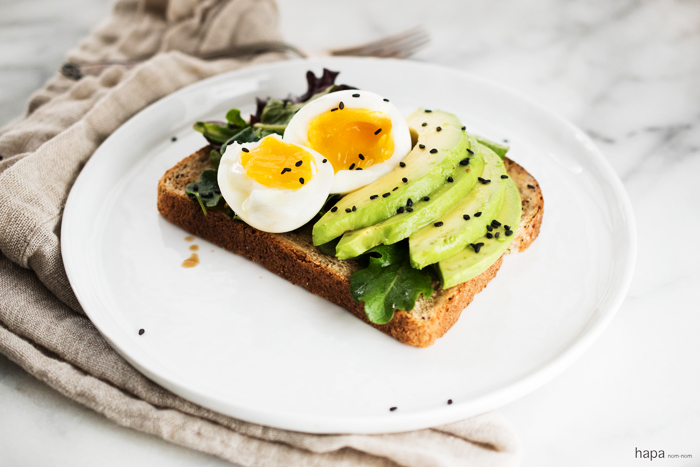 Along with the creamy eggs and avocado, there is a very simply dressed salad of ponzu and toasted sesame oil. Ponzu is a citrus based concoction often used in Japanese cuisine and it brings a bright and slightly tangy taste to foods. Another component to this dish is the miso butter. Miso butter just makes everything better. Slathering it on your grilled steak, chicken, fish, noodles, and yes… even your bread – brings a deep, savory flavor to anything it touches. Combined with the citrusy, ponzu dressed salad and you have a perfect balance of flavors!  
Miso Avocado Toast with Soft Boiled Egg
Author:
Kathleen | Hapa Nom Nom
Recipe type:
Breakfast & Brunch
Prep time:
Cook time:
Total time:
Ingredients
2 eggs
1 tablespoon ponzu
¼ teaspoon toasted sesame oil
1 ounce mixed greens
Kosher salt
freshly ground black pepper
2 tablespoons unsalted butter, softened
1 tablespoon shiro (white) miso
2 slices good quality bread
1 Hass avocado, sliced
black sesame seeds, garnish
Instructions
Bring a large saucepan filled halfway with water to a boil. Decrease the heat to a simmer. Quickly and gently lower the eggs into the water one at a time, using a spoon. Cook for exactly 5 minutes and 30 seconds for a creamy yolk. Remove the eggs as soon as they are done and rest on the counter. Once cool enough to handle, gently peel the eggs (the yolks will be soft, so the eggs will be a bit delicate). Set them aside, don't slice them until you're just about to serve.
In a small bowl combine the ponzu and toasted sesame oil. Pour over the mixed greens and toss to combine. Season with salt and pepper to taste.
In a small bowl, combine the butter and miso. Stir well to fully incorporate.
Toast the bread and spread with the miso butter.
Slice the soft boiled egg in half.
Plate the miso butter toast, top with the dressed greens, avocado, sliced egg, and garnish with black sesame seeds. Serve and enjoy!