Go from no dinner, to a gorgeous plate of Ginger Beef Stir-Fry with Noodles in just 20 minutes! Quick and simple to prepare, with a punch of flavor, this is a dish that will make a regular appearance on your dinner table.
Have you stir-fried at home? If you haven't, put it at the top of your cooking 'to-do list' for 2016! It's a simple cooking technique that boasts a lot of flavor! It takes minimal prep work and even less time on the stove. Seriously, it takes about the same amount of time to fry a single egg, as it does to stir-fry a meal. You don't need any special equipment, all you need is a really hot pan with really hot oil.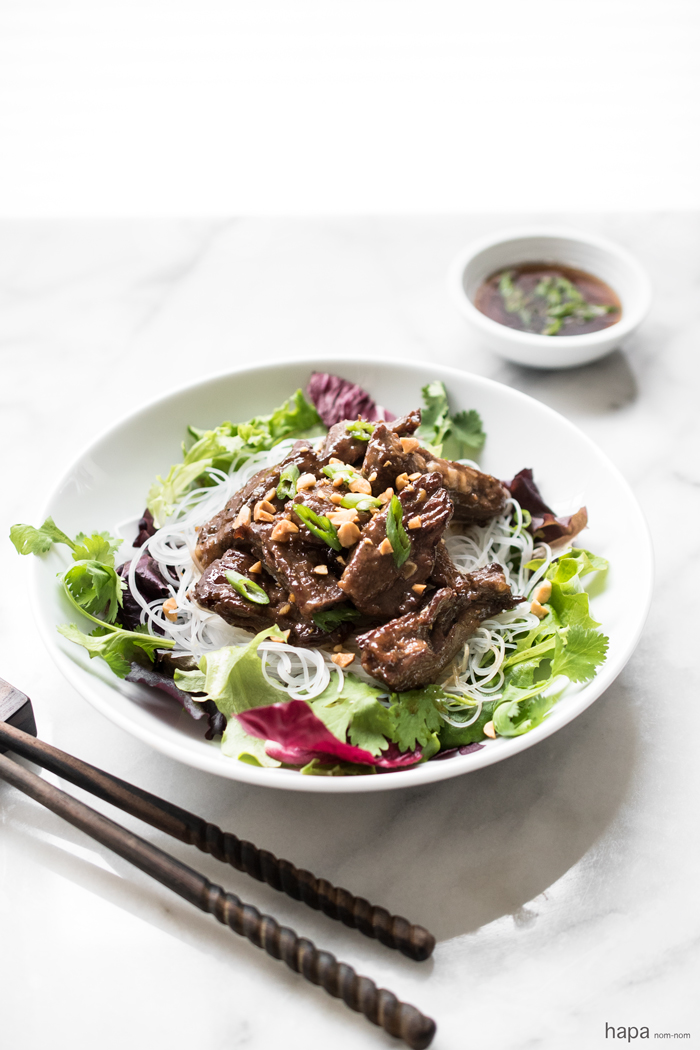 You can certainly stir-fry in a skillet. But if you're a fan of stir-fry, it's absolutely worth buying a wok. The curved bottom with slopping sides allows the oil to pool at the bottom of the pan so you can use less of it when cooking. Likewise, the heat is concentrated at the bottom, so you can get a wonderful sear on ingredients while using very little oil. At which point you can move the ingredients to the sides where there are lower temperatures to finish cooking. Which in turn, will free up space at the bottom to add more ingredients. The shape of the wok also aids in quick stirring and tossing so that you're less likely to have a 'man overboard situation' – losing ingredients over the side of the pan.
The wok is fundamental to Chinese cuisine, but the flavors of this dish are certainly Vietnamese inspired. The stir-fry sauce used in this recipe is actually very similar to the marinade in my bun thit nuong recipe, an absolutely delicious and rightly popular Vietnamese dish of grilled pork on a bed of vermicelli noodles. The strips of flank steak tossed in cornstarch prior to cooking is what thickens the sauce in the pan during the cooking process to perfectly coat each piece of tender beef.
This Vietnamese-style stir fry has it all! Layers of flavor and texture, tender pieces of beef, flavorful sauce, supple greens, noodles to soak up all of that wonderful sauce, and a dipping sauce to add just the right amount of acidity to the dish.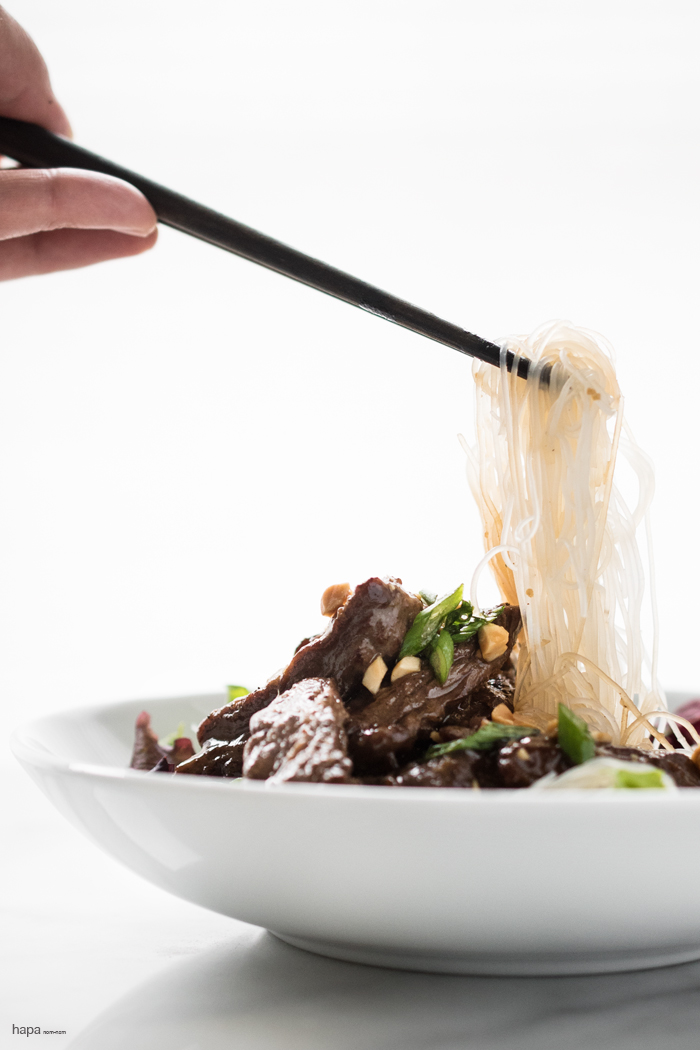 Ginger Beef Stir-Fry with Noodles
Author:
Kathleen | Hapa Nom Nom
Prep time:
Cook time:
Total time:
Go from no dinner, to a gorgeous plate of Ginger Beef Stir-Fry with Noodles in just 20 minutes! Quick and simple to prepare, with a punch of flavor, this is a dish that will make a regular appearance on your dinner table.
Ingredients
Stir-Fry Sauce
2 inch piece of ginger, grated
4 garlic cloves, minced
2 tablespoons brown sugar
2 tablespoons fish sauce
1 tablespoon low sodium soy sauce
1 teaspoon toasted sesame oil
1 teaspoon black pepper
Dipping Sauce
4 tablespoons fresh lime juice
2 tablespoons fish sauce
2 teaspoons mirin
Beef
1 pound flank steak, thinly sliced diagonally, against the grain
2 tablespoon canola oil, divided
1½ teaspoons cornstarch
For Serving
1 - 7 ounce package of rice vermicelli noodles
5 ounces mixed baby greens
1 small bunch of cilantro
2 scallions, green parts thinly sliced
dry-roasted peanuts, roughly chopped
Instructions
In a small bowl, add the stir-fry ingredients - ginger, garlic, brown sugar, fish sauce, soy sauce, sesame oil, and black pepper. Stir well to combine and set aside.
In another small bowl, combine the ingredients for the dipping sauce. For a lighter tasting sauce, you can add 1-2 Tbs of water, if you like. Set aside until ready to use.
Soak the dry vermicelli noodles in a large bowl of hot water. Allow to soak for several minutes, giving the noodles a stir every so often to loosen them up. Taste a few strands to make sure they're done, then drain and set aside.
In a medium-sized bowl, combine the sliced beef, canola oil, and cornstarch. Mix well with your hands, making sure to evenly coat each slice.
Heat a large, dry skillet or wok over medium-high heat. Just when the pan begins to smoke, add 1 tablespoon of the oil and once shimmering, add the beef (if you're using a flat-bottomed skillet, use 2 tablespoons of oil, or enough to thinly coat the bottom). Cook one side of the beef for 30 seconds, then flip and cook the other side for another 30 seconds. Then add the stir-fry sauce. Toss and stir for 1 - 2 minutes, until cooked. (If you're doing this in a small skillet, I suggest stir-frying in two batches).
Divide the mixed greens and cilantro among your serving bowls. Top with vermicelli noodles and the stir-fried beef. Garnish with the chopped peanuts and scallions. Serve with dipping sauce. Enjoy!