As winter's icy grip holds fast, a big bowl of warm, comforting, and thick noodles in a rich and fragrant consommé is exactly what you need.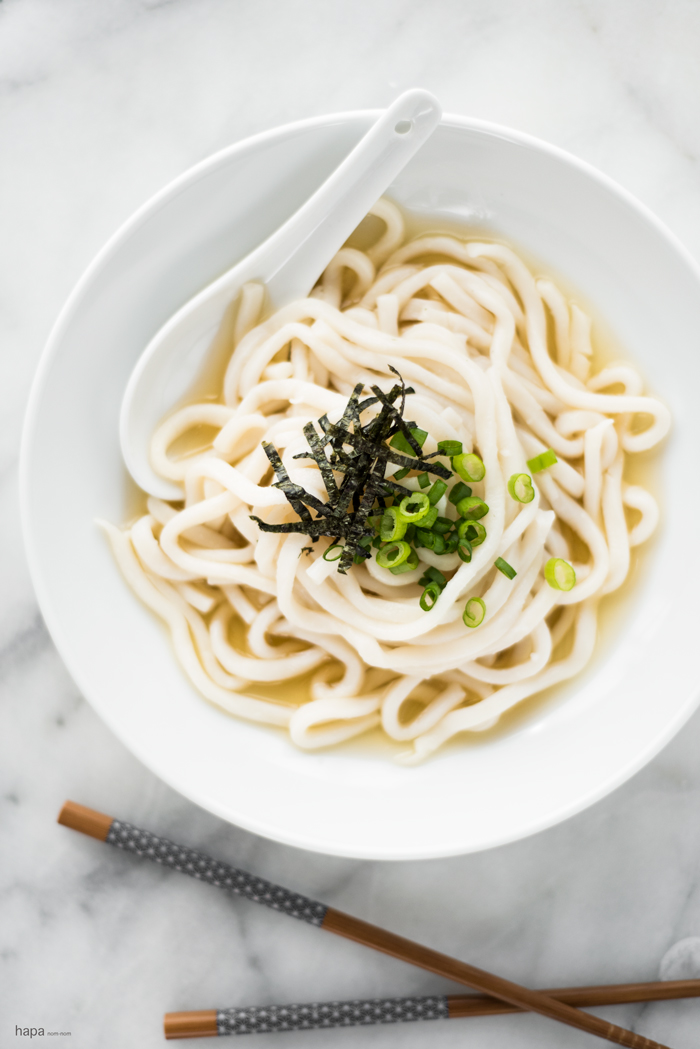 Thick and chewy udon noodles are perfectly adapted for soups. Frequently, it's served in a mildly flavored broth called kakejiru – made up of dashi, mirin, and soy sauce. However, for this particular dish I've served them in a small pool of consommé – not so much liquid to make it a soup, but just enough to wet the noodle to make it perfectly slurp-able.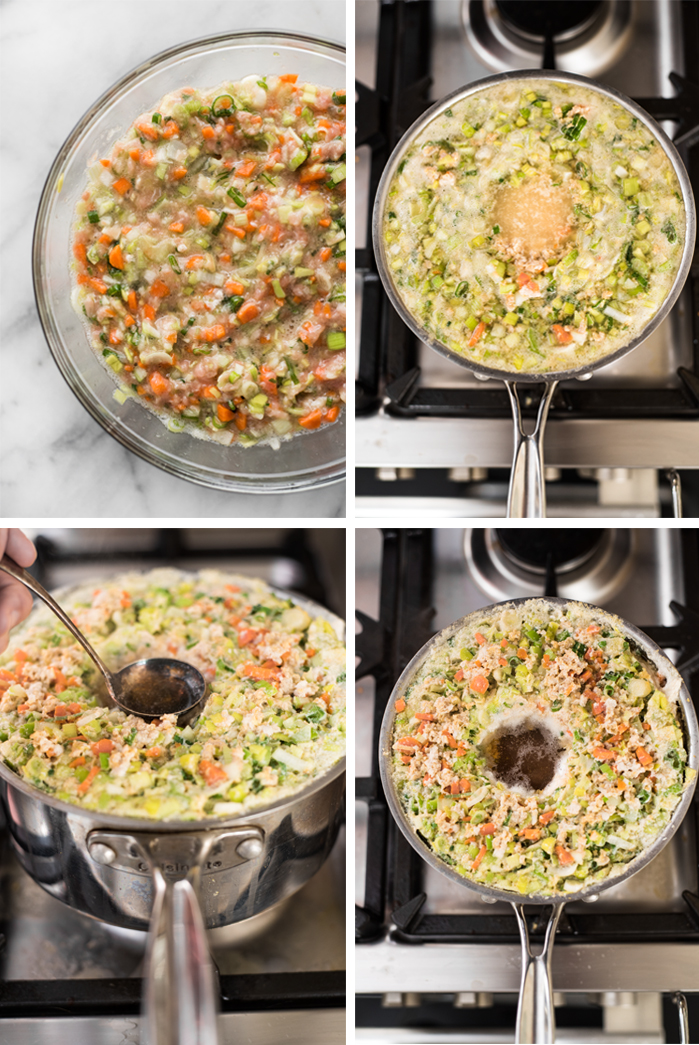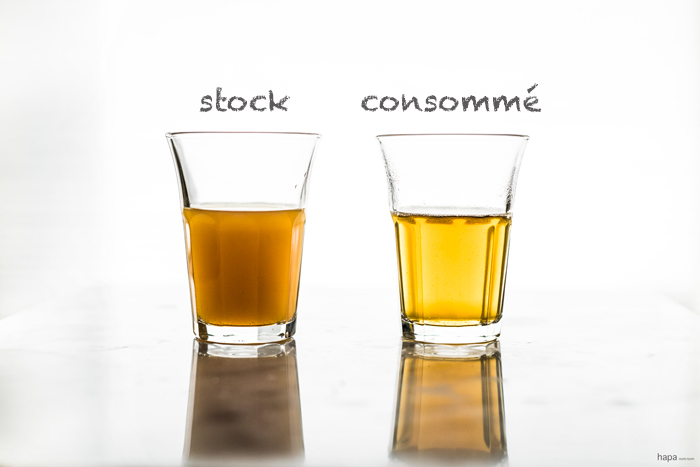 So what is consommé? (Pronounced "con-som-AY") it's a classic French soup that has been clarified and is richly flavored. The process of clarification is done using a 'raft' technique. It's not difficult, but it does take a little attention. The raft is composed of several things – a mirepoix (pronounced "meer-pwah"), a combination of carrots, celery, and onions used to add flavor and aroma to stocks, which is later strained out. Another component is the ground chicken, to add more flavor. Then there are the egg whites, which play the most vital role in the clarification process. The egg white albumen is a water soluble protein and when heated, 'grabs' the suspended particles in a cloudy stock and clarifies the liquid.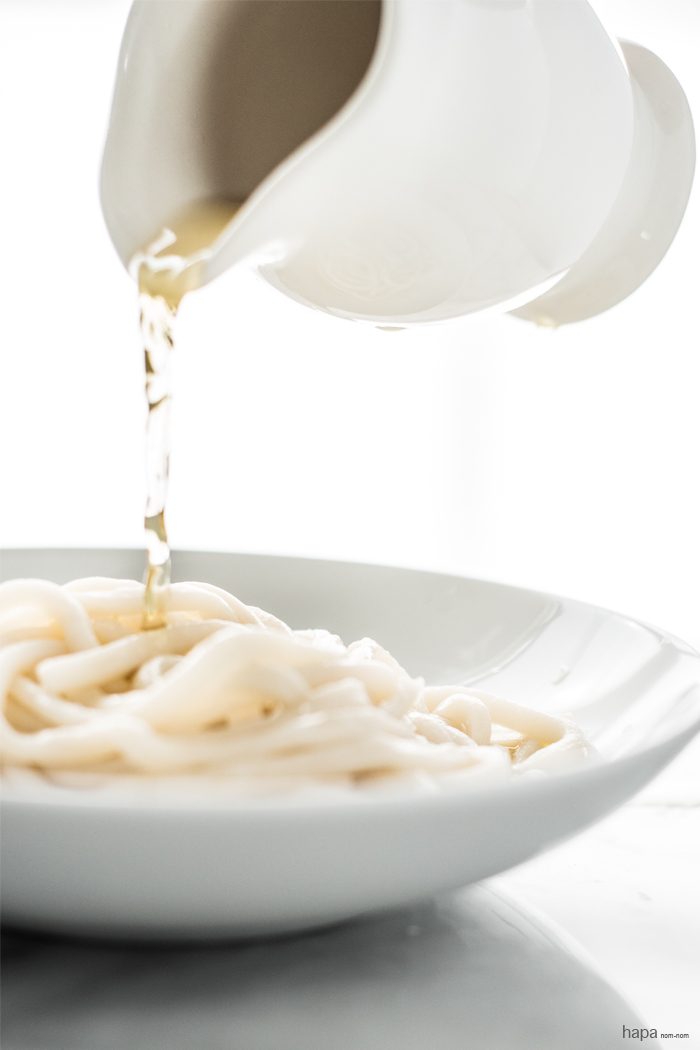 Ideally, you want to use homemade chicken stock which is made from bones and cartilage. True stock has body, and sits on your lips for a moment. When cooled, you should be able to giggle the stock – almost like a jelly. However, I realize that we don't always have homemade stock on hand (I try, but it doesn't always happen). Out of curiosity I tried making a consommé with a good quality, store-bought chicken stock (you want the best quality you can find, because the clarification process not only removes gelatin, it removes flavor (hence the use of a mirepoix). I really wasn't sure if it would work because even the best store-bought brands don't contain nearly the same body as a homemade stock. I was pleasantly surprised when I discovered that you can, in fact, clarify store-bought stock to a wonderful crystalline quality and still have a wonderful flavor.
So the other question becomes, why clarify stock? Well, to be perfectly honest… it's pretty. You retain all of the wonderful flavors of a stock, but it contains the ethereal quality of a perfectly clear broth. Consommé is a quintessential French preparation of soup. Could you get away with just simmering the chicken stock with the scallions and ginger to give it that distinct Asian flavor specific to this recipe? Of course you can. But, if you have the time, and if you're interested in implementing a classic French cooking technique, give consommé a try. I personally think it's something everyone interested in cooking should try at least once… and you'll feel like a real rockstar in the kitchen 🙂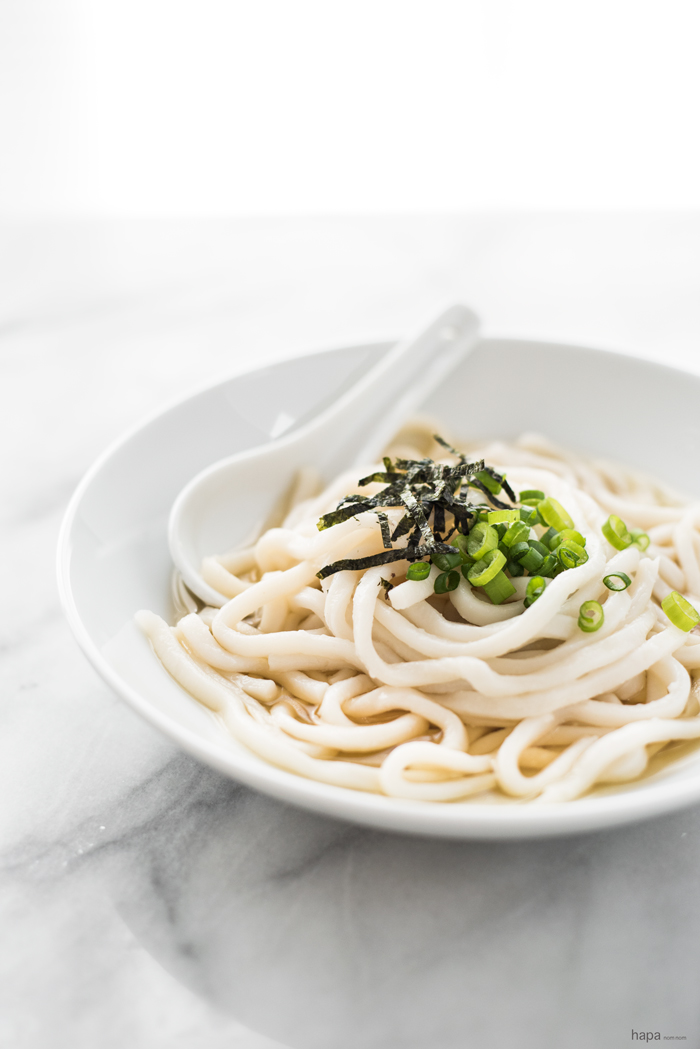 Udon Noodles in Consomme
Author:
Kathleen | Hapa Nom Nom
Prep time:
Cook time:
Total time:
A big bowl of warm, comforting Udon Noodles in a rich and perfectly clear consommé.
Ingredients
2 carrots, peeled
2 celery ribs
6 scallions
1 leek, bottom portion only
2-inch piece of ginger, peeled
½ pound ground chicken
6 large egg whites*
8 cups good quality chicken stock, homemade is preferred
6 peppercorns
Kosher salt
4 (7 ounce) packages of udon noodles
1 small sheet of nori, cut into thin stips
Instructions
In the bowl of a food processor - add the carrots, celery, 4 scallions, the leek, ginger, and ground chicken. Pulse until you have a small dice. Transfer the contents to a 5 quart pot.
In a bowl, vigorously whisk the egg whites for 30 seconds, until foamy. Add the egg whites to the pot of veggies and chicken. Using your hands, mix until it forms a paste, then cover with cold chicken stock. Add the peppercorns and a pinch of salt.
Over high heat, stir the mixture constantly until it reaches 120 degrees F. Stop stirring and turn the heat down to medium-low and allow the the 'raft' to form (the raft is the egg whites and meripoix mixture that floats to the top). Do not let it boil. You want a very gentle simmer (if the stock bubbles, it will break the raft). Once the raft has formed, start by making a small hole in the center - check to see if the raft is fairly solid, ie. the egg white has risen to the top. Then carefully make the hole larger using a small ladle (I used a gravy ladle). As you're forming the hole, take the contents from the ladle, and spoon them back over the raft. (It may take a few minutes of ladling to make a clear hole, but be patient, it will happen.) Once you have a well-formed hole, carefully scrape the bottom of the pan with a spatula to loosen any raft that may be caught down there. Continue to ladle and baste the raft every 5 -10 minutes, for 1 hour.
Once the stock is clear, take a lade (it can be a big one) and press down on the raft to fill the ladle with the clarified stock. Ladle the stock through a fine-meshed sieve or a colander lined with several layers of cheesecloth. Season with salt to taste, if needed.
Bring a pot of water to a boil and cook the udon according to the package directions.
Add the noodles to the serving bowls and ladle the consommé over top (about ¾ a cup, you want more noodle than broth). Garnish with the remaining sliced scallions (green parts only) and strips of nori. Serve and enjoy!
Notes
* Keep the egg yolks intact - I have a recipe coming up that will make great use of them!
* You can make the consommé ahead of time: 4-5 days in the refrigerator or 4-6 months in the freezer.