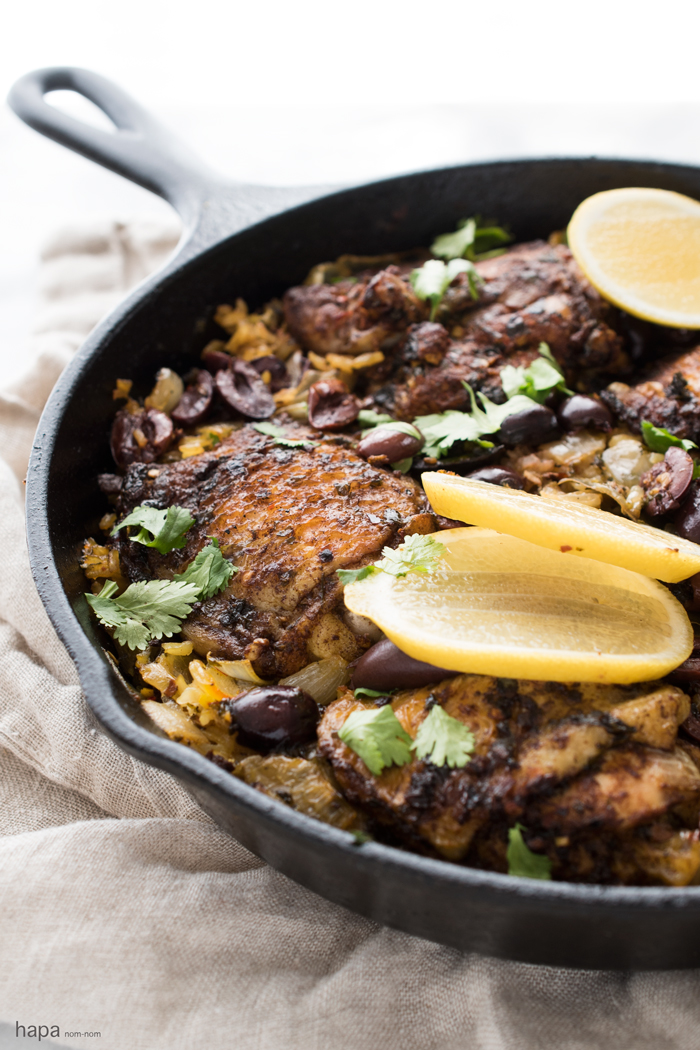 Neither of my parents have been to the San Francisco Bay Area. So when they came out for a visit to see our new home, I took them on a whirlwind tour of the area. One week barely scratches the surface of things to do, but Mr. HapaNom and I were able to get a good deal of activities in for their first trip. We went to Japantown, Chinatown, Napa, the Presidio, the Golden Gate Bridge, you get the idea. You always want your guests to have a good time and enjoy your home as much as you do, especially when it's your parents. I can happily report that they had a great time! 🙂
We ate out a lot, taking my parents to our favorite spots. But there were a few nights when we ate in. One evening I decided to make one of my favorite meals, Moroccan Chicken with Apricot Couscous. It's easy to make, always a crowd pleaser, and it fills the entire house with the most magnificent aromas! I was in the middle of searing the chicken thighs when I realized that I didn't have any couscous! What?! I swear I just had 2 large boxes! Ok, so plan B. Rice. I always have rice. I was just going to make the rice separately and serve it along with the Moroccan chicken. Then I remembered one of my favorite recipes from my friend and fellow food blogger, Nagi of RecipeTin Eats. She makes a fabulous One Pot Greek Chicken and Lemon Rice dish where she cooks the rice in the same pot as the chicken, soaking up all of those wonderful juices and flavors. I applied that same method this Moroccan inspired dish and it was a huge hit! Every bite was packed with incredible flavor! One pot meals are always great! After a long day it's a dish that's easy to prepare, leaves minimal clean-up, and it's so satisfying.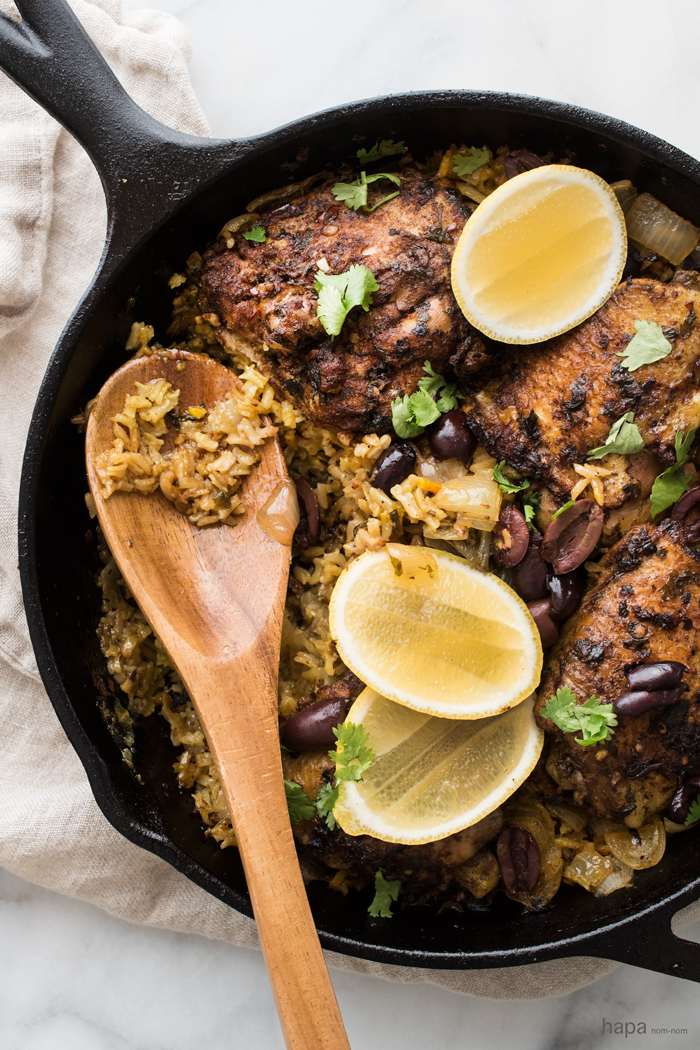 One Pot Moroccan Chicken and Rice
Author:
Kathleen | Hapa Nom Nom
Prep time:
Cook time:
Total time:
One Pot Moroccan Chicken and Rice - a ton of flavor and minimal clean-up.
Ingredients
1 cinnamon stick
¼ tsp whole black peppercorns
1 tsp cumin seeds
1 tsp paprika
¼ tsp red pepper flakes (or less, if you like less heat)
¼ tsp whole cloves
5 Tbs extra-virgin olive oil, divided
2 cloves garlic, minced
1 tsp fresh ginger, peeled and minced
1 handful fresh cilantro leaves, chopped
1 large pinch saffron
Kosher salt
a pinch of black pepper, freshly ground
5 chicken thighs, bone in, skin on
1 medium onion, coarsely chopped
1 cup long grain rice
2 bay leaves
1 large lemon, zest and juice
½ cup Kalamata olives
2 cups good quality unsalted chicken stock
1 lemon for garnish, optional
Instructions
In a heavy-bottomed pot or pan over medium heat, toast the first 6 ingredients until they start to smoke. Remove from heat and grind to a fine powder in a spice grinder or coffee grinder.*
In a large bowl, add 3 tablespoons of oil, spice mix, garlic, ginger, cilantro, saffron, ¾ teaspoon salt and pepper. Mix to a paste. Add the chicken, rubbing the marinade over all the pieces. Cover and refrigerate for two hours to overnight.
Preheat the oven to 350 degrees F.
Place the oven-safe heavy-bottomed skillet or pot with a tight fitting lid over medium-high heat. Add 2 tablespoons olive oil. Place the chicken skin side down and brown, approximately 5 minutes per side. Remove the chicken and set aside. Pour off the fat and wipe the pan clean with a paper towel. Warm a tablespoon of olive oil over medium-high heat and add the onions. Cook until softened, about 3 minutes.
Add the rice and stir to coat. Add the bay leaves, lemon juice, lemon zest, olives, chicken stock, and a pinch of salt. Bring the contents to a boil, turn off the heat, and place the chicken on top of the rice. Cover tightly with a lid and bake for 30 minutes. Remove the lid, and allow the excess liquid to cook off while in the oven for another 5 minutes. Remove bay leaves and discard. Taste and season to taste, if needed. Serve with sliced lemon and enjoy!
Notes
* Using whole spices is ideal for toasting and it amps up the spices flavor. But if you don't have a coffee or spice grinder - you can toast already ground spices. One cinnamon stick equals approximately 1 teaspoon.