Pan seared salmon on a bed of wild rice in a rich and creamy ginger and coconut curry broth. Sounds elegant, but I made a video so you can see just how easy it really is!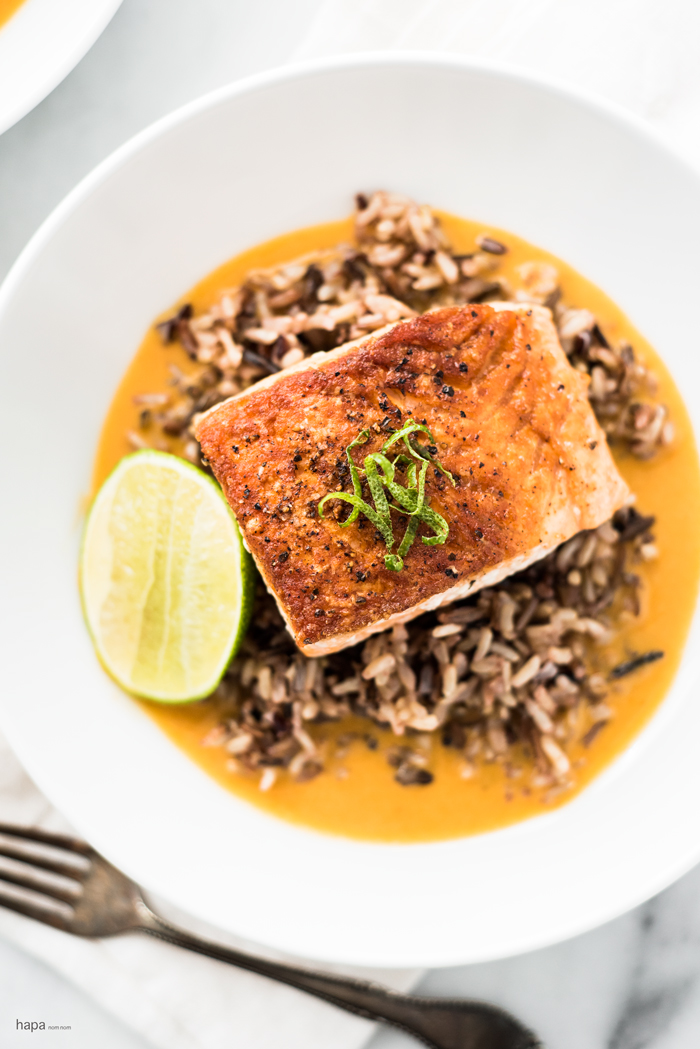 Salmon is such a wonderfully versitle dish – it makes a great weeknight meal due to it's quick and easy prep yet it's elegant enough for special dinner. It can be baked, broiled, grilled, poached, or pan seared. It pairs well with a light preperation of just salt, pepper, and a little citrus;  to something with more substantial flavors like this ginger-coconut curry broth.
The cook time for this dish is about 45 minutes, but that's really all about the rice – which is pretty much hands off once the rice and water come to a simmer.  The rest of the dish can be made while the rice is cooking. The curry sauce, which is packed with a ton of flavor, comes together in just 15 minutes! It's so quick and easy, you'll be amazed at them minimum amount of ingredients. And you know it's good when you're constantly sneaking tasty spoonfuls 😉
The pan seared salmon is simply seasoned with salt and pepper and cooked in  olive oil and butter – lightly crisp on the outside and completely moist and flaky on the inside. The salmon is quick and easy to make (about 10 minutes on the stove), but there are a few things to keep in mind:
Purchase fillets that are similar in thickness, with each fillet as even in thickness as possible.
Make sure all of the pin bones are removed. You can locate them by running your fingers along the side of the fish. Using needle-nose pliers or tweezers, gently, but firmly pull the bones out at the same angle as they run. You'll feel a little resistance at first, but they should come out smoothly.
Get your pan, oil, and butter nice and hot before you add the salmon. And be sure to start skin-side down.
Once the fish is in the pan, DO NOT move it. When the fish is ready, it will release from the pan. If you try to move it before it's ready, it will stick and flake apart.
The cook time will vary depending on the thickness of the salmon fillets, but the trick is to sear them until they're cooked halfway up the sides and then flip. Cook the other side until it's cooked the other half of the way up, for a perfect medium-rare.
Pan Seared Salmon with Wild Rice in Coconut Curry Broth
Author:
Kathleen | Hapa Nom Nom
Prep time:
Cook time:
Total time:
Pan seared salmon on a bed of wild rice in a rich and creamy ginger and coconut curry broth. Watch the
video
to see just how easy it is!
Ingredients
1 cup wild rice
4 tablespoons extra virgin olive oil, divided
2 shallots, thinly sliced
2 garlic cloves, thinly sliced
1-inch piece of ginger, thinly sliced
2 tablespoons red curry paste
1 14-ounce can unsweetened coconut milk
1 cup chicken broth
Kosher salt
2 limes, divided
2 6-ounce salmon fillets (skin on)
freshly ground black pepper
2 tablespoons unsalted butter
Instructions
Cook the rice according to the package directions (this could take up to 45 minutes, so plan accordingly).
In a large saute pan over medium heat, warm 2 tablespoon of olive oil. Add the shallots, garlic, and ginger. Cook for 2 - 3 minutes, until softened (do not let the garlic burn). Add the curry paste and stir to fully incorporate. Then add the coconut milk and chicken broth. Stir in ½ teaspoon Kosher salt and simmer until reduced by about half (approximately 10 minutes). Carefully transfer the contents to a blender, add 2 tablespoon of fresh lime juice, and puree until smooth. Set aside.
Season both sides of the salmon fillets with salt and pepper.
Heat a medium, heavy-bottomed skillet over medium-high heat. Add 2 tablespoons of olive oil and the butter. Once the oil is hot and the butter has melted, add the fillets, skin side down - do not move them once they're down. Sear until the sides are cooked halfway up the sides. Then flip and sear the other side until the sides are fully cooked. Remove from heat.
In two shallow bowls add about ½ cup of the coconut curry broth. Top with rice, and then a salmon fillet for each bowl. Sprinkle with lime zest and serve with a lime wedge on the side. Enjoy!
Notes
* You'll have some coconut curry leftover - it's great with rice, noodles, vegetable, or other fish.