There are some things that just beg for a special meal – celebrations, holidays, perhaps even date-night. Then there are those days when you just need to treat yourself, because baby… you're tired and you've earned it! Mr. HapaNom and I are gearing up for our move across the country to San Francisco – exciting, but there are SO many things to take care of before we go.
We've been on the go for weeks now and we both needed a little 'us time'. The only caveat being, I didn't want to leave the house. Leaving the house would require me having to do my hair, get dolled up, and I really didn't want to change out of my sweat pants (I know… I'm totally painting a picture of hotness). The night was just begging for a little TLC… in the comfort of our own home.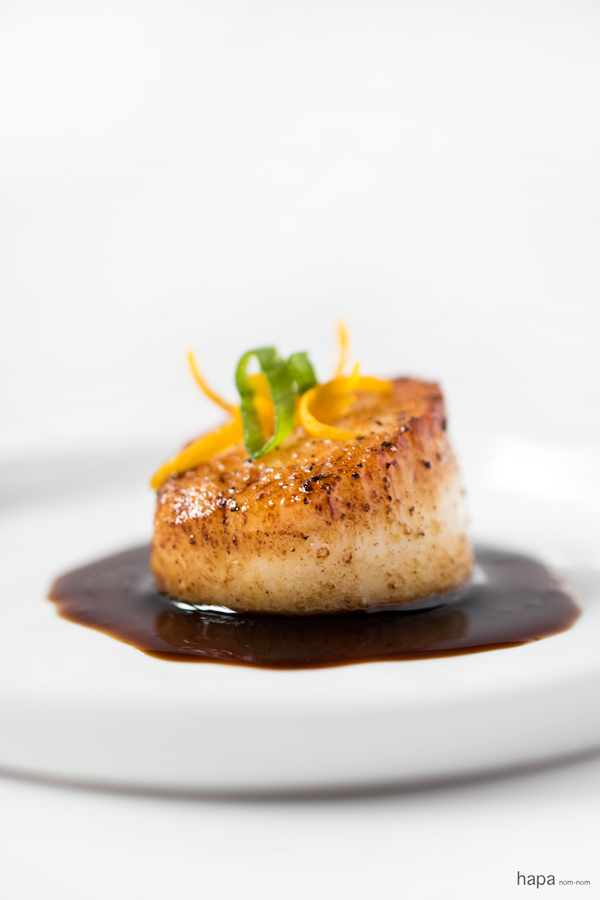 If you're not familiar with cooking scallops, fear not! They are insanely quick and easy to make. In fact, they're so quick and easy, you will be amazed! So before we get into the kitchen, let's go to the store. When purchasing scallops, you may notice they're generally labeled either 'wet' or 'dry'.  Whenever possible,  go for dry scallops. They have not been treated with sodium tripolyphospate, a solution that adds moisture to the scallops thus increasing their shelf life.  What that means, is that 'wet' scallops are generally not as fresh and you're paying for the added water weight – talk about a waste of money!  Likewise, due to the excess water wet scallops will also be more difficult brown, no matter how hot you get the pan.
Now that we've purchased the scallops, into the kitchen we go! To get the perfect sear on scallops, you must do a few things:
Gently rinse each scallop under cool water and thoroughly pat dry. The drier the scallop, the better the sear.
Wait until you're about to sear the scallops before you sprinkle them with salt and pepper. If you salt them too early, the salt will draw out the moisture from the scallops.
Add the butter and olive oil to the pan and get that pan hot! When you see that first little wisp of smoke coming off of the pan, add the scallops. Sear for 1 1/2 minutes on each side. Don't move them around the pan once you've set them down, just let them be until they're ready to turn.
So that's it! Pretty easy, huh?
Whether your hosting a dinner party or just having a nice quiet night at home in your sweatpants, these scallops make for a delicious and special dinner. So treat yourself to these Orange-Soy Glazed Scallops, open up a nice bottle of wine, and enjoy!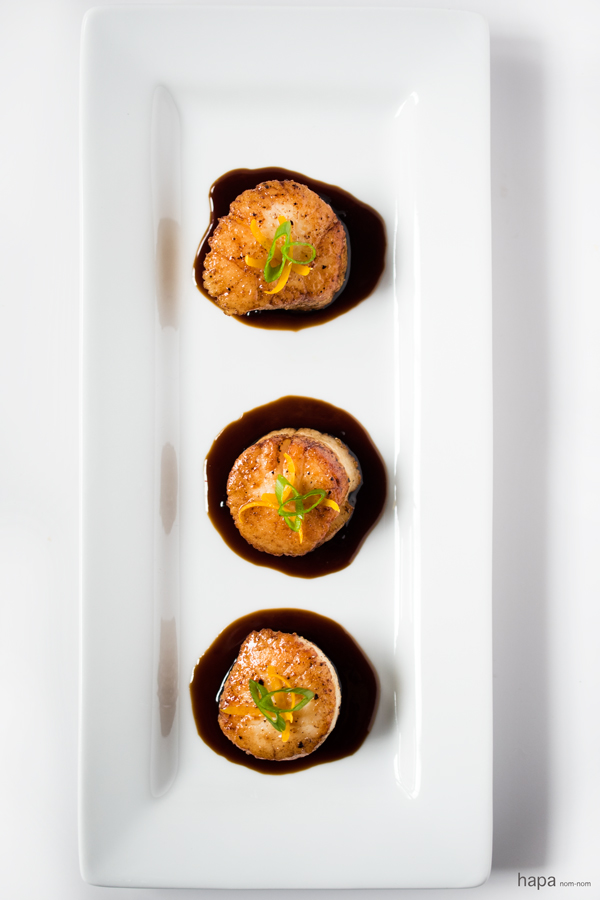 Orange-Soy Glazed Scallops
Author:
Kathleen | HapaNomNom
Prep time:
Cook time:
Total time:
Have these elegant Orange-Soy Glazed Scallops on the table in just 20 minutes!
Ingredients
½ cup fresh orange juice, plus the zest
¼ cup low sodium soy sauce
1 tablespoon fresh lime juice
4 cloves garlic, smashed
1 pound dry sea scallops
1 tablespoon unsalted butter
1 tablespoon olive oil
kosher salt
freshly ground black pepper
1 scallion, green part only, thinly sliced
Instructions
In a small sauce pan over medium-high heat, combine the orange juice, soy sauce, lime juice, and garlic. Bring to a simmer and reduce until thickened into a syrup, about 10 minutes. (Be careful not to over-reduce the sauce).
If not already done, remove the small muscle or 'foot' from the scallops. Just pinch it between your thumb and first-finger, and tear it away. Rinse under cool water and thoroughly pat dry.
Add the butter and olive oil to a large saute pan over high heat. Season both sides of the scallops with salt and pepper, and once the pan lets off the first wisp of smoke, gently add the scallops to the pan, making sure they don't touch. Sear the scallops for 1½ minutes on each side.
To serve, place a dollop of the orange-soy glaze on a plate (one for every scallop) and place a scallop on top. Garnish with a little orange zest and a couple of scallion slices. Serve immediately. Enjoy!