You may remember my friend Seung Hee from previous posts, she's the one that trained in Korean royal cuisine. She has quickly become one of my closest friends, not to mention a huge inspiration! Our first time cooking together she came over with a bag of groceries and a zip-top filled something very special… she brought me a bag of gochugaru, a coarsely ground red pepper that is made by her family still residing in Korea. It's slightly sweet, a little smoky, and hot – it's incredible!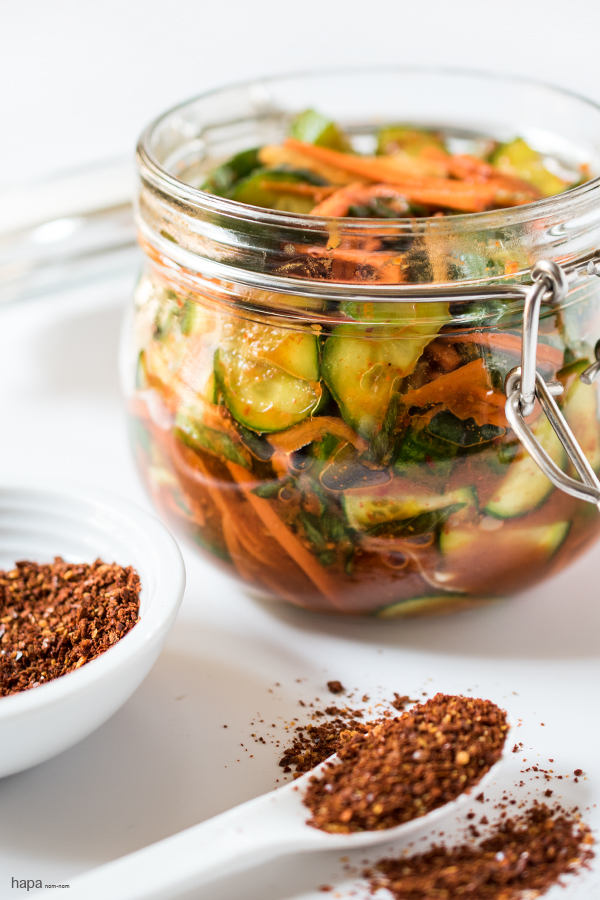 Now that we're leaving and moving across the country to San Francisco in just a few weeks, I'm reminiscing a bit about all of our fun in the kitchen, all of the incredible wine and champagne we drank, and even the Korean spa she took me to where I was scrubbed from head to toe within an inch of my life! I'm going to miss it all.
Seung Hee makes phenomenal kimchi of all varieties, one of my favorites was when she whipped up a quick cucumber kimchi. She doesn't have a recipe, she just knows – much like a master painter who doesn't need a model to paint a masterpiece. This particular quick cucumber kimchi is my version, an homage if you will. I know I'm not supposed to say someone else's is better when I'm trying to get you to try my recipe – but to be perfectly honest in a kimchi throwdown, Seung Hee would kick my ass. Be that as it may, this is still a mighty delicious dish and it's got all of the flavor and heat you love in a good kimchi. It's fantastic on it's own or even on hamburgers or hotdogs!
Seung Hee and I may be on opposite ends of the country soon, but I know our friendship will stand the test of time and distance. Actually… as I write this I'm texting with her – she's planning a night of Korean bbq and something called soju bombs. Something tells me I'll be cabbing it that night… If you want to check out all of the amazing stuff Seung Hee is making and what she's eating, check her out on Instagram @koreanfusion.
Quick Cucumber Kimchi
Author:
Kathleen | HapaNomNom
Ingredients
1 pound Kirby cucumbers*
1¼ teaspoon salt, divided
1½ - 2 tablespoons gochugaru
1½ teaspoons fresh ginger, minced
4 garlic cloves, thinly sliced
1 tablespoon fish sauce
1 teaspoon rice vinegar
1 carrot, sliced into matchsticks
2 scallions, thinly sliced diagonally
Instructions
Place a colander in the sink. Trim the ends off of the cucumbers and slice in half, lengthwise. Then slice them ½ inch thick. Place them in the colander and sprinkle with ¼ teaspoon salt. Toss and allow to sit for 15 minutes - this will draw out some of the moisture.
In the meantime, add the remaining teaspoon of salt with gochugaru, ginger, garlic, and fish sauce in a large bowl. Stir together to fully incorporate. Add the carrots, scallions, and cucumber. Toss and let it sit for 15 minutes before serving.
Notes
*Cucumber Kimchi generally uses Kirby cucumbers. If you can't find them, you can use
English cucumbers
or
Persian cucumbers
.
**You can find gochugaru certainly at any Korean grocery store and most general Asian grocery stores. You may also purchase it
online
.