Pepparkakor (Swedish Ginger Cookies) – a family recipe and Christmas cookie favorite! These thin, spiced cookies make the holidays extra special.
During the winter months when I was a kid, my mom liked to bundle me in a knit hat, the kind with a puff-ball on top. But it wasn't just any knit hat with a puff-ball… on the front it read 'Swedish Power'. She later admitted that she found some humor in dressing her half Japanese daughter in the hat because let's be honest, when you think of Swedes, you probably don't picture me 😉
My mother recalls her own childhood when pepparkakor cookies we served at various Christmas parties held in the town she grew up in. This particular recipe is adapted from my aunts recipe that is included in our family cookbook.
Pepparkakor are a kind of Scandinavian gingersnap that's available year-round, but is particularly popular around Christmas. Traditionally they are thin and crisp. However, I like my pepparkakor with a little bit of chew to them – so this particular recipe yields a slightly crisp exterior with a chewy interior. Likewise, pepparkakor are often not decorated with icing, so this is completely optional. But I rather enjoy decorating holiday cookies and it can be particularly fun if you have little ones that want to help. And if you like, punch a little hole in the top before baking so that it can be strung with ribbon and hung from the tree!
Here's a tip if you want to decorate your pepparkakor – buy a squeeze bottle; you can find them for cheap at most houseware or kitchen stores and they will make your life just so much easier (at least as far as cookie decorating goes). If you don't have a squeeze bottle, you can scoop the icing into a small sandwich bag or other small plastic bag. Push the icing down into one corner and clip off the corner of the bag (clip just a tiny hole, otherwise the icing will come out too quickly when decorating). While the plastic bag method does work, the squeeze bottle is just so much easier — use that if you can.
Pepparkakor dough also makes for a wonderful pepparkakshus or gingerbread house. Simply roll the dough a little thicker to give your structure a bit more stability, about a 1/4-inch thick. Then you can use the orange royal icing recipe included below to 'glue' the house together, decorate, and affix all the candy canes and gumdrops you want 🙂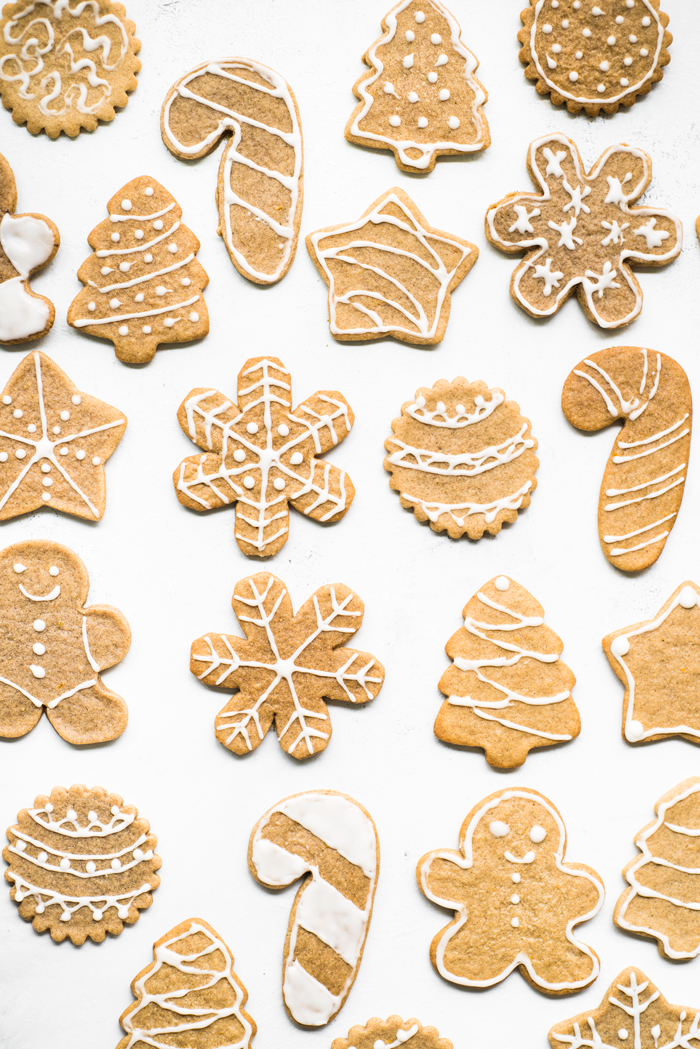 Pepparkakor (Swedish Ginger Cookies)
Author:
Kathleen | Hapa Nom Nom
Pepparkakor (Swedish Ginger Cookies) - a family recipe and Christmas cookie favorite! These thin spiced cookies make the holidays extra special.
Ingredients
Pepparkakor
3½ cups all-purpose flour
2 teaspoons baking soda
2 teaspoons ground cinnamon
2 teaspoons ground ginger
2 teaspoons ground cloves
2 teaspoons ground cardamon
1 cup unsalted butter, softened
1½ cup sugar
¼ cup maple syrup
1 tablespoon fresh orange juice
1 tablespoon orange zest
1 extra large egg
Orange Royal Icing, optional
1 cup confectioners sugar
2 tablespoon fresh orange juice
¼ teaspoon almond extract
Instructions
Sift the flour, baking soda, cinnamon, ginger, cloves, and cardamon into a large bowl and set aside.
In the bowl of a standing mixer fitted with a paddle attachment, add the butter and sugar. Combine until nicely creamed. Add the maple syrup, orange juice, orange zest, and egg.
While mixing, slowly add the dry ingredients. Mix until throughly incorporated and a dough has formed.
Divide the dough into 4 equal pieces and flatten out into a disc. Wrap each disc in plastic wrap and refrigerate overnight.
Preheat the oven to 375 degrees F and line a sheet pan with parchment paper.
On a lightly floured surface, roll out one of the discs of dough (keep any dough you're not working with, refrigerated). Roll out the dough to about an ⅛-inch thick. Don't be afraid to dust with more flour if dough starts sticking/cracking while rolling out.
Using your cookie cutter, cut out the cookies. Use a thin stainless steel spatula, transfer the cookies to the sheet pan lined with parchment paper. Bake for 6 to 8 minutes.
Transfer the cookies to a cooling rack and allow to cool completely before decorating.
To make the Orange Royal Icing - combine the confectioners sugar, orange juice, and almond extract in a small bowl. The icing should be smooth but thick. If it's still a little clumpy after mixing well, add a small amount of orange juice (a little goes a long way). Transfer the icing to a squeeze bottle. Pipe the icing onto the cookies, decorating them as you like. Allow to dry throughly before stacking. Serve and enjoy!
Notes
* Adapted from my aunts recipe, included in our family cookbook.