Have you ever had Çilbir (Turkish Poached Eggs in Yogurt)? If not, boy have I got a treat for you! They say you eat with your eyes first… are your eyes dancing yet?
Believe me, this tastes every bit as good as it looks! Dense garlicky yogurt swirled into spiced butter and a rich poached egg. Dip a warm piece of toasted rustic bread into the golden sunrise of colors, and you've got heaven on a plate.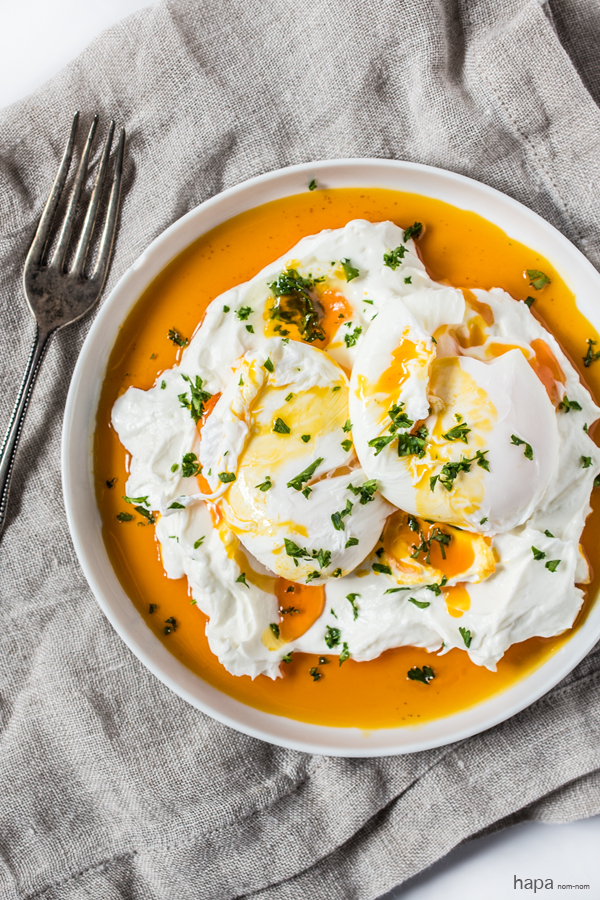 This may sound a bit strange, but I first heard of this dish via my dog. Years ago, I had a Kangal Dog named Cyrus. This particular dog is so highly valued by the Turkish people, that the government has declared them a national treasure. Truly that is the case, as I can recall bringing him to a Turkish festival – Cyrus was an absolute sensation! Turks from right and left would poke the person next to them and point at him as we walked by, they would stop and want to take a picture with him, and they all told me stories of near mythological proportions about a Kangal they knew back home. It was like walking around with a rock star – and Cyrus loved every moment!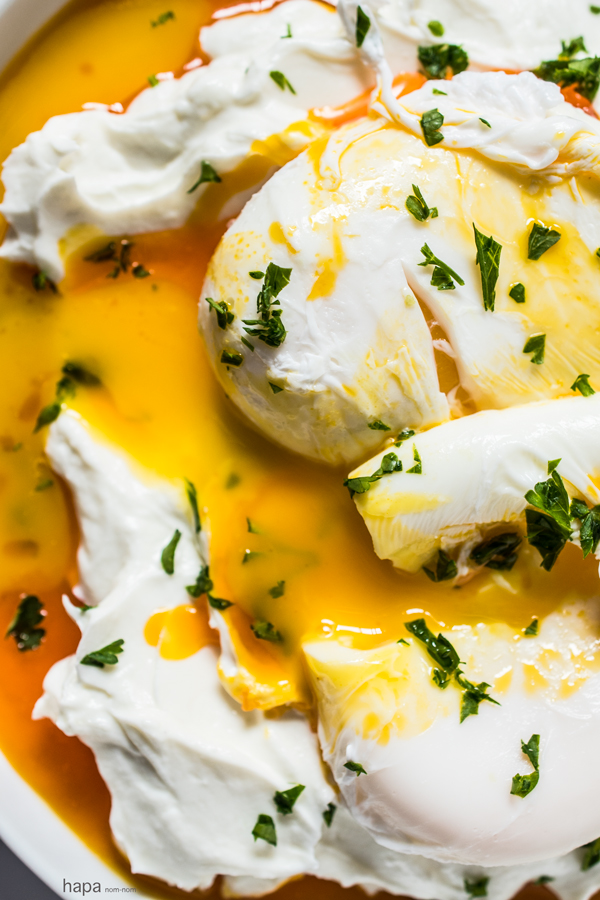 It was also at the Turkish festival, that I discovered Çilbir. Originating from the kitchens of the Ottoman empire, Çilbir (pronounced Chill-ber), is often known as Turkish comfort food. The spiced butter is frequently infused with Aleppo peppers, for which paprika with a pinch of cayenne can be substituted.
This dish has such incredible flavor, colors so rich it looks like it was pulled from the morning sunrise, and it's so quick and easy to make – you can have this stunning plate on your breakfast table in under 20 minutes!
Çilbir
Author:
Kathleen | HapaNomNom
Recipe type:
Breakfast/Brunch
Ingredients
1 large garlic clove
kosher salt
1 cup full-fat Greek yogurt at room temperature (see note)
½ teaspoon tahini
4 tablespoons unsalted butter
½ teaspoon paprika
⅛ teaspoon turmeric
pinch of cayenne
4 eggs
1 tablespoon white vinegar
4 slices of rustic bread, sliced
extra virgin olive for brushing
2 tablespoons parsley, finely chopped
Instructions
Using a mortar and pestle mash the garlic and ½ teaspoons of salt together until it forms a paste. If you do not have a mortar and pestle - mince the garlic and sprinkle with salt. Then take your knife placed at a 45 degree angle to the cutting board, and scrape the garlic across the board until it forms a paste.
Scoop the garlic paste into a medium bowl and stir in the the yogurt and tahini. Allow the yogurt mixture to sit out on the counter while you complete the rest of the dish.
In a small saucepan over medium-low heat, melt the butter and add the paprika, turmeric, cayenne, and a pinch of salt. Stir well to combine and once the butter sizzles, remove from heat (do not let it burn). Pour through a fine-meshed sieve into a small bowl (you don't have to strain the spiced butter, but it certainly makes it pretty). Keep the butter in a warm place.
To poach the eggs, fill a deep saucepan with water and the vinegar. Bring to a boil. Meanwhile, crack the eggs into separate bowls. Once the water comes to a boil, turn off the heat. Using a spoon, swirl the water in one direction creating a whirlpool effect. Holding the bowl containing one of the eggs just above the surface of the water, carefully slide the egg into the center of the whirlpool. Do this again with the second egg. Cover the pan with a lid and let it cook for 3 minutes (no peeking!) Once cooked, use a slotted spoon to gently lift the eggs out of the water. Gently transfer to a paper towel to drain.
Brush the toast with olive oil and toast in a pan until golden brown.
To serve, spoon some of the spiced butter onto two plates. Scoop the yogurt on top of the butter and then gently place the eggs on top. Drizzle the remaining butter over the top and sprinkle with parsley. Serve with toast and enjoy!
Notes
Personally, I like to strain my yogurt for at least a day so it's nice and thick. Make sure your yogurt is room temp, if the yogurt is too cold the spiced butter will seize when it's poured over.