Every holiday party needs a festive cocktail!  This Pomegranate Champagne Cocktail uses seasonal pomegranate seeds, their juice, Cointreau (an orange liqueur), a bit of lime juice, and topped with bubbly Champagne!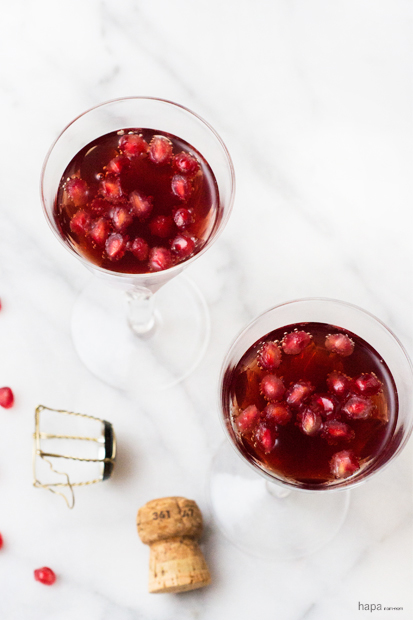 Currently I'm in Florida visiting my parents and my mother has been kind enough to help me with some of my photographs, like the obligatory 'pour shot'.  I generally take a ton of photographs, only to pick a few – and this shot was no different.  To  get that picture-perfect fizzy pour, I constantly had to make room for more Champagne after every photograph.  Which meant after every pour, I had to drink about half of the contents of both glasses to make room for more Champagne .
I felt like I was auditioning for a spot on the Vitameatavegamin episode of I Love Lucy.  It was 10am  and neither of my parents were interested in drinking at that hour.  So in a matter of 20 minutes,  I nearly drank an entire bottle of Champagne.  Completely snockered and precariously perched on a ladder shooting down onto the Pomegranate Champagne Cocktails, I was totally picturing a face-plant into my mothers fine crystal glasses.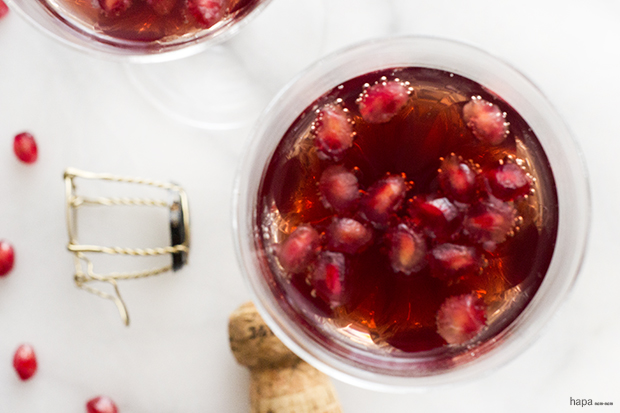 Luckily, I didn't fall off of the ladder and into my mother's crystal.  I may not have exactly gotten the 'pour shot' I wanted (I'll blame it on my inebriated state), but I had fun trying!  Fortunately the Pomegrante Champagne Cocktail was tasty enough to enjoy my early-morning buzz… followed by a mid-day nap.
[amd-zlrecipe-recipe:114]