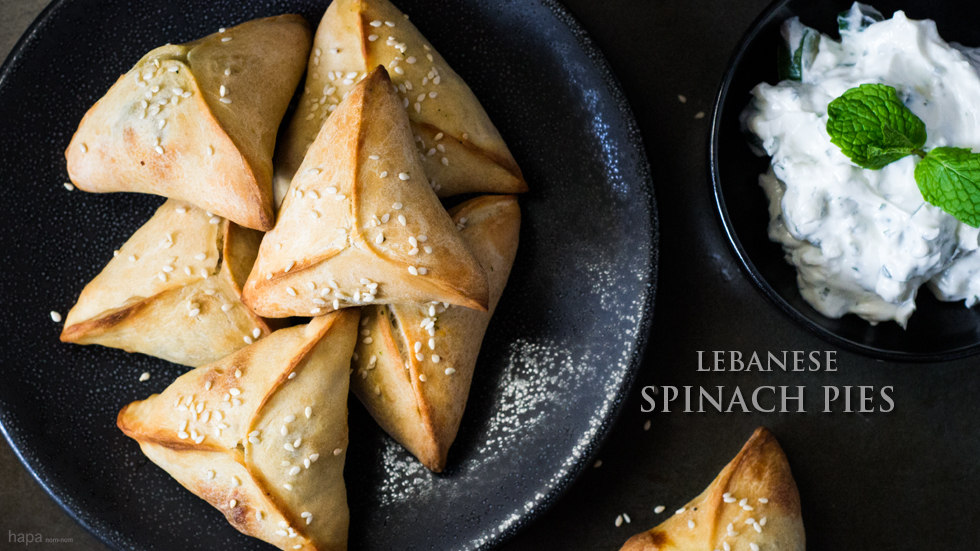 Thanksgiving is over, the dishes are washed, the silver stashed back in its spot, and the guests have left.  I don't know about you, but I don't want to even look at another turkey for another year!  I was in serious need of a turkey detox!  I was craving something light, refreshing, something with a little zing!  Lebanese Spinach Pies were exactly the palate cleanser my body needed!
Also called, fatayar/fatayer (fah-TIE-ah), these are savory little pies often made with lamb but may alternatively be stuffed with other fillings such as spinach or cheese.  The trick to these little bundles, is to make sure that they do not open up while baking.  Luckily, these more 'rustic' looking spinach pies are just as delicious.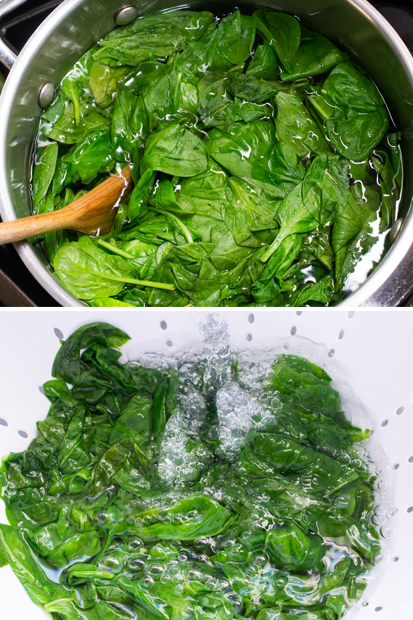 It's not that these are particularly difficult to make, but there are a few key tips to ensure that these little pies stay sealed.  I've made these numerous times, and I've learned a few things over the years.  The first time, I didn't quite grasp the gravity of the statement, 'squeeze all of the liquid from the spinach'.  The excess moisture in the spinach will create steam, which will force its way through the seams of the dough.  When you think you've squeezed all of the moisture from the spinach, squeeze some more.  I've found the best way to do this is to press the spinach against the sides of a colander, then squeeze into a tight ball between your hands (like packing a snowball),  finally place the spinach between several layers of paper towels and pressing your weight down against the counter.
In this recipe, I use fresh baby spinach.  However, in the interest of time and convenience you may use frozen spinach.  Honestly, I can't taste the difference.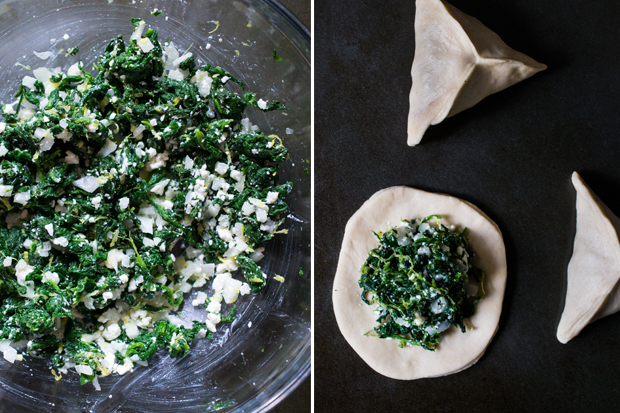 After looking over the recipe, you may wonder 'Why am I adding olive oil and lemon juice.  Aren't I adding extra liquid'?  Yes, you are adding moisture.  A little moisture is ok.  After all, you don't want a dry filling and the lemon juice and olive oil add a nice flavor.  The additional water that spinach retains can be quite substantial, and if you do not remove it, it will create too much steam and open up the seams in your pretty little spinach pies.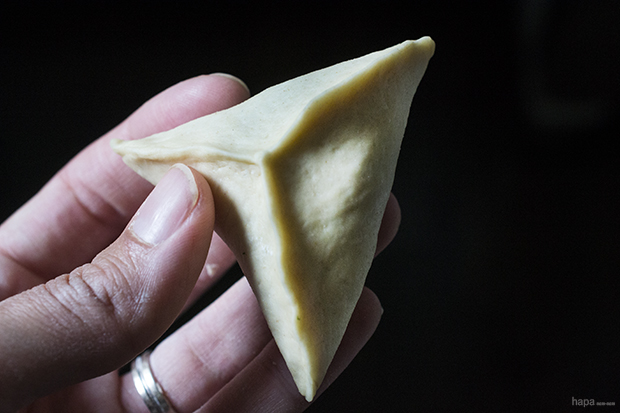 The other variable to consider, is the dough.  The dough should be slightly tacky and not too dry.  Dough that is too dry will not stay together when the seams are sealed and will therefore open up while baking.  One indication that your dough is too dry is they will begin to open up in the center before you have even baked them.
Interest of time and convenience if you would like to use a good quality pizza dough, that will work well too!  Just keep an eye on the time while baking – I have found that some doughs take significantly more or less time to cook through.
Essentially, your spinach needs to be dry and your dough needs to be tacky.  Follow those two key points, and your spinach pies should stay sealed.  As I said earlier, even if they don't, they're still delicious and beautiful in a rustic way.
Why you should make these Lebanese Spinach Pies:
 They make great appetizers at parties… even a light lunch or everyday dinner.
You can make them ahead of time and they keep for several days = stress free entertaining.
The recipe can be easily doubled.
They're easily portable and can be eaten on the go.
You can adjust the filling as desired, i.e.. using lamb or even filling with cheese
They're delicious!!!  And they're always one of the most popular dishes I serve.
Lebanese Spinach Pies
Author:
Kathleen | Hapa Nom Nom
Recipe type:
Appetizer/Entree
Delicious and Savory Lebanese Spinach Pies! Great for a crowd or snack on the go!
Ingredients
DOUGH*
1 cup warm water
1 packet active-dry yeast, ¼ ounce (21 g)
¼ teaspoon sugar
3 cups all-purpose flour
1 teaspoon kosher salt
2 - 3 tablespoons extra virgin olive oil
SPINACH AND FETA FILLING
10 ounces baby spinach, stems discarded*
¼ cup yellow onion, finely chopped
¼ cup feta
3 tablespoons extra virgin olive oil, divided
1 tablespoon lemon zest
1 tablespoon fresh lemon juice
¼ teaspoon kosher salt
pinch freshly ground black pepper
2 tablespoon sesame seeds
tzatziki to serve, optional
Instructions
Dissolve the yeast and sugar in 1 cup of warm water (105-110 degrees F). Allow to sit undisturbed for 10 minutes.
Add the flour to the bowl of a standing mixer fitted with a dough hook. Add the yeast mixture, salt, and olive oil. Start the mixer on low. Once the dough has come together, continue to knead for 5-6 minutes on medium speed. The dough should be elastic and slightly tacky.
Remove the dough from the mixer. Form into a ball and add to a large, lightly oiled bowl. Cover with a tea towel and let rise in a warm place for 1.5 to 2 hours, until the dough has doubled in size.
To make the filling, bring a large pot of water to a boil. Blanch the spinach for 30 seconds, then drain and rinse under cool water. Squeeze as much water out of the spinach as possible (if you have a potato rice - it also doubles as a great way to squeeze out the water)*. Once you think you've squeezed enough, squeeze some more. Finally, between several layers of paper towels, squeeze the last little bit of of excess liquid that you can. Transfer to a cutting board and roughly chop. In a medium-sized bowl, add the chopped spinach, onion, feta, 1 tablespoon of olive oil, lemon zest, and lemon juice. Add the salt and pepper just before you're ready to use the filling (mixing the salt with the onions at the last minute prevents the onions from releasing additional moisture into the mixture).
Once the dough has risen, divide it in half. On a lightly floured surface, roll out half of the dough to ⅛-inch thickness. Using a 3-inch round cookie cutter or large glass, cut out the rounds (don't discard the scraps).
Preheat the oven to 425 degrees F. Line a baking sheet with foil and lightly brush with olive oil. (Remember to add the salt and pepper to the filling, if you haven't done so already). Working with one round at a time, gently stretch the dough to give you a little more working surface, much like you would if you were stretching dough for a pizza. Place 1 heaping tablespoon of filling in the center - be sure to keep the edges free of any stray pieces of filling. Form a triangle by raising three sides of the dough up and over the filling. Pinch each seam, securing the filling. Place each completed triangle on the prepared baking sheet. Lightly brush the triangles and leftover dough scraps with the remaining olive oil and sprinkle the tops with sesame seeds.
Bake for 16 -18 minutes until golden brown.
Serve warm or at room temperature with tzatziki on the side. Enjoy!
Notes
* If you don't want to make your own dough, you may use a good quality pizza dough.

* If you would prefer to use frozen chopped spinach - that's ok too! I use a 12 ounce bag and just squeeze out the excess moisture. If you have a potato rice, it doubles as a fantastic way to squeeze out the excess water (tip from reader, FoodGeekGraze).

* If you want to freeze any of these for future use, place them in a single layer on a parchment lined baking sheet and place them in the freezer. Once frozen, you can put them into a zip-top bag and store for up to a month. Once you're ready to eat them, simply allow them to come to room temperature on a prepared sheet pan and then bake until golden-brown.