Last week while sitting around the Thanksgiving table, my family and I were discussing how there's such a wonderful diversity of food available today.  My mom mentioned that when she was growing up, going out for pizza was the 'ethnic' food of the day.  A crazy notion considering that within literally walking distance of my house I can choose to have Mexican, Vietnamese, Thai,  Irish, and of course… pizza.  If I get in my car and drive just 10 minutes in any direction, I can enjoy cuisine from around the world!  The diversity we have today as represented by food from an array of cultures is truly a beautiful thing!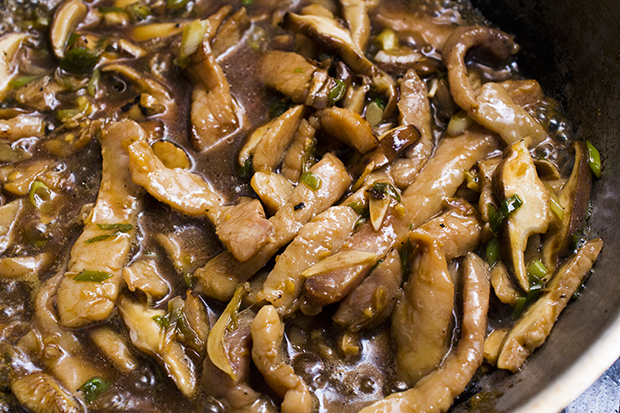 When my brother and I were growing up, Chinese food was the most widely available ethnic food in town.  Sure, my mom made sure we were exposed to gravlax and pickled herring to perpetuate our Swedish heritage and then dishes like ramen and sushi to make sure my dad's Japanese culture got in there.  But when it came to dining outside of the house, Chinese was our food of choice.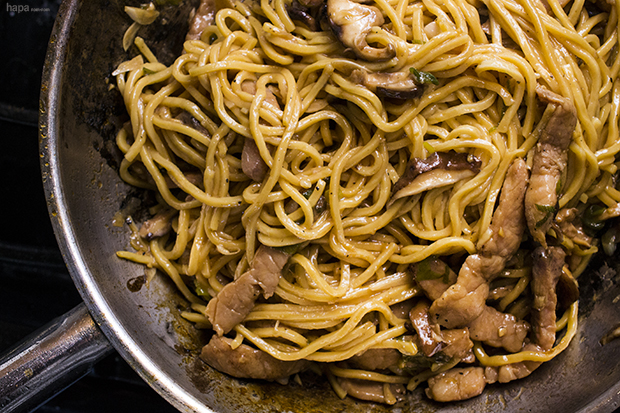 One of the things I love about stir-fry dishes is how adaptable they are!  I have incorporated some Japanese ingredients and pumped up some of the garlic and ginger flavors in the dish.  Feel free to incorporate additional veggies such as, broccoli, carrots, red peppers, onions, and/or snow peas.  You may also switch up the proteins if you like, by using beef, chicken, shrimp or tofu.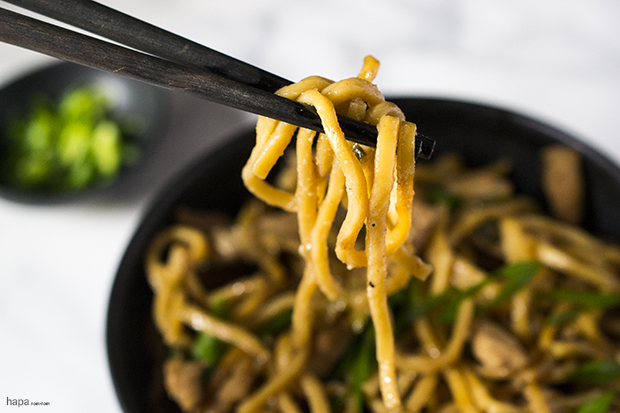 Pork Lo Mein is one of my favorite dishes from childhood.  When we went out to eat, we always ordered a lo mein dish!  Delicious chewy noodles, pork-tastic goodness, some yummy veggies, all tossed in  an umami-rich brown stir-fry sauce… om, nom, nom, nom!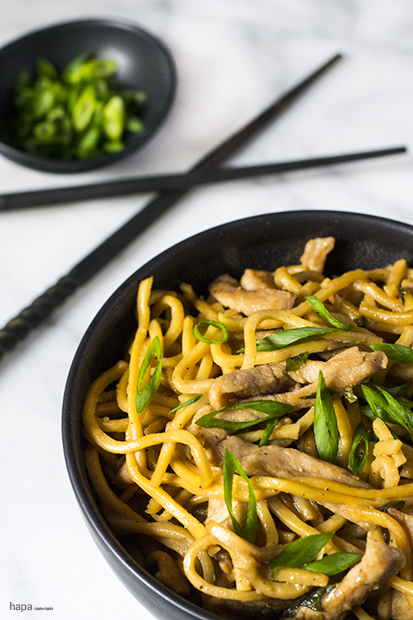 Pork Lo Mein
Ingredients
1 pound pork loin, cut into thin strips
1 pound lo mein noodles, cooked according to the package directions
8 shiitake mushrooms, stems removed and caps thinly sliced
4 large scallions, thinly sliced (keep one separate for garnish)
3 tablespoons vegetable oil
MARINADE
¼ cup low-sodium soy sauce
¼ cup mirin
2 large cloves garlic, thinly sliced
2 teaspoons fresh ginger, minced
1 tablespoons sugar
STIR FRY SAUCE
½ cup chicken stock
2 tablespoons low-sodium soy sauce
1 tablespoon oyster sauce
1 tablespoon shiro (white) miso
2 teaspoons sherry vinegar
2 teaspoon sesame oil
1 tablespoon sugar
¼ teaspoon black pepper
1 teaspoon cornstarch, dissolved in 1 tablespoon of water
pinch of crushed red pepper flakes (optional)
Instructions
In a large zip-top bag or medium-sized bowl, add the sliced pork and ingredients for the marinade. Allow to marinate for at least 30 minutes.
Pour off the marinade from the pork. Heat the wok until smoking slightly and add 2 tablespoons oil to coat the wok and sear the pork. Take the pork out of the pan and set aside.
In a medium sized bowl, combine all of the ingredients of the stir-fry sauce and set aside within easy reach of the stove.
Wipe out the wok, add the remaining tablespoon of vegetable oil and re-heat over high heat. Add the mushrooms and scallions. Stir-fry for about a minute.
Give the stir-fry sauce a quick stir to combine any cornstarch that may have settled on the bottom. Add the stir-fry sauce to the wok, stirring constantly until thickened. Add the pork and noodles, and toss.
Serve the pork lo mein and garnish with the remaining sliced scallion. Enjoy!
Notes
Generally, you can find lo mein noodles at any Asian grocery store. Some regular grocery stores will carry it their ethnic foods section. However, in a pinch you can use cooked spaghetti.