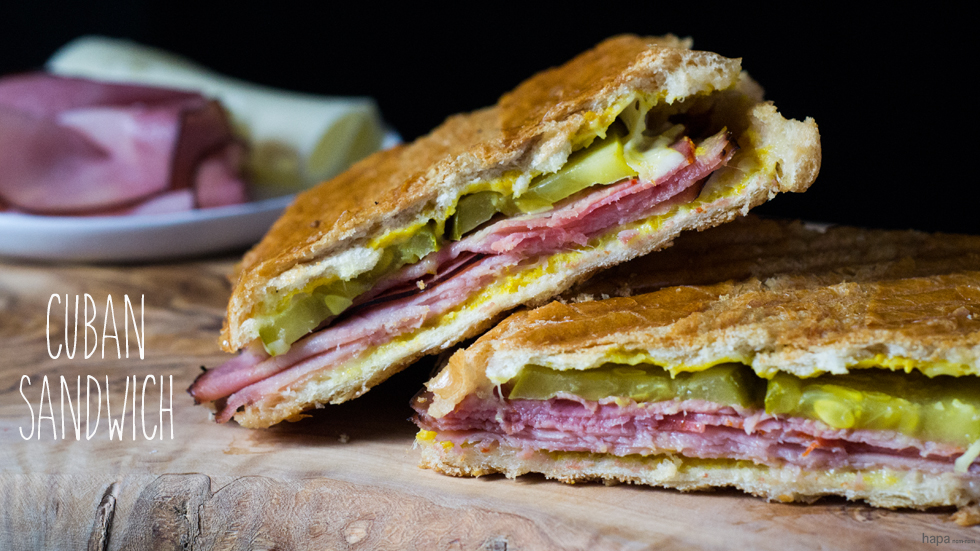 I recently visited my parents in Florida and no trip is complete without a visit to The Columbia.  Originally opened in 1905 by Cuban immigrants in Ybor City, it is the states oldest restaurant.  The family has since opened a location about an hour south in Sarasota (where my parents live) – a stunning restaurant with incredible mojitos, the best black beans and rice I've ever had, and of course…an amazing Cuban sandwich!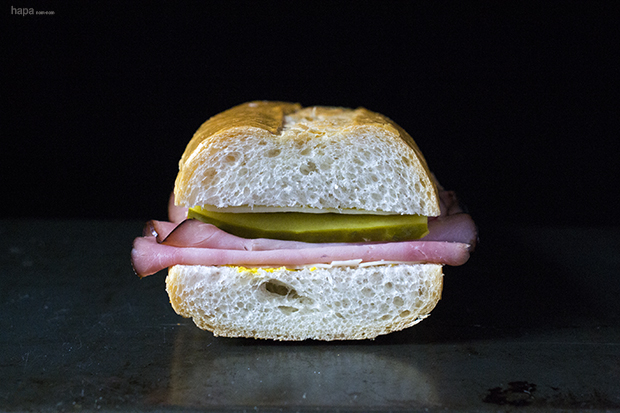 The cornerstone of an authentic Cuban sandwich is the delicious slow roasted pork.  If you happen to have some Cuban roast pork available, by all means use it!   I'm still recovering from endless hours of cooking over Thanksgiving and trying to psych myself up for the Christmas insanity –  I'm sorry, I just didn't have it in me to roast pork.  So I visited the deli counter at the grocery store and asked for maple glazed ham to add a bit of sweetness and hot capicola for some spice.  Purists may shake their head and call this a Cuban 'inspired' sandwich, but honestly even without the roast pork, it still made a good sandwich.  Damn good.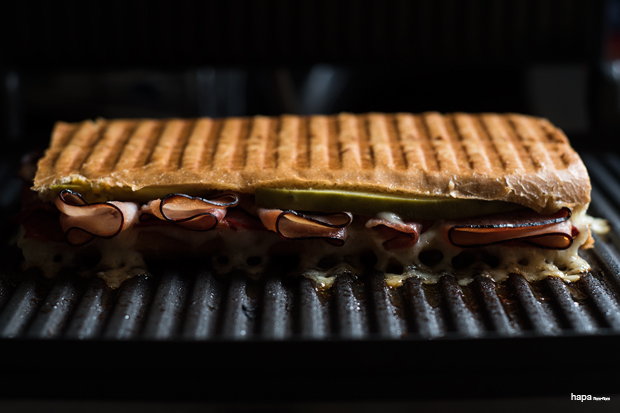 Good bread is essential, and ideally you'll want to use Cuban bread (a white bread similar to Italian or French bread, though it's generally baked with a bit of fat).  I was surprised to find that my local grocery store carried Cuban bread, but you may substitute it with a long loaf of Italian bread if need be.  If you are substituting the Cuban bread, I would suggest that you not use something too crusty, like a baguette.  The exterior of the bread needs to have a bit of softness so that it can be later pressed.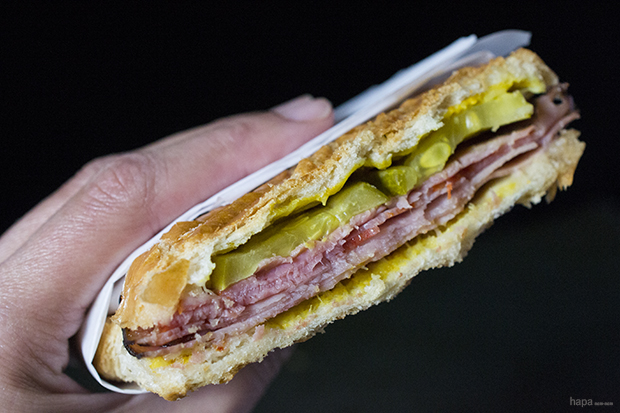 I've made this sandwich with a variety of pickle types, and I have found that dill pickles are by far the best compliment to the other flavors.  I once made a Cuban with bread and butter pickles and the flavor combination was totally off – I actually had to remove the pickles from the sandwich!  Dill is definitely the way to go!
A good Cuban doesn't have a lot of fussy ingredients, but it's packed with a ton of flavor!  A traditional Cuban sandwich is layered with ham, roast pork, swiss cheese, pickles, and mustard – there's no lettuce, tomato, or mayo on this baby.  As with any dish, the better the ingredients, the better the sandwich – this becomes even more imperative with fewer ingredients.  The sandwich should not be overstuffed with ham, but well proportioned.  Pressing the sandwich reduces it's size by about half while crisping the bread, melting the cheese, and rendering the flavors of the ingredients.
(You don't need a panini press to make this sandwich.  Instructions for an alternative press are in the recipe directions).  

Cuban Sandwich
Author:
Kathleen | HapaNom
Prep time:
Cook time:
Total time:
Ingredients
1 loaf Cuban bread
¼ cup yellow mustard
8 slices Swiss cheese, about ½ pound
16 slices maple glazed honey ham, about 1 pound
16 slices hot capicola, about 1 pound
8 - 12 slices dill pickle planks
4 tablespoons unsalted butter, softened
Instructions
If you are using a panini press, preheat to medium-high. (If do not have a press, you can use a sauté pan).
Slice the loaf of bread into 4 equal pieces and then each piece lengthwise. Spread the butter on the outside of each half and then spread the mustard on the inside of each half.
Cover the inside of each half with swiss cheese.
On one half of each sandwich, layer 4 slices of maple glazed honey ham and 4 slices of capicola.
Place 2 -3 pickle planks on top of the ham and then close the sandwich.
Place the sandwich in the panini press and place something heavy and heat proof, on top of the press (I use a sack of flour, but several cans of veggies will work too). Cook until the cheese is melted and the outside is crispy, about 5 minutes. If you are using a sauté pan, heat over medium-high heat. Transfer the sandwich to the pan and then place a flat-bottomed dish like a baking dish or smaller pot on top weighted with something heavy, like a sack of flour or canned food. Cook 2- 3 minutes per side.
Transfer the sandwich to a cutting board and slice in half. Serve and enjoy!