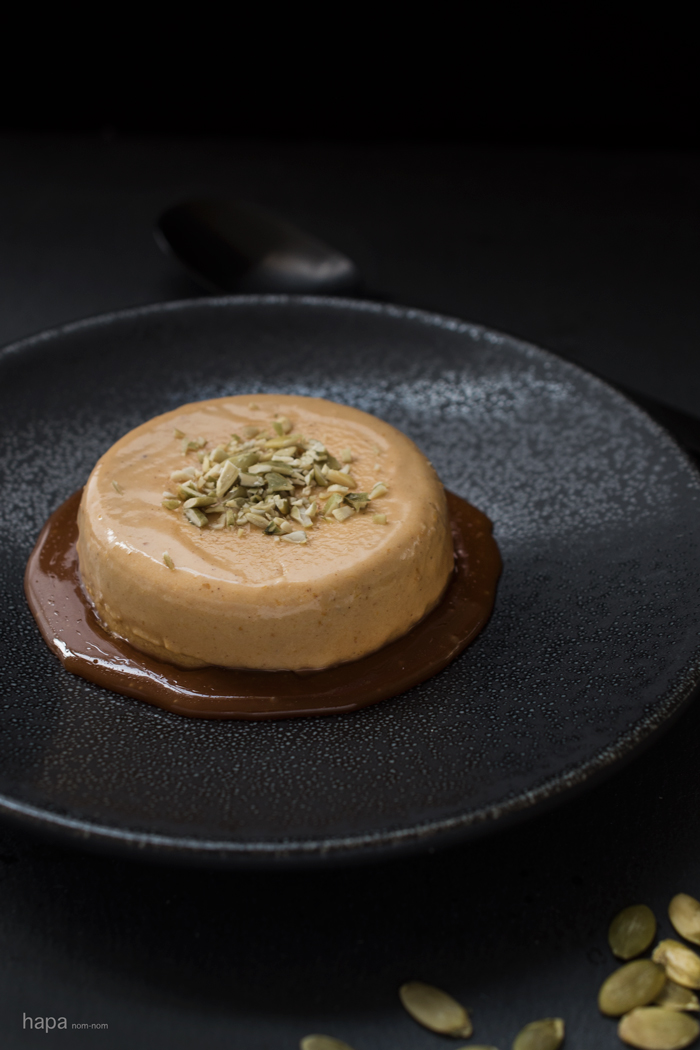 Panna Cotta is one of my favorite desserts. It's incredibly creamy, it can be flavored with just about anything, and it only takes 10 minutes to make! What could be more awesome than that? I mean sure, you do have to plan ahead a bit with this dessert because you have to allow at least 6 hours of refrigerator time for the custards to set-up. But that's just time you can spend going about your day and doing whatever it is you need to do.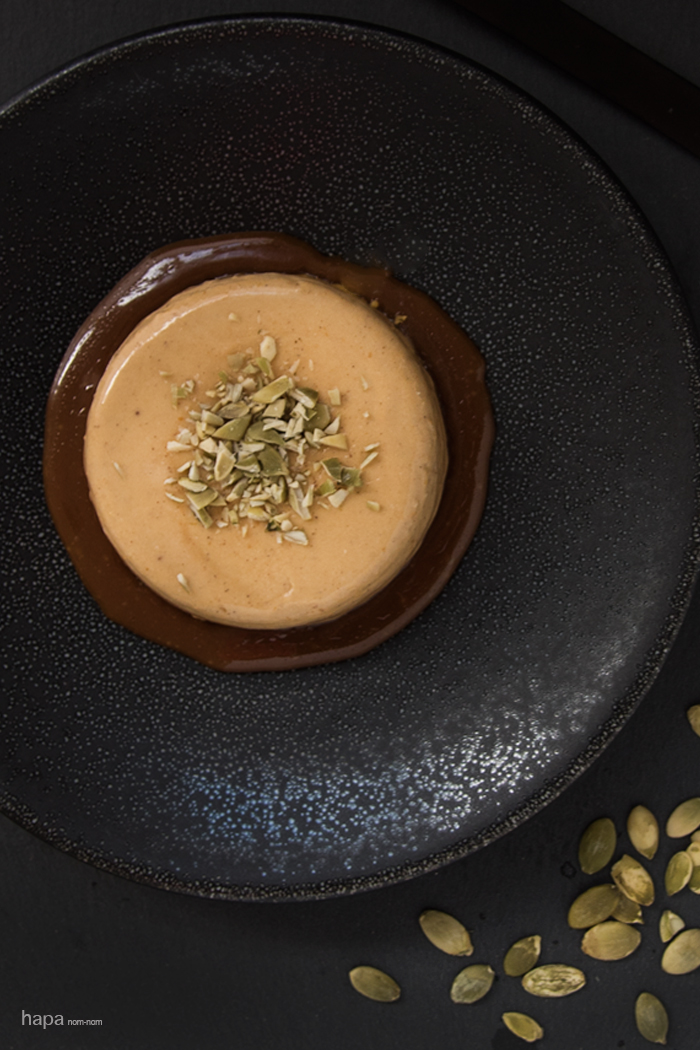 To make the custards festive for the autumn season, I've flavored these little beauties with pumpkin and served them with salted caramel. Let me tell you, if you're a fan of pumpkin pie – you are going to LOVE this Pumpkin Panna Cotta with Salted Caramel Sauce. It's smoother, creamier, and you don't have to worry about that persnickety pie crust. This is a dessert so easy to make and so delicious, you're sure to love it all season.

Pumpkin Panna Cotta with Salted Caramel Sauce
Author:
Kathleen | Hapa Nom Nom
Prep time:
Cook time:
Total time:
Love the taste of pumpkin pie, but what to switch it up this year? This ultra creamy Pumpkin Panna Cotta with Salted Caramel Sauce is guaranteed to be a hit!
Ingredients
Pumpkin Panna Cotta
1 cup whole milk
1 packet gelatin (1/4 ounce)
1½ cup heavy whipping cream
½ cup sugar
1 cup pumpkin puree (not pumpkin pie filling)
¼ teaspoon ground cinnamon
⅛ teaspoon ground nutmeg
⅛ teaspoon ground ginger
⅛ teaspoon ground allspice
⅛ teaspoon ground cloves
Salted Caramel Sauce
1 cup sugar
6 tablespoons unsalted butter, cut into tablespoon pats
½ cup heavy whipping cream
1 teaspoon pure vanilla extract
1 teaspoon sea salt
Garnish
3 tablespoons pumpkin seeds, roughly chopped (optional)
Instructions
Measure out the milk and sprinkle the gelatin over top. Allow to sit for 5 minutes.
Combine the remaining panna cotta ingredients in a large bowl.
In a saucepan over medium heat, add the gelatin/milk mixture. Once the gelatin melts add the bowl of prepared ingredients. Cook just until steam rises, stirring occasionally.
Pour into ramekins and carefully place in the refrigerator. Allow to chill for 6 - 8 hours before serving.
To make the salted caramel, heat the sugar in a large saucepan over medium heat. Using a wooden spoon, stir constantly until the sugar has completely melted. Very carefully add the butter - the mixture will begin to boil vigorously. Continue to stir constantly until the butter has completely melted, about 2 minutes.
Very slowly drizzle the heavy whipping cream into the saucepan. Be careful, again the mixture will begin to bubble vigorously.
Allow to boil while stirring continuously for a minute. Remove from heat and carefully add the vanilla and salt. Allow to cool before using. (Caramel can be made ahead of time. Cover and refrigerate if storing. When you're ready to use, warm for a few seconds in the microwave).
You can serve the panna cotta in the ramekins if you like. If you want to remove the custard from the cups as I've done in the photos - take a thin knife and run it along the edge of the custard (try to do it all in one swipe - sawing can produce jagged looking edges). Fill a small baking dish with boiling water, enough so that the water comes half way up the side of the ramekins. Set the ramekins into the water for 30 - 45 seconds. Remove them from the water and gently smack the sides of the cup to loosen the panna cottta. Place a plate on top of the ramekin and then flip the dish to it's upright position. Carefully remove the ramekin, serve with salted caramel, chopped pumpkin seeds, and enjoy!