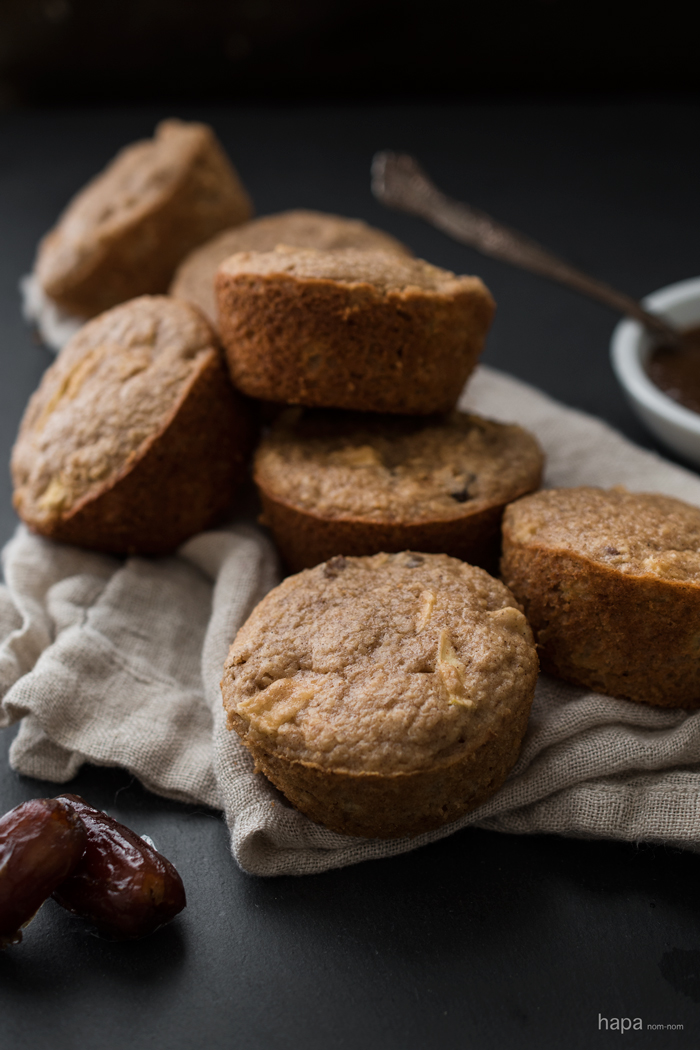 We've been living in the Bay Area for the past 3 months and so far we're loving it! The weather's great, there are endless things to do, and the food has been outstanding! But something's missing. It's the end of September and the leaves are ever-green. My readers on the East Coast – have the leaves started changing yet?
It's right around now that the leaves start changing. And it always seems to happen suddenly. One day you drive down the road and you suddenly notice the pops of red, yellow, and orange. Driving through the Shenandoah Mountains was always a fall-time favorite. The roads leading to the park are dotted with little country stores and stands selling apples, pumpkins, boiled peanuts, jams, and apple butter. I miss that.
Which is why I've made these Apple-Date Oat Bran Muffins for you. I've been making these every fall for about 10 years; it reminds me of the changing season and my childhood home. I hope you enjoy them as much as I do.

Apple-Date Oat Bran Muffins
Prep time:
Cook time:
Total time:
Ingredients
1 cup oat bran
1 cup all-purpose flour
½ cup light brown sugar, lightly packed
2½ teaspoons baking powder
1 teaspoon ground cinnamon
½ teaspoon Kosher salt
1 Granny Smith apple, peeled, cored, and finely diced
½ cup pitted dates, chopped
½ cup milk (I used whole, but you can use low-fat if you prefer)
½ cup unsweetened apples sauce
¼ cup canola oil
1 large egg
1 teaspoon vanilla extract
apple butter for serving*
Instructions
Preheat the oven to 375 degrees F. Spray a muffin tin with canola oil.
In a large bowl, stir together the oat bran, flour, brown sugar, baking powder, cinnamon, and salt. Add the apples, dates, and toss to coat.
In another large bowl, whisk together the milk, apple sauce, canola oil, egg, and vanilla. Pour the wet ingredients over the dry ingredients and stir just until blended - don't over mix.
Spoon the batter into the muffin cups.
Place the muffins in the center of the oven and bake for 20-25 minutes. Test with a toothpick - when inserted into the center of the muffin, it should come out clean. Allow to cool in the pan slightly before turning out.
Serve with apple butter and enjoy!
Notes
*Apple Butter is a highly concentrated version of apple sauce. It's cooked low and slow until the apples caramelize. You can find apple butter at just about any roadside country store. Sometimes you can find it at your local grocery store (especially around autumn). You can also try checking one of those gourmet and/or organic stores as well. And of course, you can just use plain ol' butter on your muffins too.