Unless you're not a turkey fan, the irrefutable centerpiece on the Thanksgiving table is always the turkey.  While it's supposed to be the pièce de résistance, I've unfortunately had far more dry turkeys than succulent ones.  Even the juiciest of turkeys still have their undeniable dry spots.  The reason is simple, different parts of the bird cook at different rates – it's like the turkey is setting you up for failure before it's even in the oven!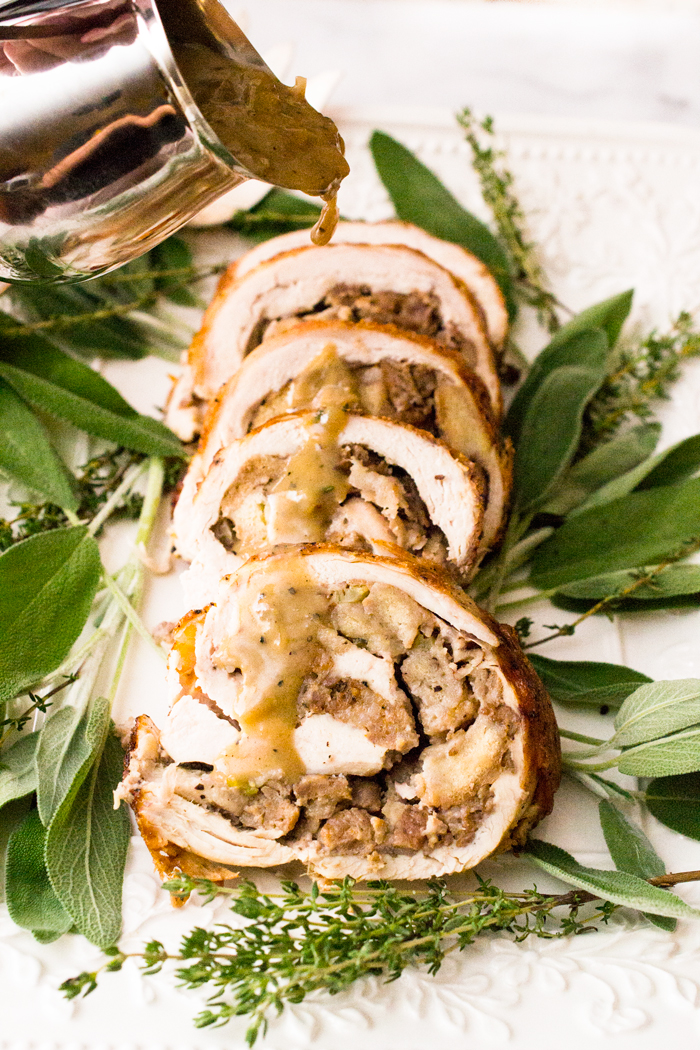 The best way to circumvent this dilemma while still being able to enjoy the tradition of turkey, is to make a Roasted Turkey Roulade!  This dish will make you wonder why you haven't been making it all along.  Not only is it mouthwatering and tender,  it's easy to make, a breeze to carve, looks super elegant, cooks quickly, and it can be prepared ahead of time!  Simply prep the dressing the night before (I think dressing is always better then next day anyway), roll it up in the turkey, tie it, and refrigerate it. Then all you have to do is cook it on Thanksgiving day. Seriously, what's not to love!?  Oh, and did I mention it's stuffed with Pork Sausage Dressing?  A.k.a – porktastic, bready goodness.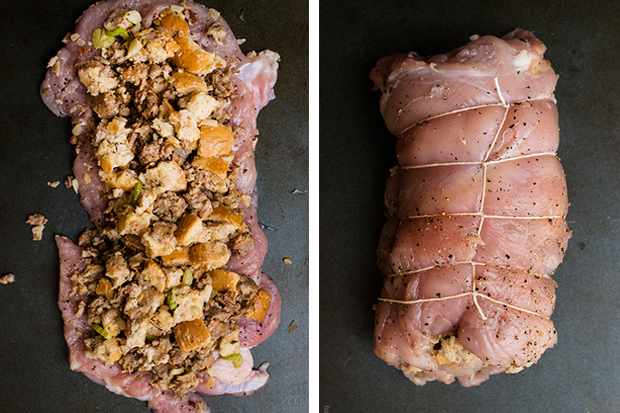 The turkey breast needs to be skinned, deboned, and butterflied.  If you can't find it prepared this way or you're just not comfortable with the prep work, you can ask a butcher at any grocery store to do this for you.  Just be sure to tell them you're making a roulade so they can trim it up as evenly as possible for you.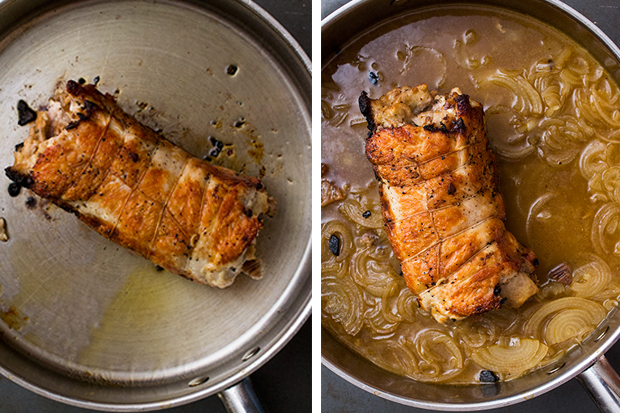 While a roulade is incredibly easy to make, tying the roll can be a bit daunting if you've never done it before.  Not to worry, it's actually much easier than it looks and as you become more proficient it will look cleaner and take less time. This is an excellent video tutorial (Tying a Loin) if you need some pointers.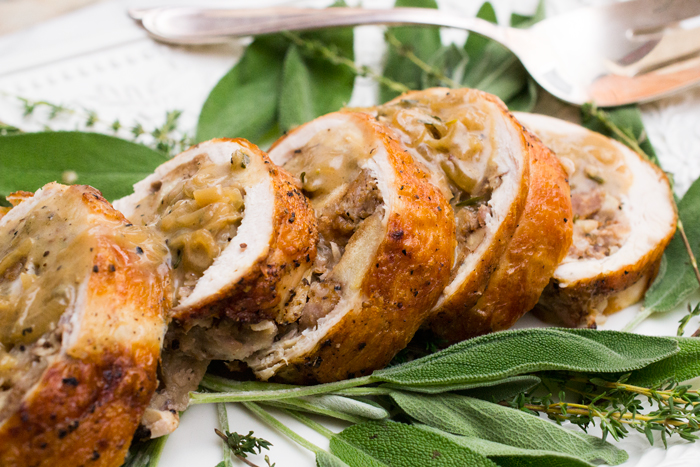 The apple cider vinegar gravy adds a nice tang to the rich flavors of the Pork Sausage Dressing and Turkey Roulade.  And like the roulade, it's super quick and easy to make!  Just think, in about half the time it would take you to cook a whole turkey, you can have an exquisite Roasted Turkey Roulade that will be sure to delight all of your guests.
Roasted Turkey Roulade
Author:
Kathleen | Hapa Nom Nom
Prep time:
Cook time:
Total time:
Not only is Roasted Turkey Roulade mouthwatering and tender, it's easy to make, a breeze to carve, looks super elegant, cooks quickly, and it can be prepared ahead of time! Seriously, what's not to love!?
Ingredients
One 2½ pound boneless, skinless turkey breast, butterflied
pork sausage dressing recipe, unbaked
2 tablespoons canola oil
1 medium onion, halved and thinly sliced
2 cups chicken or turkey stock
3 tablespoons apple cider vinegar
2 tablespoons heavy cream
2 teaspoons fresh thyme
kosher salt and freshly ground black pepper, to taste
1 teaspoon corn starch
Instructions
Preheat the oven to 350 degrees F.
Place the turkey between two sheets of plastic wrap and pound flat with a kitchen mallet. Trim any really extraneous pieces. Liberally season both sides of the breast with salt and pepper.
Spread the uncooked dressing over the meat (not too thick), leaving a ½-inch boarder on all sides.
Starting at the narrowest end, roll the turkey up like a jelly roll, tucking any pieces of dressing that fall out, back into the roll. Secure tightly with kitchen twine.
In a dutch oven or other large pan (you want a vessel deep enough to be able to cover the roulade tightly with a lid for roasting), warm the canola oil over medium-high heat. Add the roll, seam side down, and cook for about 2 - 3 minutes per side (assume there's 4 sides), just to brown the outside - don't worry about cooking the inside yet.
Sprinkle the onions around the roulade and add 1½ cups of the chicken stock. Cover tightly with a lid and roast in the oven until the internal temperature reaches 160 degrees F (check a few places), about 45 - 60 minutes.
Transfer the roll to a cutting board and tent with foil and rest while you make the gravy.
Place the pan containing the onions and stock on the stove and add the remaining ½ cup of stock, apple cider vinegar, and bring to a boil.
Reduce to a simmer and add the cream, thyme, and salt and pepper. Simmer for 10 minutes.
In a separate small bowl, combine the corn starch with 1 tablespoon of water to make a slurry. Add the cornstarch mixture to the pan, stirring constantly until slightly thickened - it should be slightly thicker than an a jus.
Cut the twine from the roulade and slice into ½-inch rounds. Plate and serve with the gravy. Enjoy!
Notes
*Special Equipment - kitchen twine
** Gravy recipe adapted from
Ellie Krieger