There is usually at least one recipe that gets passed down through the generations.  Every Thanksgiving for as long as I can remember, we have always had Cranberry Relish at the table.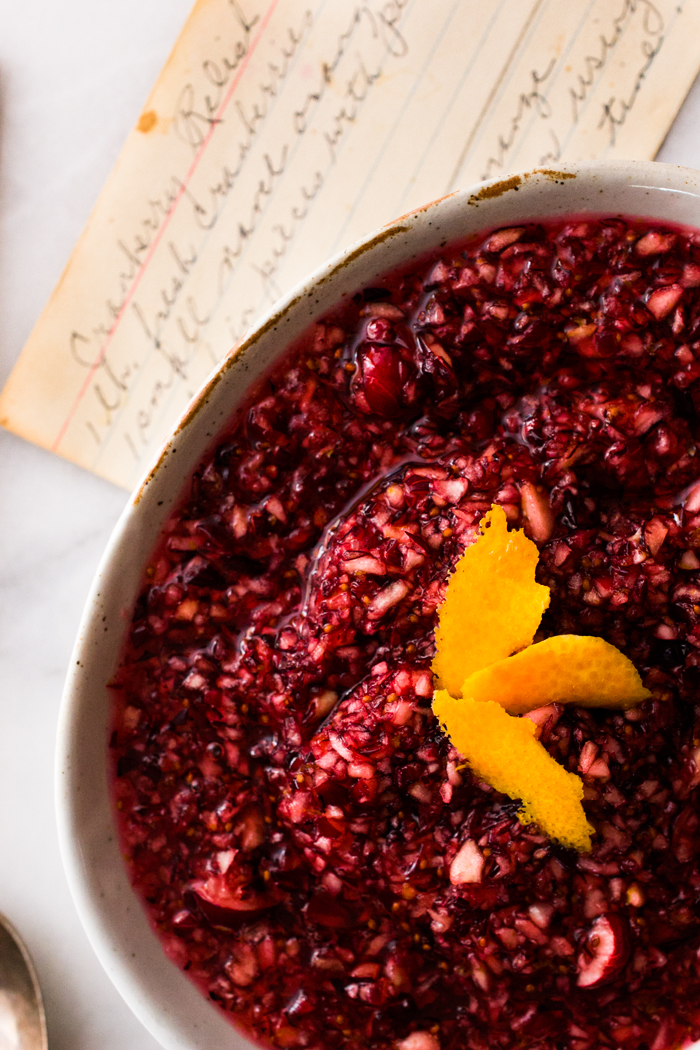 This recipe is from my grandmother's recipe box (on my mother's side).  The yellowed, stained, and dog-eared card tell a story of potentially hundreds of holiday dinners, family gatherings, and memories formed.  My grandmother was born in 1908 and sadly passed just a few years short of her 100th birthday.  She had a good run of things… we like to think it was her ritualistic evening cocktail that kept her young (or at least that's what I'm betting on, considering my own habits).  She was elegant, giving, and always exuded an air of grace.  I don't know where she obtained the recipe – if it was passed down to her or she found on her own, suffice it to say, this Cranberry Relish recipe has stood the test of time.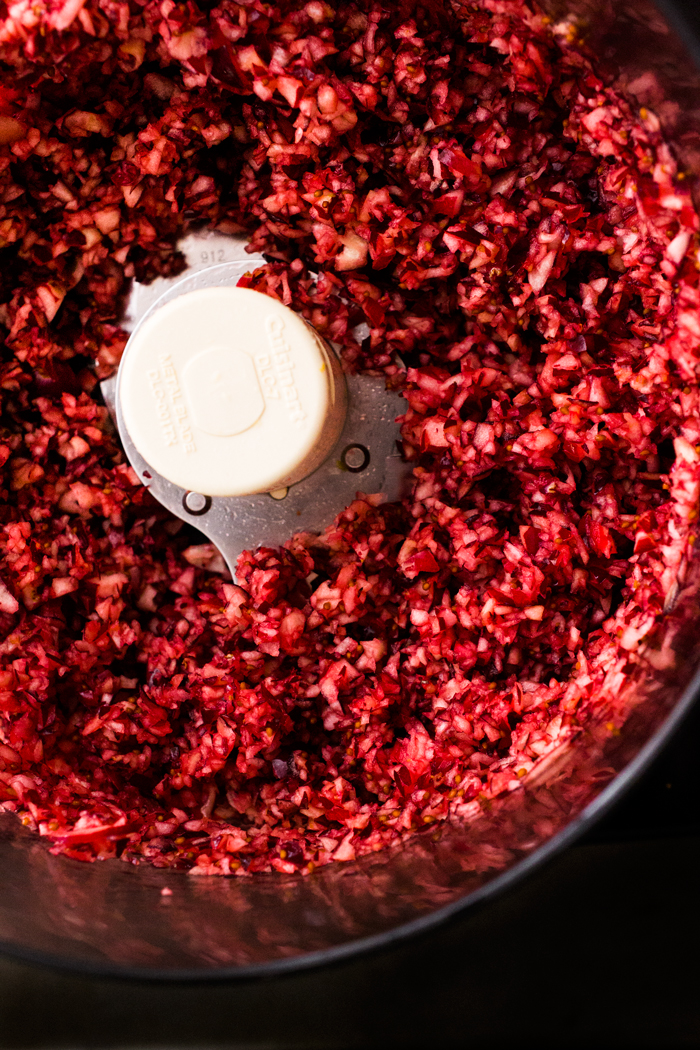 There's cranberry sauce and cranberry relish, so what's the difference you may ask?  Generally speaking, cranberry sauce is composed of cranberries, sugar, and water cooked down on the stovetop.  Cranberry relish on the other hand, is prepared relatively the same way, but it is raw.   No cooking is needed and so it is often quicker and easier to put together.  I also find that a relish is more refreshing and does a better job of cutting through some of the heavier flavors from other Thanksgiving dishes.    
Here are a few reasons why Cranberry Relish is the way to go:
It's sweet, a little tart, and totally refreshing – almost like a palate cleaner.
It's SO quick and easy to make!  It can be prepared in just 5 minutes!
It's only 4 ingredients! Yet packed with flavor!
It can be made several days ahead of time, leaving you more time during the holidays to socialize, rather than being stuck in the kitchen!
It has passed at least 3 generations of taste-testers.
Cranberry Relish
Author:
Kathleen | Hapa Nom Nom
This Cranberry Relish recipe came from my grandmother's recipe box. It's sweet, a little tart, and totally delicious!
Ingredients
1 pound fresh cranberries, (frozen/thawed cranberries are ok too)
1 small navel orange, zested and juiced
¾ - 1 cup sugar
3 tablespoons bourbon
Instructions
In the bowl of a food processor, add the cranberries and orange juice. Pulse several times until evenly chopped.
Transfer to a bowl and add the orange zest and bourbon. Add ¾ cup of sugar mix well and taste. If it is too tart for your tastes, add a little bit more sugar (up to one cup in total). Mix well.
May be served right away, but I think it gets even better if it's refrigerated overnight.
Notes
The Cranberry Relish can be made 2 - 3 days ahead.