Hey everyone! I have a very special post to share with you today! To celebrate Thanksgiving, I have joined 6 other amazing bloggers to throw you a virtual Thanksgiving dinner!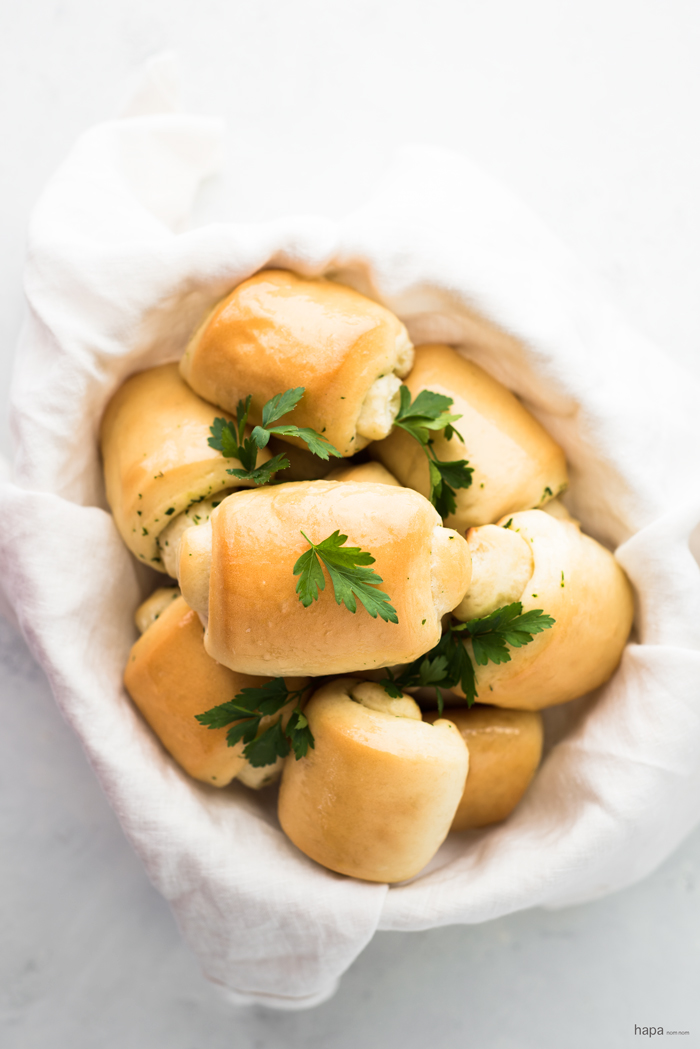 I can't believe it's November already!  Which means Thanksgiving is right around the corner – eek! Do you know what you're making? My blogger friends and I have some fantastic dishes for you and your guests!  
For this virtual Thanksgiving, I have made Garlic Butter Dinner Rolls. Why serve store-bought rolls, when you can have rolls that are incredibly light, soft, and filled with garlicky-buttery goodness! Seriously, these rolls are so light, you'll be amazed every time you go to pick one up! 
These are best served fresh.  However, they are still amazingly light and soft when served the next day. If you would like to make them the night before the big dinner – simply heat them in a cool oven (200 degrees F) until warmed through.  Then brush a little freshly melted butter on top before serving. If you really want to impress your guests, serve these rolls with homemade butter (recipe, here).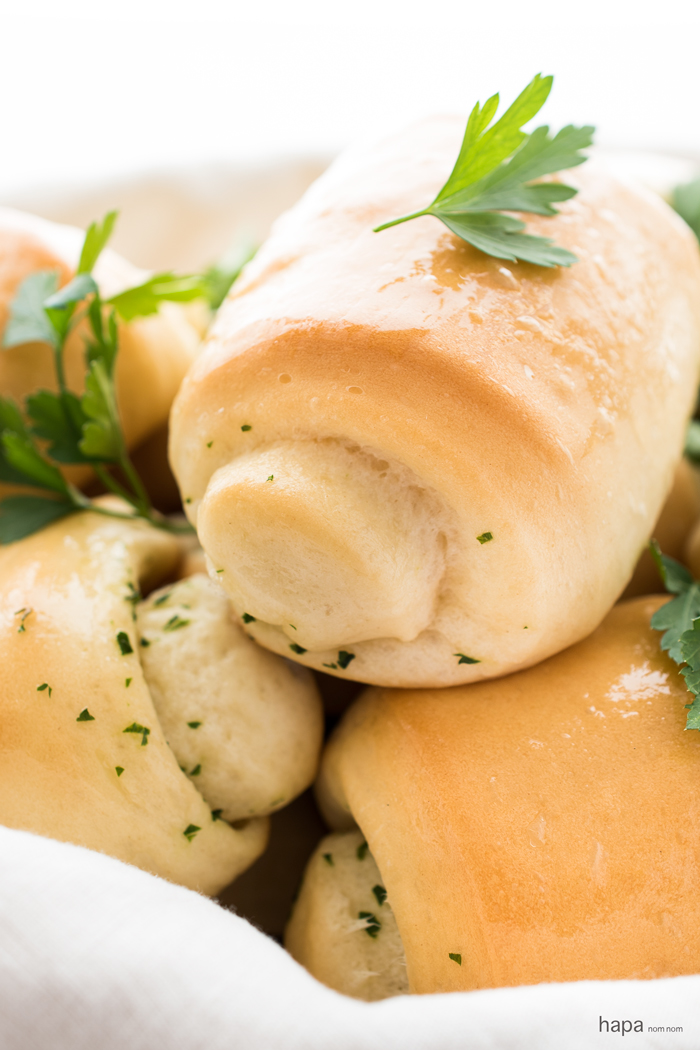 PLEASE CHECK OUT THESE OTHER AMAZING BLOGGERS AND THEIR DISHES! AND HAVE A VERY HAPPY THANKSGIVING! 
The Beach House Kitchen – Jalapeño Bacon Ranch Cheese Ball
Seasonal Cravings – Brussel Sprout Salad with Pear and Pomegranate
What Should I Make For… – Garlic and Herb Roast Turkey
No Spoon Necessary – Apple and Cheddar Hard Cider Soup
Ciao Chow Bambina – Traditional Thanksgiving Stuffing with Sausage and Apples
The Sweet Nerd – Meet the Queen of Pumpkin Cakes
Garlic Butter Dinner Rolls
Author:
Kathleen | Hapa Nom Nom
Prep time:
Cook time:
Total time:
Why serve boring store-bought rolls, when you can have rolls that are incredibly light, soft, and filled with garlicky-buttery goodness!
Ingredients
Dinner Rolls
2 envelopes of yeast (1/2 ounce)
1½ cups water, 110 degrees
41/2 cup bread flour
6 tablespoons sugar
3 tablespoons nonfat dry milk powder
1 tablespoon Kosher salt
½ teaspoon baking powder, rounded
½ teaspoon baking soda
⅓ cup unsalted butter, at room temperature
1 large egg
3 tablespoon butter, melted (for brushing after rolls are baked)
Garlic Butter
¼ cup unsalted butter
4 cloves garlic, smashed
½ teaspoon kosher salt
¼ cup parsley, finely chopped
Instructions
In the bowl of a standing mixer, outfitted with a dough hook, combine the yeast and water. Allow the yeast to bloom, about 5 minutes. Add the flour, sugar, milk powder, salt, baking powder, baking soda, butter and egg. Mix on the lowest speed for 8 - 10 minutes, until the dough is smooth and elastic. Lightly grease a large bowl, place the dough in the bowl, and turn to cover the dough. Cover loosely with plastic wrap. Place in a warm area and allow to rise until doubled in size, about 1 hour to 1½ hours.
To make the garlic butter, combine the butter, garlic, and salt in a small saucepan over medium heat. Once the butter has melted, add the parsley, stir to combine, and remove from heat and allow to cool slightly.
Punch down the dough and turn out onto a clean work surface lightly dusted with flour. Divide the dough in half, and roll each half into an approximate 12x17 inch rectangle, you want the dough to be ¼ inch thick. (If you have any really uneven edge, trim those). Brush the top of the dough with the garlic butter. Using a knife or pizza cutter, cut the dough in half lengthwise. Then slice each half in half to make 4 long strips of dough. Then slice those horizontally into thirds. (See above photo).
Roll each piece, garlic butter side in, and place seam side down on a baking sheet lined with parchment paper. Cover with plastic wrap and allow to rise until doubled, about 30 minutes.
Preheat the oven to 350 degrees F. Unwrap the rolls and bake for 15-20 minutes, until golden-brown. Brush with the melted butter and serve warm.