I hoard cooking magazines like I have a clinical problem worthy of  exploitation on network T.V.   With so many recipes at my fingertips, I've compiled a 'short-list' of ones to try.  Soft Apple Cider Caramels is one of those recipes from Food & Wine Magazine, two years ago.  I only slightly adapted the recipe, and only out of pure stupidity – but it worked!  Allow me to explain… I am infamous for going to the grocery store (with a list) and forgetting an important ingredient – in some cases the key ingredient!  Case in point, one such instance occurred when I was preparing Chicken Tagine for a dinner party.  Everything was simmering on the stove and with 30 minutes prior to the arrival of our quests, I realized I had forgotten the chicken!  In fact, I think my exact words to my husband were, 'holy sh*t, I forgot the chicken!'  I remember the look of pure amazement on my husbands face, as if to say 'you're making Chicken Tagine… and you forgot the chicken?!'  Despite 'the look,' my wonderful husband rushed out to the store to obtain the main ingredient and saved the day.
I digress.  I went to the grocery store the other day with the express purpose of purchasing ingredients for Soft Apple-Cider Caramels.  When I got home, I realized I had forgotten the corn syrup!  Too embarrassed to admit that I once again forgot an ingredient despite having a detailed shopping list, I started looking around my pantry for a substitute.  What came to mind almost immediately was agave nectar.  I did some research online prior to jumping into the recipe and found that there was a difference of opinion as to whether or not agave nectar was an appropriate substitute for corn syrup.   The primary concern seemed to be whether or not the substitute would prevent crystallization.  (If you'd like to read more about it, click here).  I'm happy to report that using agave nectar instead of corn syrup, resulted in smooth, soft, and creamy caramel.  I'd say that's a resounding 'yes' to the question of whether or not you can substitute agave for corn syrup – at least as far as caramels are concerned.
These chewy delights are like caramel apples in bite-sized candy form.  They're the perfect edible gift this season!
If you would like to make these ahead, you can store the caramel wrapped tightly in the refrigerator for 2 weeks.
[amd-zlrecipe-recipe:100]
Reduce the Apple Cider: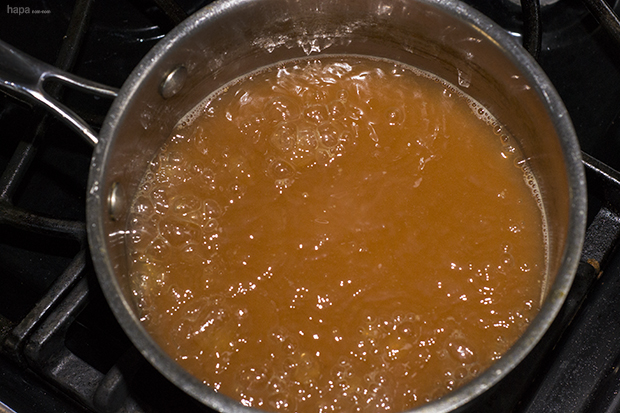 Stir in the Ingredients and Bring the Caramel to 245 Degrees F: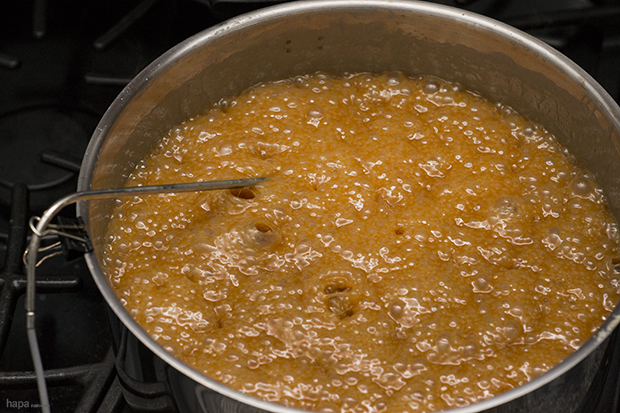 Pour the Caramel into Baking Dish Lined with Parchment Paper: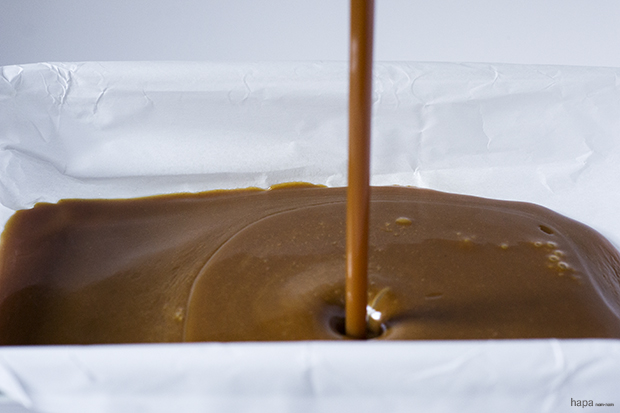 Cut and Wrap Each Piece of Caramel: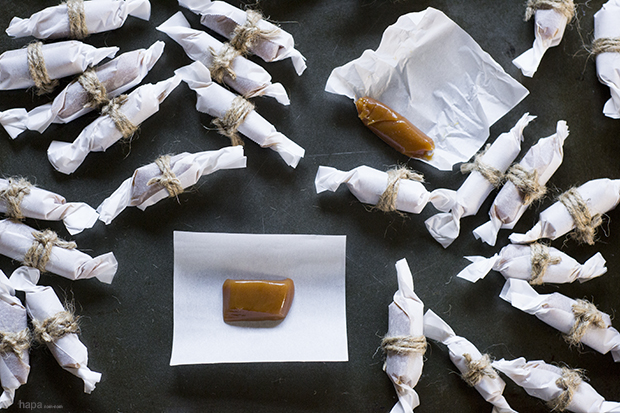 Enjoy!