I love a big bowl of warm, comforting soup as the weather begins to cool.  But can comfort food be healthy?  Yes, yes it can-  and this Tuscan Bean Soup fits the bill!  Packed with vegetables and white beans, this soup is a great source of protein, folate, iron, fiber, vitamins A, C, and K – just to name a few.
Last year, on a cool autumn evening, my husband and I went to a drive-in movie (we have a drive-in theater just a few miles down the road  – how cool is that!?)  We decided to make a picnic of it, so I packed Tuscan Bean Soup into a thermos, brought a loaf of crusty old world bread , and a bottle of white wine.  We sat in the car, wrapped in a blanket,  and enjoyed a warm bowl of delicious soup with a dixie cup of wine and watched the movie.
Tuscan Bean Soup is so hearty and packed with flavor – it tastes like it's been simmering away on the stove all day.  In reality, it only takes 30 minutes of cook time!  Easy, healthy, and filing – this dish redefines comfort food!
Tuscan Bean Soup
Author:
Kathleen | Hapa Nom Nom
A soup so hearty, you won't even think it's super healthy and vegetarian! Recipe adapted from Williams-Sonoma, Essentials of Healthful Cooking.
Ingredients
2 tablespoons extra virgin olive oil
1 large yellow onion, roughly chopped
2 cloves garlic, minced
1 cup carrots, peeled and roughly chopped
1 cup celery, sliced
½ head savoy cabbage, about 8 cups
1 small bunch kale, about 4 cups
2 - 14 ounce cans diced tomatoes, undrained
2 - 14 ounce cans cannellini beans or great northern beans, rinsed and drained
3 sprigs fresh thyme
1 bay leaf
¼ teaspoon red pepper flakes
6 cups chicken or vegetable stock
kosher salt
freshly ground black pepper
crusty bread, cut into thick slices
parmigiano-reggiano, grated, for serving (optional)
Instructions
In a large heavy-bottemed pot over medium-high heat, warm the olive oil. Add the onion, garlic, carrots, and celery. Sauté for approximately 5 minutes, or until the onions are translucent.
Add the savoy cabbage and kale, stir until wilted, another 5 minutes.
Stir in the tomatoes and beans. Add the thyme, bay leaf, red pepper flakes, and ½ teaspoon salt.
Pour the chicken stock over the ingredients in the pot and bring to a boil over high heat. Reduce the heat to low, cover and simmer for 15 - 20 minutes. Season with additional salt and freshly ground black pepper, to taste.
While be soup is simmering, toast the bread slices.
Remove the bay leaves and stems of thyme. Ladle the soup into bowls, sprinkle with grated parmigiano-reggiano, and serve with the toasted bread. Enjoy!
Notes
If you would like to use dried beans - sort through 1 cup of beans and discard any debris or split beans. Soak in 4 cups of cold water for 6 hours. After they have soaked, bring them to a boil in a saucepan. Once they come to boil, turn off the heat and allow them to soak for another 1 - 2 hours.
Saute the Onions, Garlic, Carrots, and Celery: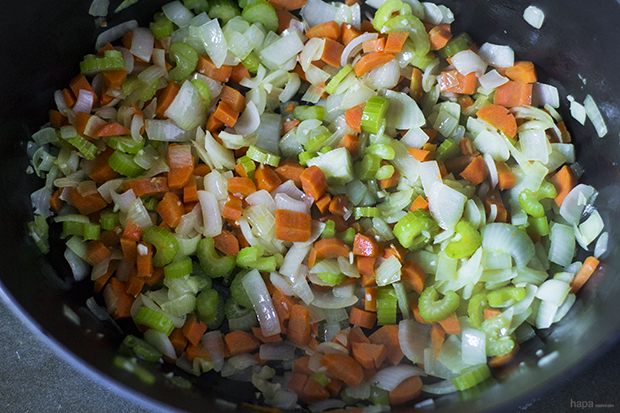 Add the Savoy Cabbage and Kale: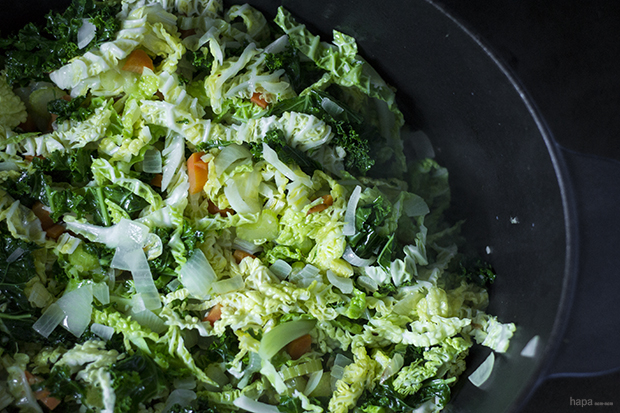 Add the Tomatoes, Chicken Stock, Thyme, and Bay Leaf – Simmer: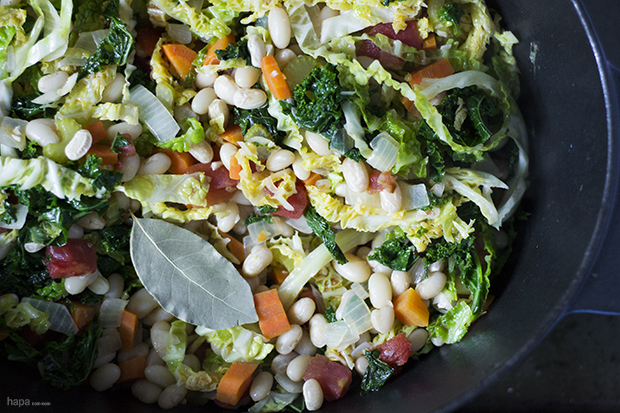 Sprinkle with Parmigiano-Regiano and Toasted Bread.  Enjoy!