Chicken and rice, quite possibly the most basic meal in existence… at least it is here in the States.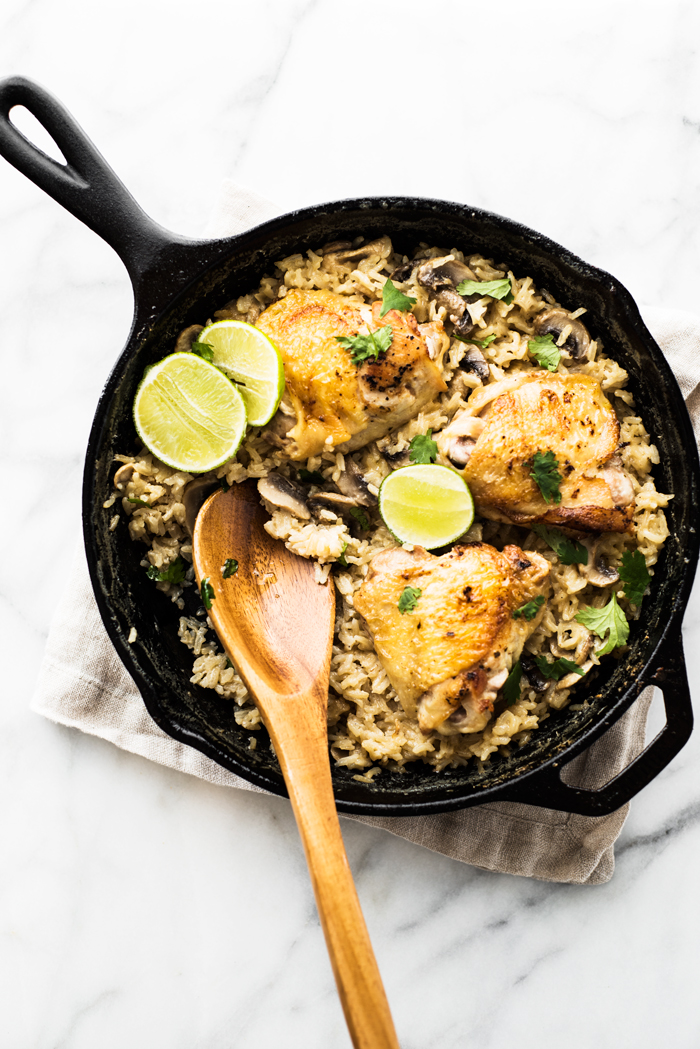 Not to be harsh on basic, I love basic. I love a basic t-shirt, a comfy pair of jeans, and there ain't nothing wrong with a basic chocolate chip cookie. But generally speaking, basic tends to be synonymous with run-of-the-mill. Well this dish is anything but basic. This Thai-Style Chicken and Rice has the bold flavors of Thailand that you love with simple preparation you're familiar with.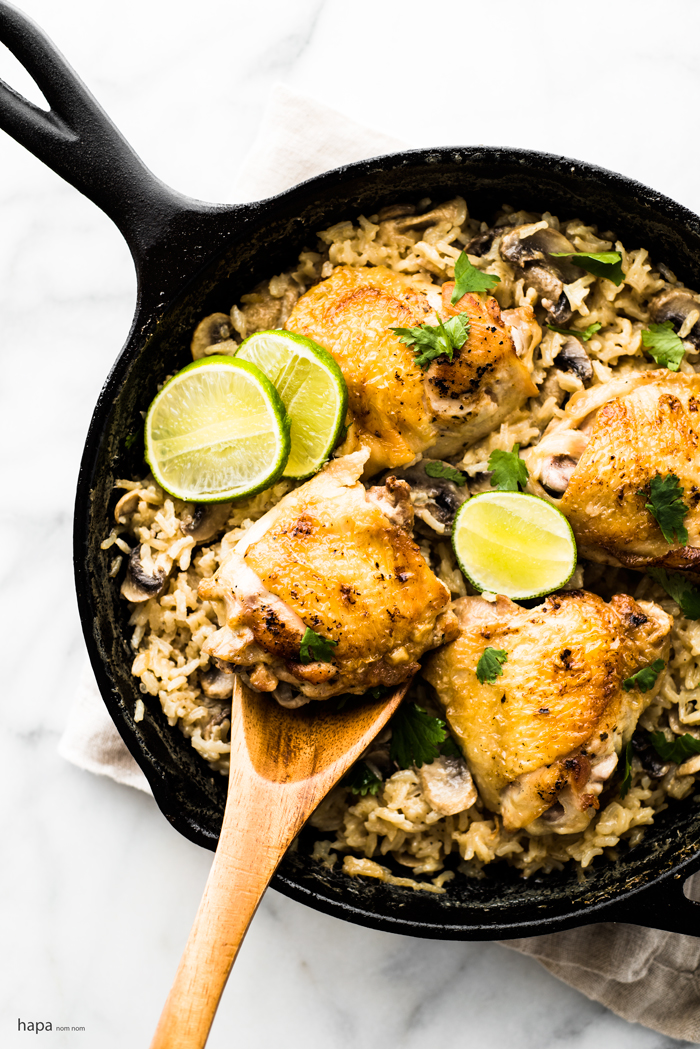 The inspiration for this dish came from a dinning experience with my husband when we tried a new Thai restaurant in our neighborhood. I wanted something relatively light but something with zip to it – I ordered Tom Kha Gai, a soup made of coconut milk (tom), galangal (kha), and chicken (gai). Other prominent flavors are kaffir lime leaves, lemongrass, fish sauce, and lime. It's a soup with incredible depth of flavor that keeps you slurping down spoonful after spoonful; and it's what the rice in this dish is cooked in. 
Every grain of rice is infused with some serious flavor and as if that weren't enough to hook you, the chicken is marinated in a blend of coconut milk and kaffir lime leaves, giving it a natural sweetness, incredible aroma, and keeping it perfectly moist as it cooks!  How's that for saying goodbye to basic?!
Thai-Style Chicken and Rice
Author:
Kathleen | Hapa Nom Nom
Prep time:
Cook time:
Total time:
Thai-Style Chicken and Rice - Classic Thai flavors, Simple Prep!
Ingredients
Chicken & Marinade
½ of a 14 ounce can of unsweetened coconut milk
4 chicken thighs, bone in, skin on
2 tablespoon cooking oil
Cooking Stock
1 cup good quality chicken stock
1 14 ounce can coconut milk + half a can leftover from the marinade
1-inch piece galangal, sliced
1 lemongrass stalk, cut into 1 inch pieces and smashed
2-3 fresh Kaffir lime leaves, bruised or muddled
2 Thai chilies, sliced lengthwise, seeds removed
¼ cup fresh lime juice (about 2 limes + 1 more lime for garnish)
2 tablespoons fish sauce
Rice
1 tablespoon cooking oil
1 cup jasmine rice
6 ounces white button mushrooms, sliced
fresh cilantro, garnish
Instructions
In a blender, combine the kaffir leaves and coconut milk. Process until the kaffir leaves are in little bits. Slather the chicken with the coconut milk and allow to marinate for at least 30 minutes, but over night is ideal.
Meanwhile, make the cooking stock. Add the chicken stock to a saucepan and bring to a boil. Allow the stock to simmer until reduced by half. Then add the remaining 1½ cans of coconut milk, lemongrass, galangal, bruised kaffir leaves, and Thai chilies. Bring to a gentle simmer for 5 minutes. Remove from heat and add the lime juice and fish sauce. Set aside. Using a slotted spoon, remove any solids from the cooking stock.
Preheat the oven to 350 degrees F.
Remove the chicken from the coconut marinade and pat dry. Place an oven-safe heavy-bottomed skillet or pot with a tight fitting lid over medium-high heat. Add 2 tablespoons cooking oil. Once hot, place the chicken skin side down and cook until golden-brown, approximately 5 minutes per side. Remove the chicken and set aside. Pour off the fat and wipe the pan clean with a paper towel.
Warm a tablespoon of oil over medium-high heat. Add the rice and mushrooms, stir to coat and cook for 2 minutes. Add the cooking stock and bring the contents to a boil. Turn off the heat, and place the chicken on top of the rice. Cover tightly with a lid and bake for 30 minutes. Remove the lid, and allow the excess liquid to cook off while in the oven for another 5 minutes. Taste and season the rice with more salt, if needed. Plate and garnish with torn cilantro leaves and a few wedges of lime. Serve and enjoy!