WORLDWIDE GIVEAWAY ON HAPA NOM-NOM!
Sorry, the giveaway is now closed.  Stay tuned for the announcement of the winner!
Please check back for more great recipes and future giveaways!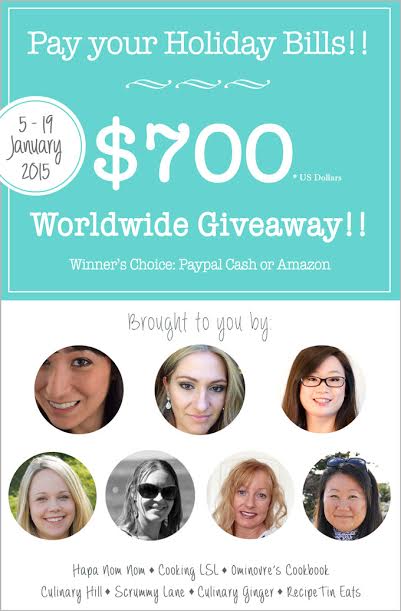 I'm teaming up with 6 other amazing food bloggers to bring you one AWESOME gift – you automatically subscribe to 7 incredible food blogs and potentially pay off your holiday bills with a chance to win $700!  
Follow the instructions in the PromoSimple box below to enter (you may have to click through to my website if you are reading this via a subscription).  Current subscribers to Hapa Nom-Nom, may still enter!
This giveaway is brought to you by:  Cooking LSL, Omnivore's Cookbook, Culinary Hill, Scrummy Lane, Culinary Ginger, and (yours truly) Hapa Nom-Nom!