Baby, it's cold outside!   It's amazing how quickly you become accustomed to a new environment.  Since moving to Atlanta, I've grown (or perhaps I should say, shed to) a thinner skin.  Not long ago, 50 degrees F was considered cool, but tolerable.  These days, I find 50 degrees to be a temperature warranting a bump up in the thermostat and a few extra blankets on the bed.
Tomorrow is going to be a low of 13 degrees!  I don't care where you live, 13 is pretty damn cold!  Throw in the windy conditions that are supposed to accompany those low temps, and I'm going into hibernation mode – see you guys in spring!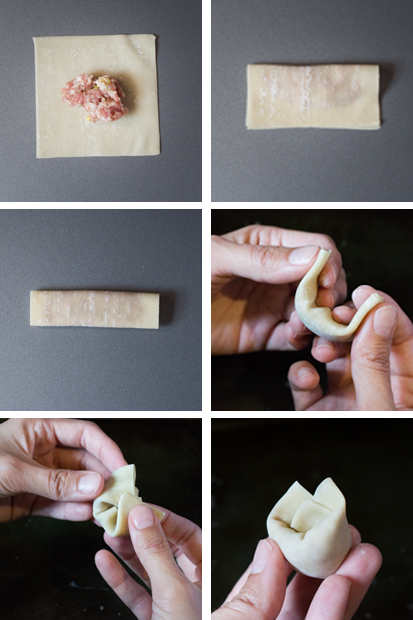 If there is anything that can get me out from under my super cozy, down comforter tomorrow… it's a bowl of this Wonton Soup.  Hearty little wontons filled with flavorful pork, in a steaming bowl of rich broth – this is a bowl that will warm your entire body.  And maybe, just maybe… you'll forget how cold it is outside.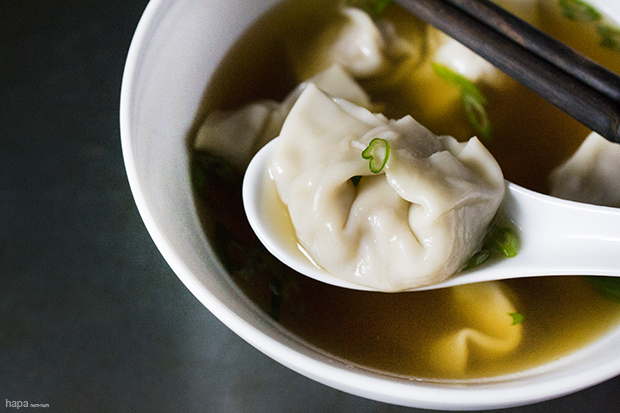 Wonton Soup
Author:
Kathleen | Hapa Nom Nom
Ingredients
Broth
8 cups good quality chicken broth
1 tablespoon low sodium soy sauce
1 teaspoon sesame oil, divided
1 inch peeled ginger, sliced
Wontons
2 scallions, thinly sliced, white and green parts separated
1 teaspoon ginger, grated
¼ teaspoon sesame oil
1 large garlic glove, minced
1 tablespoon fish sauce
½ teaspoon cornstarch
⅛ teaspoon freshly ground black pepper
¾ pound ground pork
6 ounces square wonton wrappers
Instructions
In a large sauce pan, add the chicken broth, soy sauce, 1 teaspoon sesame oil, and ginger. Bring the contents to a boil and then cover and simmer for 10 minutes. Turn off the heat and set aside.
In a medium bowl, combine the white parts of the scallions, ginger, garlic, ¼ teaspoon sesame oil, fish sauce, cornstarch, black pepper, and pork. Mix well with your hands until all ingredients are incorporated.
Bring a large pot of unsalted water to a boil.
Cover the stack of wonton wrappers with a damp paper towel and prepare a small bowl of water for sealing the wrappers. Working with one wrapper at a time, place 1 level teaspoon of pork filling in the center. Dip a finger in the water and lightly wet the edges of the wrapper. Fold in-half and slightly flatten out the filling. Fold over again forming a narrow rectangle (it doesn't have to be exactly in-half if the filling doesn't allow for it). Then bring the top corners of the ends together, wet the corners, and press to seal. (See the above images). As you're making the wontons, make sure to cover the completed ones with a damp paper towel, so they don't dry out.
If your pot of water is at a rolling boil, turn it down to a simmer. (You don't want the agitation of the bubbles to break open the wontons). When all of the wontons are completed, carefully add them to the pot of water and cook for 6 minutes.
While the wontons are cooking, remove the sliced ginger from the broth and reheat. Prepare your bowls for serving.
Using a slotted spoon or spider, remove the wontons and divided them evenly among the bowls. Pour the broth over top and garnish with remaining green sliced scallions. Serve immediately and enjoy!
Notes
If you're looking for an easier way to wrap your wontons - place the filling in the center, wet the edges, fold into a triangle, and then take the two bottom corners of the triangle and pinch to seal.

If you have leftover wonton wrappers, I love making wonton crisps. Simply heat ½ inch of vegetable or corn oil in a pan and cut the wonton squares into strips. To see if your oil is hot enough, try one test strip - if it bubbles up right away, the oil is ready. Working in batches, fry the wonton strips. Cook until light brown (less than a minute) and remove with a spider or slotted spoon. Allow to drain on a plate lined with a paper towel. Serve with the soup.