There's something comforting about a rice bowl… even if it's one just filled with vegetables.  They're filling, full of flavor, and delicious!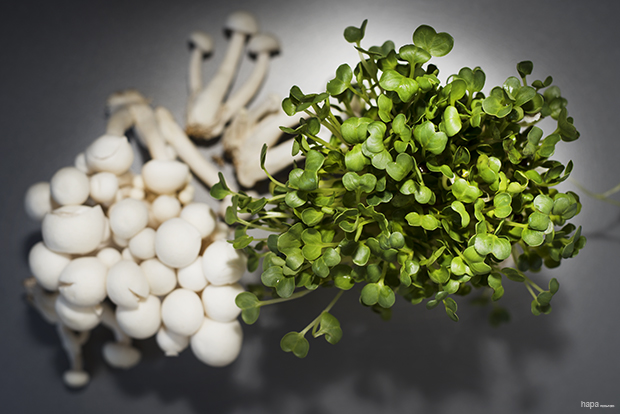 Several months ago my good friend and cooking buddy Seung Hee came over with a plate of incredible beef short ribs.  With a few extra ingredients that she brought from home, some items here-and-there from my refrigerator and pantry, she whipped up a wonderful rice bowl to accompany the ribs – that's one of the great things about these bowls, you can really add whatever ingredients you like.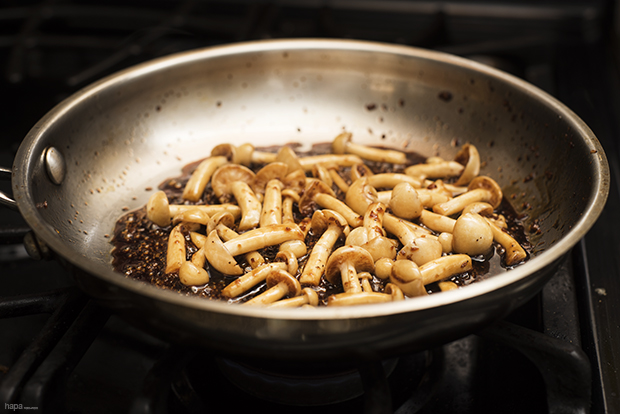 This Asian Vegetable Rice Bowl is an inspiration from that evening.  I've used wild rice as a base for the bowl, but feel free to use whatever type of rice you desire.  The mushrooms with a soy sauce and ginger/garlic reduction are rich and savory.  The 'smashed' edamame with parsley and scallions is seriously packed with a ton flavor.  The radish sprouts add a peppery profile and the poached egg, when cracked open creates a wonderfully creamy sauce with the yolk.
Together this Asian Vegetable Rice Bowl contains a sensational balance of flavors and textures.  It's a healthy way to fill up your tummy and treat your tastebuds to something new.
Asian Vegetable Rice Bowl
Ingredients
1½ cups wild rice (or any type of rice you'd like)
8 ounces shelled edamame
2 scallions
¼ cup parsley
¼ teaspoon kosher salt
a few cracks of fresh ground black pepper
¼ cup low sodium soy sauce
2 tablespoons rice vinegar
½ teaspoon mirin
½ teaspoon ginger, grated
½ teaspoon garlic, minced
2 teaspoons sugar
1 tablespoon extra virgin olive oil
6 ounces white beech mushrooms (shimeji mushrooms), tough ends removed *(see note)
1 tablespoon white vinegar
2 eggs
1 ounce radish sprouts, washed well and ends trimmed *(see note)
Instructions
Cook the rice and edamame (separately) according to the package directions.
Drain the edamame and place in a food processor, along with the scallions, parsley, salt and pepper. Pulse until coarsely ground and set aside.
Prepare the water to poach the eggs by bringing a large pot of water to a boil.
While the water for the eggs is heating, in a small sauce pan over medium-high heat, add the soy sauce, rice vinegar, mirin, ginger, garlic and sugar. Stirring occasionally bring the sauce to a low boil, then reduce the heat to a simmer. Stirring frequently, cook until slightly thickened. (Keep and eye on it, you don't want it to become too syrupy).
In a skillet, warm the olive oil over medium-high heat. Add the mushrooms and sauté for 2 minutes. Add the soy sauce reduction and sauté 1 minute longer. Remove from heat and set aside.
Crack the eggs into two small, separate bowls. Add 1 tablespoon of white vinegar to the pot of boiling water. Turn off the heat. Using a large spoon, make a whirlpool in the water. Gently slide the eggs, one-by-one, into the center of the whirlpool. Cover the pot with a lid and allow to cook for 3 minutes.
While the eggs are poaching, prepare the rice bowls. Add the rice, the smashed edamame, mushrooms, and radish sprouts. (Reserve some of the soy sauce reduction for garnish).
When the eggs are done cooking, use a slotted spoon to remove the eggs, and gently blot on a paper towel to remove the excess water. Transfer the egg to the rice bowl and place on top. Garnish with any remaining soy sauce reduction, serve, and enjoy!
Notes
Beech mushrooms substitute - button mushrooms

Radish sprouts substitute - arugula