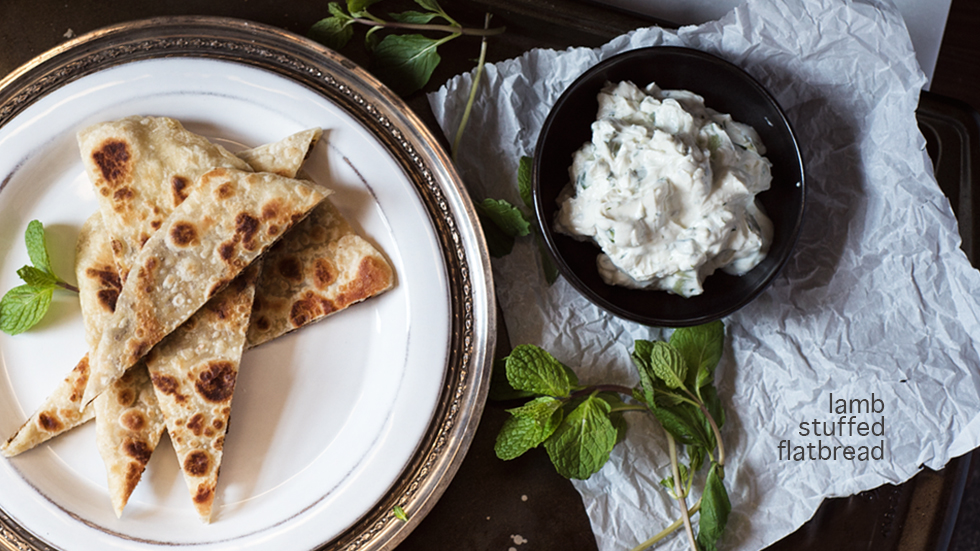 About a month ago my good friend and blogger buddy, Nagi of RecipeTin Eats, made Aloo Paratha (an Indian potato stuffed flatbread).   From the moment I saw the post, I knew I was going to love it.  Bold Indian spices mixed into whipped potatoes, wrapped in an easily made dough, and browned to a lovely golden crisp.  I had to make it, and make it I did… again, and again, and again.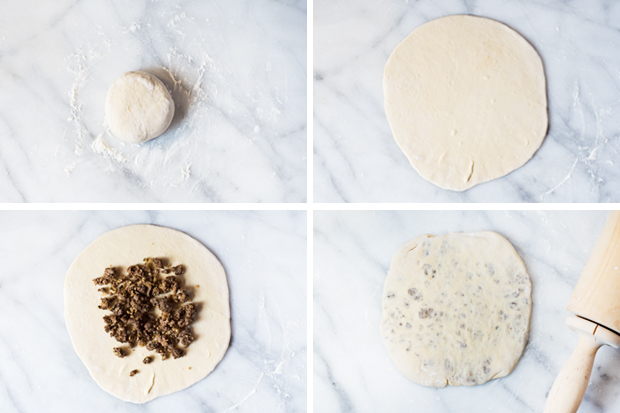 The development of this Lamb Stuffed Flatbread came from my desire to pair Nagi's Aloo Paratha with Tzatziki – a wonderful Middle Eastern yogurt sauce.  The pairing was delicious!  That got me thinking, I love Tzatziki with lamb – what about a Lamb Stuffed Flatbread?  The outcome was phenomenal!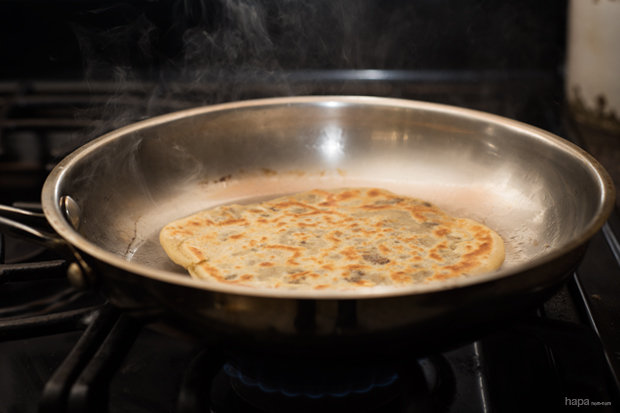 That I know of, there are several variations of lamb stuffed flatbread.  In India, it's called Kheema Paratha.  In Turkey it's a variety of Gözleme, göz meaning 'eye', named for the black spots that form on the flatbread after cooking.  Lebanon has a similar dish using pita bread, called Arayes.  If there are other varieties of this dish,  please feel free to mention them in the comments below.  I always love hearing about 'new' foods.
This is a fabulously adaptive recipe.  If you're not a fan of lamb, I've substituted ground turkey and it was fantastic! Other suggestions are to fill the flatbread with spinach and feta, roasted eggplant,  pesto, or even just olive oil and minced garlic.  The combinations are endless and absolutely delicious!

Lamb Stuffed Flatbread
Author:
Kathleen | Hapa Nom Nomq
Ingredients
prepared tzatziki
DOUGH
3 cups all-purpose flour
¼ cup milk
1 egg
1 teaspoon kosher salt
2 tablespoons olive oil
½ cup water
LAMB FILLING
1 tablespoon extra virgin olive oil
1 small red onion, finely chopped
2 garlic cloves, minced
1½ pounds ground lamb
1 teaspoon kosher salt
½ teaspoon freshly ground black pepper
1¼ teaspoon ground cumin
1 teaspoon ground paprika
½ tsp cinnamon
2 tablespoons chopped parsley
2 tablespoons ghee (clarified butter)
Instructions
In the bowl of a standing mixer fitted with a dough hook, add the flour, milk, egg, salt, and olive oil. While on low speed, drizzle in ½ cup of water. (If you don't have a standing mixer, knead by hand). The dough should be smooth in pliable. If the dough is too dry, slowly add 1 tablespoon of water at a time, until the dough comes together. Cover with a tea towel and allow to rest.
While the dough is resting, work on the lamb filling. In a large sauté pan over medium-high heat, warm the olive oil. Add the red onion and cook until softened, about 2 minutes. Add the garlic and cook until fragrant, another minute. Add the lamb, breaking it up into small pieces. Stir in the salt, pepper, cumin, paprika, and cinnamon. Sauté until the lamb is cooked through, about 5 - 7 minutes. Turn off the heat, stir in the chopped parsley and set aside to cool.
Preheat the oven to 165 degrees F.
Dust a work surface with flour. Turn out the dough and cut into 6 equal pieces. Working with one piece at a time (cover the pieces you're not working immediately working with, with a tea towel), roll out to approximately 8-9 inches in diameter, sprinkling a little flour as you roll the dough so that the dough doesn't stick. Place ½ cup of lamb filling in the center and bring up the sides of the dough like a money bag. Press down and roll the lamb stuffed flatbread out to a thin disk. Preform the same process with the remaining balls of dough.
In a large skillet, melt 1 teaspoon of ghee over medium heat. Working with one at a time, add the flatbread to the pan. Cook for 2 minutes or until golden-brown on the first side (be sure to press the flatbread down into the pan with a spatula). Flip and cook on the other side for 1½ minutes or until golden-brown. Wipe out the excess ghee in-between flatbreads until all are cooked.
Place the completed lamb stuffed flatbreads in the oven to keep warm. When you're ready to serve, slice and serve with tzatziki. Enjoy!