Several months ago, when Mr. HapaNom and I were driving from the East Coast to our new home in the Bay Area, we stopped in Southern California to see my dad's side of the family. We stayed with my aunt and uncle and before we shoved off to continue on our journey, my aunt hosted a lunch for us with the rest of the CA family invited. My aunt set out a table full of various veggies, grilled meats, sauces, and several large bowls of white and brown rice. It was brilliant! Everyone could pick and choose exactly what they wanted!
Pick Your Starch
Pick Your Protein
Pick Your Toppings
Pick Your Sauce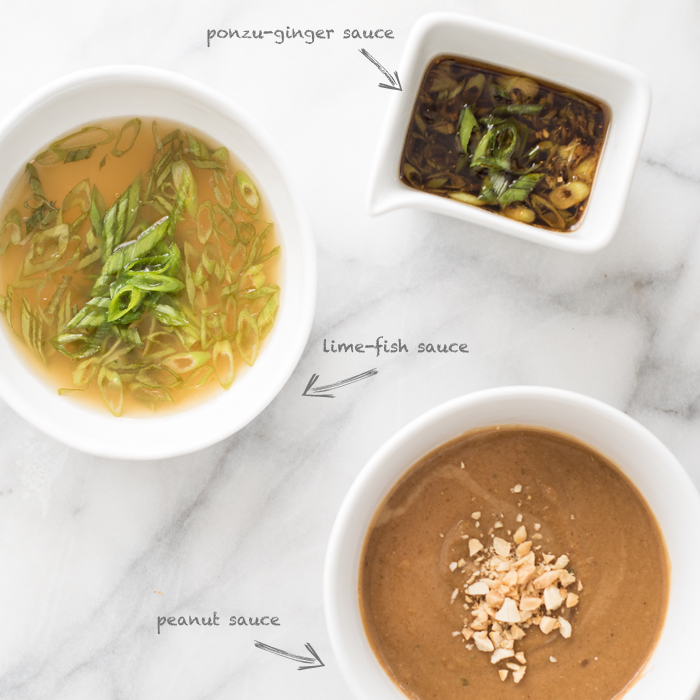 This is obviously perfect for family get-togethers, but it also works for sports gatherings, holiday parties, or just pick and choose what you want! Think of all of the combinations you and your guests will have! Whether you have a vegetarian, someone on a gluten-free diet, or a meatlover – Build Your Own Bowl has got you covered.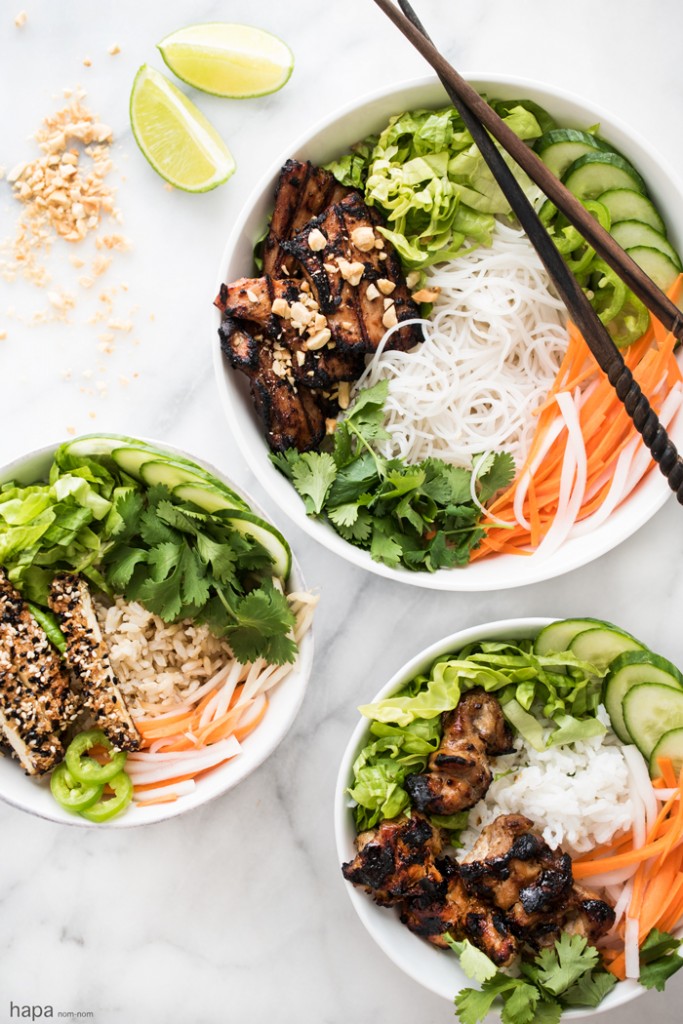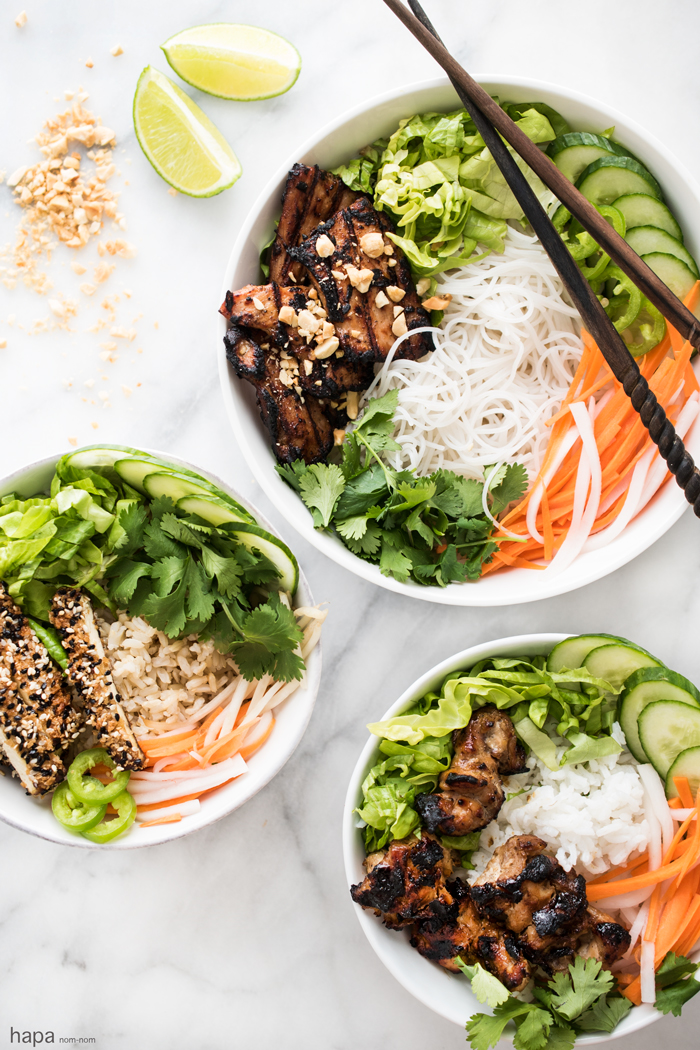 Just as a heads-up if you're party planning – the pork and the chicken are marinated for 2 hours to overnight. Happy eating!
Pick Your Starch
Author:
Ingredients
10 ounces vermicelli noodles, cooked
10 ounces white rice, [url href="http://hapanom.com/cook-rice/" target="_blank"]cooked[/url]
10 ounces brown rice, [url href="http://hapanom.com/cook-rice/" target="_blank"]cooked[/url]
Instructions
Prepare the ingredients according to package directions.
Pick Your Protein
Author:
Ingredients
[b]Grilled Pork and Chicken[/b]
1 pound boneless pork chop
1 pound boneless, skinless chicken
12 scallions, white parts only – chopped and muddled (save the green parts for your toppings)
4 cloves garlic, minced
½ cup dark brown sugar
4 tablespoons fish sauce
2 tablespoons soy sauce
½ teaspoon molasses
2 tablespoons toasted sesame oil
2 teaspoons black pepper
[b]Sesame Crusted Tofu:[/b]
½ cup soy sauce
¼ cup rice vinegar
¼ cup mirin
2 teaspoon toasted sesame oil
20 ounces ultra firm tofu*
1 egg
½ cup panko
¼ cup white sesame seeds
¼ cup black sesame seeds
vegetable oil for cooking
Instructions
[b]Grilled Pork and Chicken[/b]
Pound the meat out to a 1/4 inch thickness and cut into vertical strips to thread on skewers. To make the marinade – add the muddled scallions, garlic, sugar, fish sauce, soy sauce, molasses, sesame oil, and black pepper to a mixing bowl. Stir to combine. Divide the marinade into two large zip-top bag and add the pork to one and the chicken to the other. Seal the bag and turn to coat. Refrigerate and allow to marinate for 2 hours to overnight.
Soak the bamboo skewers for 15 minutes. Preheat the grill to high heat. Thread the meat onto the skewers, working the skewer in and out of the meat, down the center. Once the grill is ready, oil the grates with vegetable oil. Place the meat directly over the flames and cook for approximately 7 – 10 minutes, turning frequently until the meat is cooked through with a bit of char. If you would like to use the oven instead, place the meat on a baking sheet and cook under the broiler for 4 -5 minutes per side, or until cooked through.
[b]Sesame Crusted Tofu[/b]
Using a clean tea towel, firmly press the block of tofu to remove any excess moisture. Slice the tofu to ½ an inch in thickness, then slice to a manageable width (approximately 2-3 inches wide).
To make the marinade, mix the soy sauce, rice vinegar, mirin, and sesame oil in a large zip-top bag. Add the tofu slices, close the bag, and gently move the tofu around to coat. Allow to marinate for at least 30 minutes, periodically turning the bag to coat all sides of the tofu.
Remove the tofu from the marinade and remove the excess moisture by pressing each piece firmly between several paper towels.
To set up your dipping station, beat one egg with 1 tablespoon of water in a bowl. In a separate bowl, add the panko and sesame seeds – stir well.
Working with one slice at a time, dip the tofu in the egg mixture, being sure to coat the entire piece. Then transfer the tofu to the panko-sesame mixture, turning and pressing to coat. Transfer the sesame crusted slices to a large dish and momentarily set aside.
Over medium-high heat, add enough oil to cover the bottom of a heavy-bottomed skillet. Once hot, add the tofu slices in batches. Cook for 2-3 minutes per side, or until golden-brown. Lift the tofu out of the skillet and allow them to cool on a plate lined with a few paper towels.
Once cool enough to handle, slice each tofu piece into bite-sized pieces.
Notes
** If you can find 'Ultra Firm Tofu' that will work best. However, if you can only find 'Extra Firm Tofu', you will have to remove the excess moisture. Start by placing a colander in the sink. Place the block of tofu in the colander and then place the plastic tray the tofu came in or a small plate on top of the tofu. Then place some form of canned goods on top. Allow the tofu to drain for at least an hour.
Pick Your Toppings
Author:
Ingredients
4 cups lettuce, cut into strips
4 cups cucumbers, thinly sliced
4 cups bean sprouts
4 cups cilantro
do chua
6 jalapeños, sliced
½ cup peanuts, roughly chopped
Pick Your Sauce
Author:
Ingredients
[b]Lime-Fish Sauce[/b]
4 tablespoons fresh lime juice
2 tablespoons fish sauce
2 teaspoons mirin
2 tablespoons scallions, sliced
[b]Ponzu-Ginger Sauce[/b] (adapted from Serious Eats)
8 tablespoons ponzu
4 tablespoons scallions, sliced
4 teaspoon grated ginger
4 teaspoons mirin
2 teaspoons toasted sesame oil
1 teaspoon fresh lime juice
[b]Peanut Sauce[/b]
4 Thai chiles
1½ tablespoons galangal paste*
1½ tablespoons thinly sliced lemongrass – tough exterior removed, cut from the bulb
5 Thai basil leaves*, fresh
2 tablespoons shallot, thinly sliced
4 cloves garlic
1 teaspoon shrimp paste*
¼ cup white sesame seeds, toasted
¼ cup dry roasted peanut
1 cup coconut milk, shaken
1 tablespoon red curry paste
¼ cup sugar
2 tablespoons fish sauce
1/4 cup fresh orange juice
2 tablespoons fresh lime juice
Instructions
[b]Cilantro-Lime Sauce[/b]
Combine all of the ingredients in a small bowl and set aside until ready to use.
[b]Ponzu-Ginger Sauce[/b]
Combine all of the ingredients in a small bowl and set aside until ready to use.
[b]Peanut Sauce[/b]
In a food processor, puree the Thai chiles, galangal, lemongrass, Thai basil, shallot, garlic, and shrimp paste. If you would like a smoother sauce, finish by using a mortar and pestle, although this is not necessary. Set the ingredients aside in a bowl separate from the food processor.
Wipe out the bowl of the food processor and add the toasted sesame seeds and dry roasted peanuts. Puree until creamy.
In a large pan over medium heat, sauté the Thai chili puree and the coconut milk. Stir constantly until fully incorporated. Then add the sesame seed and peanut mixture. Finally, add the red curry paste, sugar, fish sauce, orange juice, lime juice, and stir well. Add water a tablespoon at a time to create your desired consistency. Set aside and allow to cool to room temperature.
Notes
Ponzu-Ginger Sauce slightly adapted from [url href="http://www.seriouseats.com/recipes/2015/03/ponzu-ginger-dipping-sauce-for-dumplings-recipe.html" target="_blank"]Serious Eats[/url][br][br]*Galangal – there is really no good substitute for galangal, so a substitution should be your last resort. There are some that say that there is NO substitute for galangal, but lets be realistic – if you're in an area that does not carry this exotic root, then throwing out the likes of that ingredient from the recipe entirely is a bit crazy…in my opinion. That said, first try the international aisle of your local grocery store or Asian food store. IF galangal is nowhere to be found, use the equivalent measurement of minced ginger with a pinch of mace and pepper.[br][br]* Thai basil leaves – try a farmers market, one of those high-end grocery stores, or Asian food store. If you cannot find Thai basil, you may substitute sweet basil – just add a few more leaves to the recipe as Thai basil is stronger and spicier than traditional basil.[br][br]*Shrimp paste – I have only seen this ingredient in International/Asian markets. However, if you cannot find shrimp paste, simply add the equal measurement in fish sauce. Most local grocery stores with an international aisle will carry fish sauce. However, in a pinch you may substitute soy sauce – although, the dish may taste a bit weak.
Place everything into bowls and set out on the table. Serve with sliced limes and Sriracha. Enjoy!